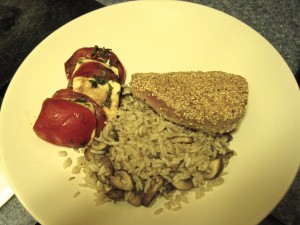 Tuna was on sale and we're trying to eat fish at least once a week. The rice is very similar to last week but with baby bella mushrooms, which I think give a slightly woodier flavor. I was going to steam some broccoli but we had tomato & mozzarella salad from last night and it's always good the next day.
The mushrooms were sauteed in a little butter & olive oil with some chopped garlic – I cooked the rice separately and added it to the skillet. Freshly ground pepper was the finishing touch.
Two fresh (previously frozen) wild tuna fillets, rinsed and patted dry. Toasted sesame seeds and freshly ground pepper. I cooked the fillets at a relatively high heat in a small skillet with a touch of olive oil. I wanted a crispy texture like fried fish without the grease and breading…. that totally worked!
The fillet was cooked to leave just a touch of pink. Notes: We both would have liked a bit more "bite" to the sesame seeds so some ideas for the next time: a lot more freshly ground pepper, marinate the tuna in a mixture of lemon juice and hot sauce for bit before coating, a touch of wasabi powder in with the sesame seeds. We'll see!