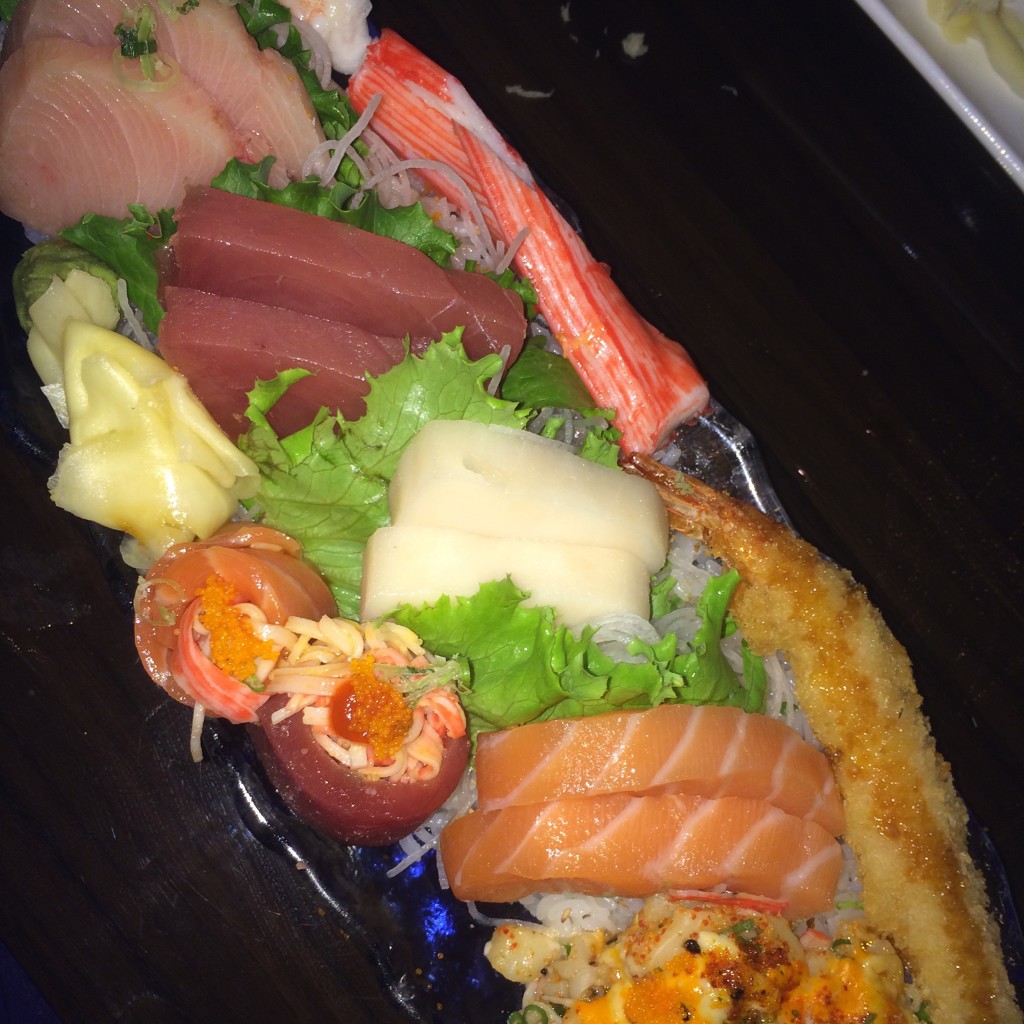 A new sushi place has opened up in our area to rave reviews from lots of my friends and my kids' friends. My Heart was off to San Diego for a conference and I, sadly, could not tag along so, during times like these, my kids often show mercy on Mom and invite me over or out to dinner… it's very nice of them. One such dinner was to check out the new place, Sushi Q2 (Two because there is another location in Eldridge, MD).
First – the menu is huge and it took a long time to come to decisions (ok, for the kids – I knew what "I" was having right a way). There are lots of appetizer choices and a few soup and salad options, and several entrees (sushi combinations, etc.) which include salad and miso soup, There are 59 Chef's Special rolls alone plus regular rolls and a la carte sushi and sashimi. If you can't make a meal out of just sushi (or don't like it), there are also Hibachi dishes, teriyaki, katsu (deep fried panko-breaded pork, chicken, or fish), tempura, main dish fried rice, and yaki udon / yaki soba (fried noodles w/ vegetables). Seriously big menu – everyone should be able to find something to eat.
We started with an order of gyoza, a go-to appetizer and always a good test. Sorry no picture, we were hungry – it was fried, in the Chinese-style, vs. the Japanese-style, which is fried on one side and then flipped and steamed… but it was very good and had the appropriate sauce for dipping. The server also brought us the Sushi Q Appetizer (deep-fried imitation crabmeat, cream cheese, & signature sauce) on-the-house, which was also delicious and a nice treat.
Because I ordered an entree, it included the miso soup and salad (again, sorry for no pictures but Really Hungry!) – the miso soup was good and the salad was ok, the dressing was close to the standard ginger dressing you expect in a sushi restaurant but a little lacking in flavor. I think because my son's girlfriend also ordered miso soup or because of the size of our order or because they felt bad for him, my son got a bowl of the clear or suimono soup. This is often the kind of soup hibachi restaurants (the type with the big flat-top griddle that you sit around and the chef cooks in front of you) often serve but is not as common in sushi restaurants anymore. I only bring this up because it is some of the best suimono I've ever had – delicate, flavorful, with just a few mushrooms and some cooked onion in the bottom. I will totally order that in place of the miso soup in the future.
On to the sushi: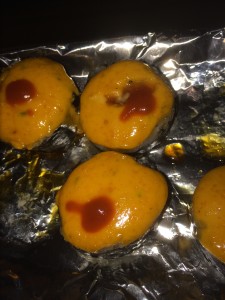 This one is easy to identify – Volcano roll. This is also a good tester for a sushi restaurant because it is common at most restaurants. Their Volcano is salmon, tuna, and yellowtail wrapped with rice and nori. The roll is then cut and topped with a spicy chef's sauce and, in this case, a little sriracha and grilled so the sauce is a little crusty and hot. This was good – not the best but good and we would order it again.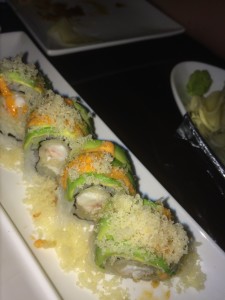 The Raven (named for our Baltimore Ravens) contains tempura shrimp, real crabmeat, a sprinkle of Old Bay, cucumber and is topped with avocado, crispy tempura crumbs, and spicy sauce. The menu says this should be topped with jalapeño but I think the avocado works just fine. The Old Bay was very subtle but a nice touch!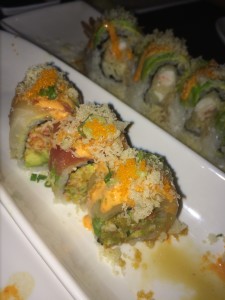 The Playboy roll includes spicy crabmeat topped with strips of salmon, white tuna, tuna, avocado, and crispy tempera crumbs, chef's sauce, and tobiko (flying fish roe). This was really good and I always love rolls that have different sashimi across the top. It gives you the chance for different tastes.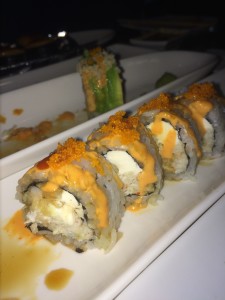 The Crazy Lou roll is shrimp tempura, real crabmeat, and cream cheese topped with the chef's sauce, Sriracha, and tobiko. This one was good but had so much going on you couldn't really taste the crabmeat.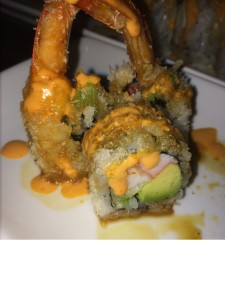 The Dabomb roll is one of their regular rolls and was super tasty at only $6.50. Shrimp tempura and imitation crabmeat with avocado topped with spicy mayo and some crispy tempura crumbs.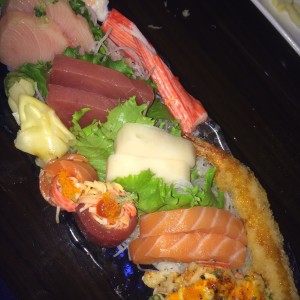 And finally, my dinner and my favorite: Chirashi. I love Chirashi – it is like do it yourself sushi and is a Chef's Special. Sushi chef's take great pride in their Chirashi – it shows off their best work and best quality ingredients. The presentation was beautiful with substantial chunks of fish including yellowtail, tuna, white tuna and salmon, and crab sticks and a steamed butterflied shrimp, all on top of sushi rice and including pieces of lettuce and shredded daikon. There was also a crispy tempura shrimp and some seasoned baked bay scallops – both a lovely addition. There were also a couple decorative sashimi roses using both tuna and salmon with crab salad as well. Surprisingly there was no octopus, eel, or squid, which is fairly standard on Chirashi, but, for the price, $17.99, it was a very good offering and a dish I will definitely order again.
If you like sushi and enjoy adventure, I would recommend checking out Sushi Q. It is not cheap but, for the size of the rolls and quantity in general, it is not out of bounds for the cost. The quality of the fish was excellent and there is certainly enough on the menu, even if you bring friends and family who are not sushi fans.