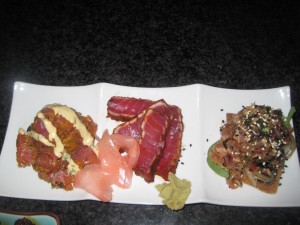 We were heading to a party with friends but knew – 1. they would have "snacks" and asked people to bring something if they Wanted to (we brought some dessert) but that meant it would probably not be anything very substantial AND 2. with my being Gluten-free (especially right now when I am working ridiculously long hours and am super stressed, I have to be Extra Extra "good")… it was very likely there would be little to nothing for me to eat.  SO.. my Heart suggested stopping at the 
Yellowfin Restaurant
, as it was right on our way.  It was a perfect choice and absolutely Scrumptious!
FIRST – The view is magnificent.  We just sat at the bar, ordered a couple glasses of pinot grigio and picked out some substantial & protein rich appetizers… including a "healthy" option: a basket of fries!  Ok – I didn't take pictures but they were very good… thin cut, nicely crispy, sprinkled with sea salt with malt vinegar on the side
The Rainbow Tower was (starting on the bottom): SalmonPoke / Spicy Tuna Tartar / Crab Neapolitan all layered on fried wonton skins.  I have no idea what the crab neapolitan was but it included lump crab meat in a mayonnaise-y type sauce… nice but nothing extraordinary.  The spicy tuna tartar was very nice.. good sized chunks of tuna and good "heat".  My favorite was the SalmonPoke – a delicious combination of chunks of lightly smoked salmon, chopped red & yellow peppers, diced purple onions, cilantro, and lime juice.  The flavors blended beautifully – a perfect summer dish – I could have eaten a Bowl of it !!
We also had two maki rolls: a spicy tuna roll and their unagi roll.  The serving dish is adorable and the seaweed salad was very good.  The spicy tuna was delicious… the same that was used for the Rainbow Tower.  The unagi roll had lovely grilled river eel with some lightly cooked asparagus… it was really good!
Everything was very satisfying and we were pretty stuffed (which was good because there really was nothing I could eat at the party)… the very BEST surprise – the bill … Yellowfin is not an inexpensive restaurant but, lo and behold, their 1/2 appetizers for Happy Hour include Saturdays – the tab was about $30 less than I expected … while they are about 50 minutes from us, we definitely agree that it is worth the trip, especially during Happy Hour!  YUM!
Our 2nd visit was equally wonderful and left us wishing they were closer to home.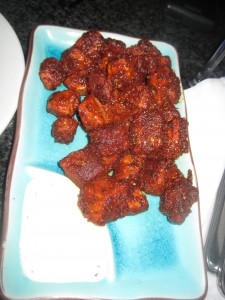 Snake Bites: very spicy bites of tuna sauteed in chili oil served with cucumber / wasabi creme fraiche – great heat without killing your tastebuds.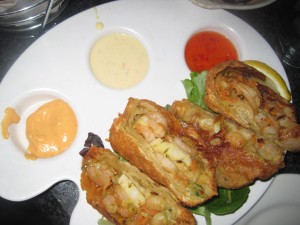 Thai Shrimp Egg Rolls: shrimp, carrots, daikon, cilantro, and nappa cabbage with a hint of Sambel Oelek served with a selection of sauces.  A little greasy but the sauces were amazing.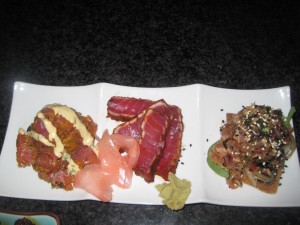 Tora, Tora, Tora: Ahi Tuna Nori Poke (
Poke
 is a traditional Hawaiian dish where the raw fish is "chopped" with onions and other seasonings, almost like a salsa), Seared tuna, & Tuna Tartare (this is beyond a doubt my favorite dish.. I Love the Poke!)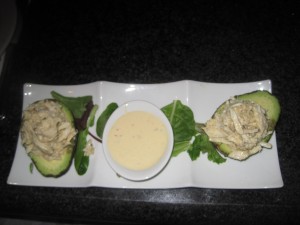 Crab & Avocado Bowl: avocado halves stuffed with Maryland Crab Imperial (which was really just lump crab with a little sauce.. wow was it good!) served with spicy mustard (this was perfect to have at the very end when our mouths were still on fire from the Snake Bites!)
Again – all with the 1/2 price Happy Hour deal.  Seriously wish they were closer to Home!