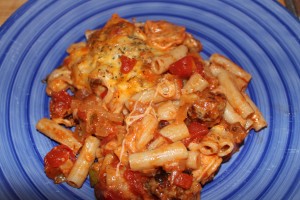 My son is currently eating gluten-free to see if it will help with some issues he is having so we worked extra hard to make this Sunday Roast healthy for everyone.  Ok – Dessert wasn't exactly "healthy" but it was definitely delicious and worth every sinful bite!
The base for the cake: Tequila Rose (a strawberry cream Tequila) mixed with the liquids (water, eggs, vanilla) used for the gluten-free cake mix and baked according to the box instructions.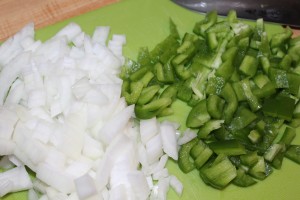 Made small sausage "balls" out of sweet Italian sausage links and browned them in 1 Tbsp of olive oil then added chopped onions and green peppers and sautéed until the onions were translucent and then added…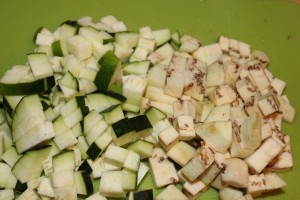 …chopped zucchini and peeled eggplant and sautéed until slightly softened – Added in 2 tsp chopped garlic.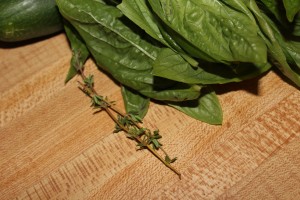 Next chopped fresh basil and thyme, freshly ground black pepper, and 1 Tbsp dry Italian seasoning mixed in and simmered with the  vegetables. Finally added one 16oz can of diced tomatoes, juice included, and one 6oz tomato paste combined with 1/4c red wine, 1/2c water, sprinkle of chicken bouillon.  Simmered for 15 minutes.  While making the sausage vegetable mixture, cooked rice pasta: ziti – my favorite brand: Tinkyada.  The key to rice pasta is to check it about 1/2 through the recommended cooking time and keep checking it because it goes soft very quickly then rinse thoroughly with cold water to stop it from cooking and to rinse off the sticky coating.  You can then rinse it with hot water to bring it back to temperature, if needed.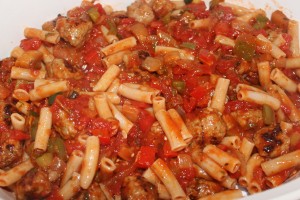 Combined the sausage vegetable mixture with the cooked pasta.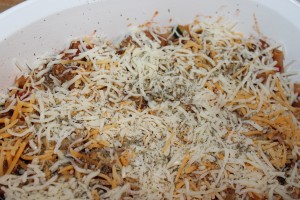 Layered into a lightly oiled casserole dish – 1/2 of the sausage vegetable pasta mixture topped with 4oz shredded cheddar and 4oz shredded mozzarella and a sprinkling of dry Italian seasoning and freshly ground black pepper.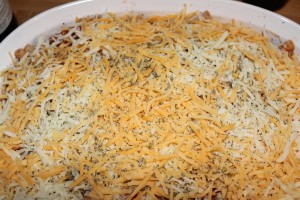 Topped with the remaining sausage vegetable pasta mixture and finished with 4oz shredded cheddar and 4oz shredded mozzarella, a sprinkling of dry Italian seasoning and freshly ground black pepper.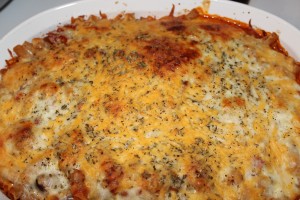 Baked, uncovered, for 20 minutes in a 350-degree oven.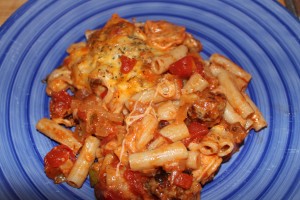 A huge hit and will make for great leftovers.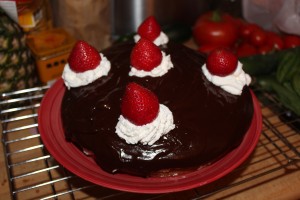 Once the cake cooked, my Heart sliced the cake crosswise drizzled a little more Tequila Rose on the bottom half and then topped it with a bit of fresh made chocolate ganache, slices of strawberries, and some Tequila Rose infused whipped creams.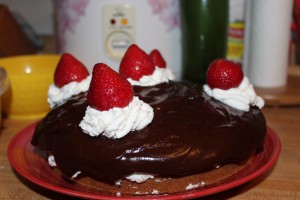 Topped with the top half and coated with more chocolate ganache and decorated with more infused whipped cream and whole strawberries.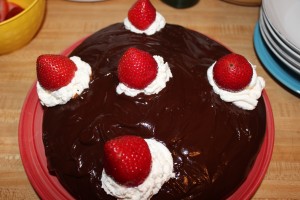 I love the gloss of the ganache – perfectly rich and not too sweet because of the combination of unsweetened dark and milk chocolates.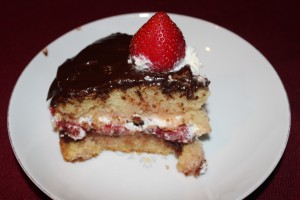 Absolutely delicious!  The gluten-free cake is interesting because the outside seems  crisper than traditional cake but the inside is still soft and wonderful, not at all dry.  The flavors were perfect – sweet berries, alcohol infused whipped cream, rich creamy chocolate and lovely cake, what's not to love?  Perfect!