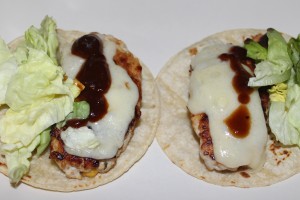 Turkey Burger Experiment #1 is what this should be called but we are also calling them "tacos" because I am serving them on toasted corn tortillas instead of hamburger buns thanks to that whole gluten-free thing. I know that there are gluten-free buns out there but I haven't found any worth eating (they tend to be hard and dry).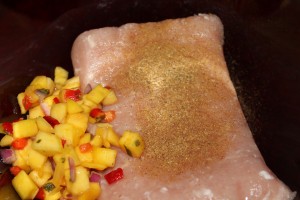 Ground turkey was on sale and I felt like "burgers".  I know that turkey tends to be dry, 99% fat free tends to do that, so I knew I wanted to add something to the meat to help keep it moist.  We had some store-bought mango salsa left from the Memorial Day macaroni salad so I thought I would see how that worked.  Also seasoned with Old Bay seasoning.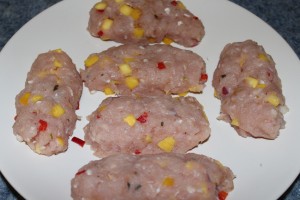 Formed into elongated patties so they would work in the corn tortillas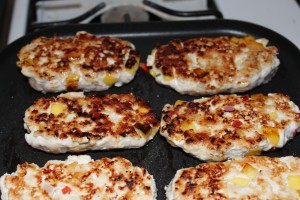 Cooked on an oiled flat griddle to an internal temperature of 165-degrees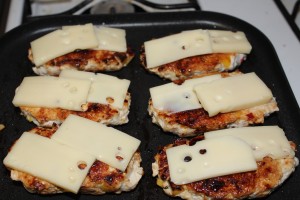 Then topped with slices of Swiss cheese (my Heart's idea – I was thinking pepper jack – he was right).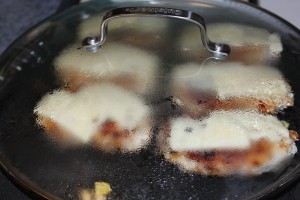 How do you melt the cheese?  Just put the lid for our large skilled over the griddle.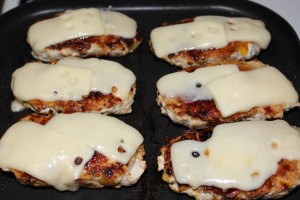 It worked!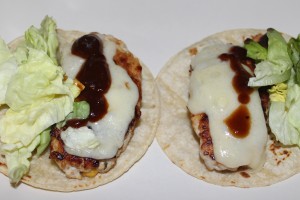 Plated: Toasted corn tortillas topped with the turkey burgers and a little Jack Daniels BBQ Sauce (store-bought) and lettuce.
Notes: Unfortunately our container of Old Bay is fairly old (a new container is now on our grocery list) so the flavor wasn't as strong as I would have liked but I do think it worked.  My Heart suggested putting the cheese INSIDE of the burgers, to make them even more juicy, but I'm not sure that would work with the salsa.  We are thinking possibly a feta, gorgonzola, or cotija to add richness and moisture.  But, as they were, it was a successful experiment and I'm sure there will be more experiments ahead for the summer.  Yum!