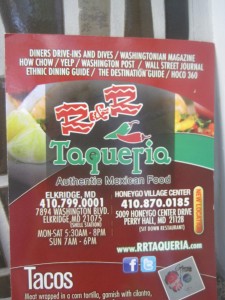 We recently got cable TV – yes, recently.  We haven't had cable for six years … just "over the air" TV.  The reason is too long a story to go in to here (and who knows how long we'll have it) but suffice it to say, my Heart points out on a regular basis:  "More than 100 channels and not a thing to watch!"  The great part about cable for me?  FOOD NETWORK !  One of my favorite shows is Diners, Drive-ins & Dives (aka Triple D).  We are fans of local joints / family restaurants / Diners & Dives! and we frequently seek them out when we are traveling – always asking people like our waiter / waitress or a bartender where do THEY go for good food!  It is even more fun when Triple D comes to our neck of the woods which is how we ended up at R&R Taqueria.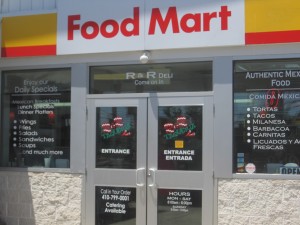 Saturday my Heart suggested going for a drive so off we went to Elkridge, Maryland in search of this taqueria in a Shell station – yes, as in Shell Gas Station!  It was a bit of a trek for us but totally worth it!  Not a lot of parking (did I mention it is a Shell station?) but the place is tiny so people don't really stick around – most orders are to go.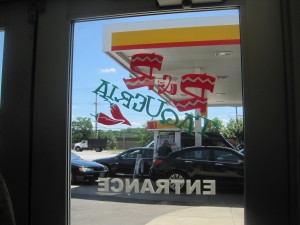 See – Shell Station!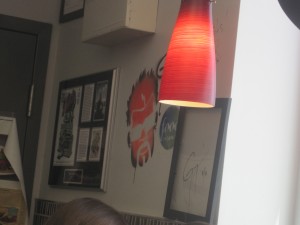 Guy Fieri, host of Diners, Drive-Ins & Dives left his mark… and signature!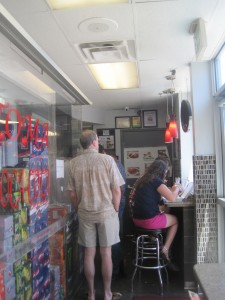 Tiny place (my Heart in line to pick up our food) – one counter with four stools there and one counter with four stools on the other side of the entrance, where I am sitting.  Explains why most take food to go.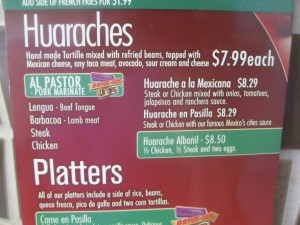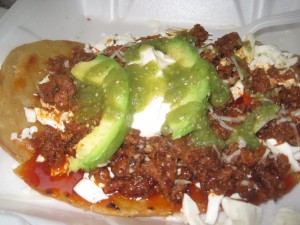 The Huaraches called our names!
I had the Barbacoa (Lamb meat) Huaraches – a handmade tortilla mixed with refried beans, topped with Mexican cheese, the Barbacoa, avocado, sour cream, more cheese and a little cup of salsa verde.
My tortilla had a lovely crunch.  The Barbacoa was a little greasy but absolutely delicious.  Different from the Barbacoa that we had in Texas, which was more of a pulled BBQ beef.  I loved the cheese (which we think is Oaxaca). It was very salty but worked with the spicy meat and salsa verde as almost a counter-balance.  And a ton of food!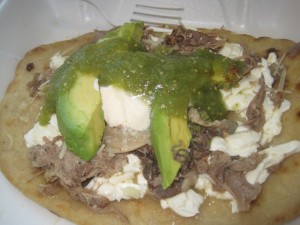 My Heart had the Al Pastor (Pork) Huaraches.  He did not have this because it was featured on Triple D – he picked it because he loves pork.
Again, the Al Pastor was different than what we had in Texas.  This pork was closer to carnitas but with no complaints from my Heart.  The pork was tender and tasty.  The tortilla was slightly less crisp – I am thinking that is because the Barbacoa is "heavier", but definitely delicious.
We will definitely be back (next time I want to try the lamb tacos) – We might try their other location but there is something about going to the original !