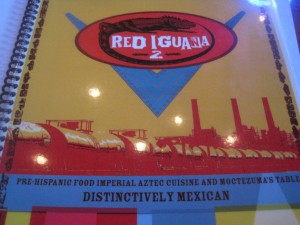 This is our 2nd Triple D (Food Network's Diners, Drive-ins & Dives) adventure… Well, sort of.  They actually visited The Red Iguana and we went there first but the line and crowd was crazy and we were really hungry so we went back (we had driven past it) to the Red Iguana 2.   The descriptions of the dishes is directly from the Red Iguana menu.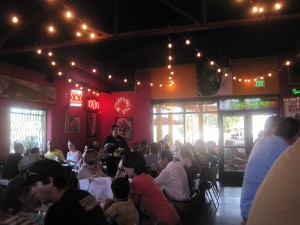 Not a big place but nice.  There is also patio seating and counter seating.  They were packed!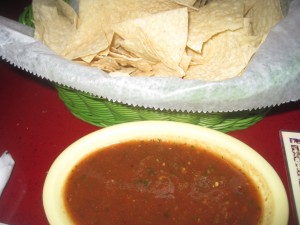 First up – the requisite chips & salsa but these definitely weren't your standard American-Mex chips & salsa. The chips were fresh, warm, not at all greasy, and crunchy. The salsa rocked – nice heat with a wonderful smokey flavor.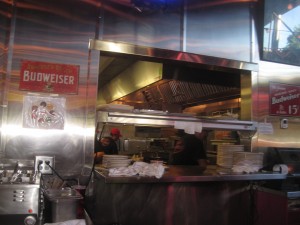 So – One cool part about sitting at the counter is getting to see the kitchen at work. Another part?  Seeing the food as it is going out.. Hmmm.. What looks good!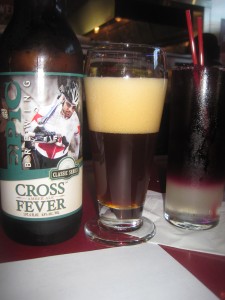 Drinks: My Heart had a beer. There was a nice selection of adult beverages including specialty beers, wines, Mexican favorites, and cocktails. I was sad that there wasn't any cider though, it's always perfect with Mexican!  I had the Red Sangria.  It was good but not the best I've had.  The layer at the bottom of my glass is tonic water and then the wine mixture was floating on top.  The best part was that it wasn't sickeningly sweet and was most certainly made with some mix.  No fruit though.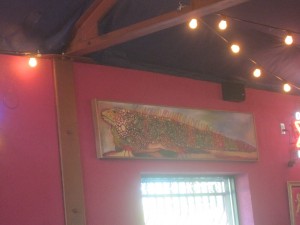 Looks like a Red Iguana to me. The decor was very eclectic, which frequently means cluttered and messy, but this was nice and vivid.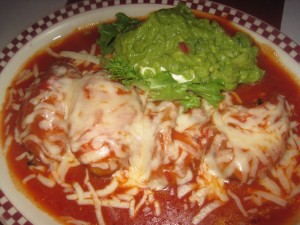 Appetizer: Encurtidos –Four pickled jalapeños filled with shrimp and queso fresco, dipped in egg batter, fried and topped with salsa española, served with guacamole. Very pretty!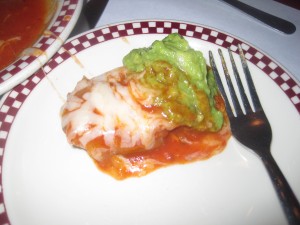 The first thing we noticed about this dish was the sauce. It tasted like someone had "smashed" tomatoes and cooked them up – the taste was amazingly fresh and clean – almost fresh out of the garden-like.  It was reminiscent of an Italian tomato sauce only Not!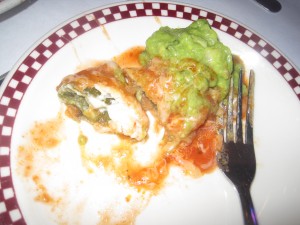 The shrimp was more of a shrimp paste combined with the rest of the "stuffing"… it was lovely. There were  lots of different textures – from the creamy rich inside to the crispy batter to the smooth guacamole on the side.  Jalapeños are not spice cooked this way – they just add to the medley of flavors.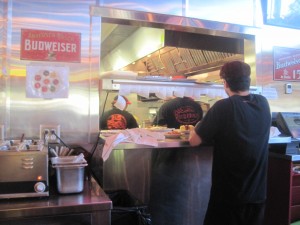 So this kitchen appears to be a well-oiled machine. They were cranking out meal after meal and seemed to work very well as a team. It was impressive and really fun to watch.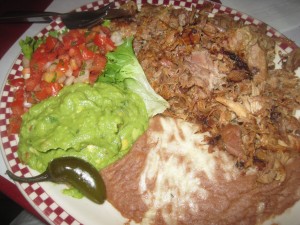 While we know we should probably try new things – there is something to be said for ordering your Favorite dishes to compare and that's what we did.  Main Course: My Heart had the Carnitas: Tender pieces of succulent pork cooked in its own juices, with spices and orange pulp, then fried with beer and a hint of milk, served with refried beans, guacamole, pico de gallo, jalapeño & tortillas. First: YUM !  The pork was amazing – super tender but with little crunchy caramelized bits and filled with flavor and there was a Ton of pork.  Definitely beat out my homemade carnitas and gave me some ideas for perfecting!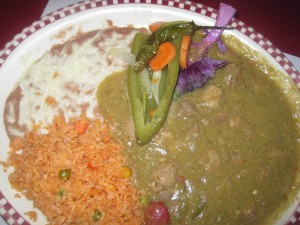 I had the Chile Verde: Tender select diced pork cooked in our green chile and tomatillo sauce, served with rice, refried beans and tortillas. Not as good as what I had at Z'Tejas in Austin TX, which is the best Chile Verde I have ever had, but absolutely delicious.  The sauce was rich and flavorful and the pork super tender.  The refried beans were nice and cheesy and pretty good – I am not always a fan – and the rice was ok.  There was more than enough of the Chile for me to be satisfied without eating all the sides.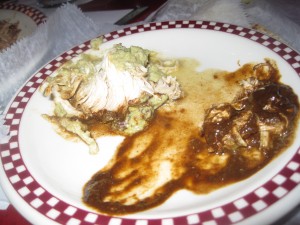 Now a funny story – As I said earlier, we were sitting at the counter which means we were sitting next to strangers.  A nice young man sat down next to me and, as happens, we all started talking.  He was in town for three weeks on business from North Carolina and his wife grew up in Maryland, and… he was a totally Foodie.  He gave us some tips for some other restaurants in the area (I wish I had gotten his email … it would have been fun to share our adventures!).  Anyway – he ordered two big dishes – one was the Mole: a sauce made of dried and fresh chiles, nuts, spices, herbs, fruits and vegetables, which the Red Iguana is known for, and also the Huevos Motulenos: Our succulent pork carnitas smothered with our spicy mole Amarillo & melted jack cheese, topped with 2 poached eggs & 2 strips of crisp bacon, garnished in a crown of flour tortilla chips, served with a side of Spanish rice & refried beans, which I am totally trying next time because it looked Amazing!  Anyway – The Red Iguana does SEVEN varieties of Mole and you can actually try two in one serving, which is nice if you can't decide.  He ordered the Mole Negro:The king of moles: dried chile mulato, negro pasilla, Mexican chocolate, raisins, peanuts, walnuts & bananas, tossed with chicken and the Mole Verde: Fresh chile poblano, jalapeño, blended with pepitas, sesame seeds, basil, onions, lettuce, zucchini, & avocados, tossed with chicken AND.. he offered us some!  It was a lot of food for one person but he wanted to try their signature dish AND the egg dish, which is his favorite!  The Mole Verde was wonderful – very fresh and clean tasting but the Mole Negro totally stole the show – probably the best I've ever had.  You could taste the chocolate but not like eating a candy bar… more just the rich bitter flavor and there was an underlying sweetness that didn't in any way hinder the richness.  It is such a complex combination of flavors that blend together perfectly when done right – like this dish.  It was so nice of our dining partner to share his food and we are certainly checking out his recommendations!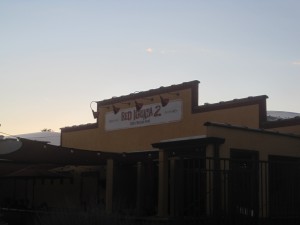 The sun was setting as we left Red Iguana 2 – no dessert for us as we were quite happily Stuffed!  I have a feeling we (and definitely my Heart – who gets to go to SLC with some frequency) will be back.  There are two dishes I want to try.  One is the Huevos Motulenos and they also do Chile Verde burritos topped with eggs – that one is just calling my name!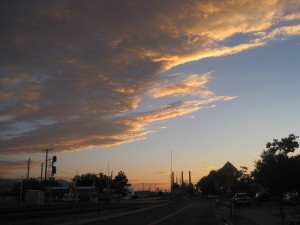 The sunset was beautiful and, as happens in this climate, once the sun sets the hot temperature feel just fine.  Definitely don't miss the Maryland humidity on nights like this.