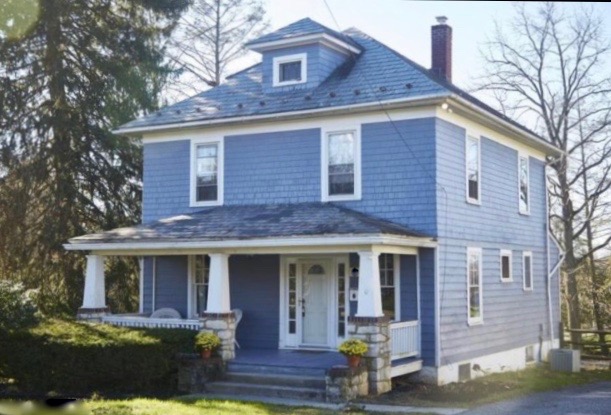 So… I've been gone for a while and the above picture is why. We Bought A House. It is a funny little house known as a 4×4 here in Baltimore. The house is actually square with funny "square" rooms, lots of windows, and other peculiarities. It is 120 years old (built in 1896) and may be, according to the neighbors, one of the early Sears & Roebuck catalog houses. It has definitely needed some renovation, which started before we moved in and is still continuing. This really isn't an excuse for not blogging and yet it is. Now… the good part is that we have had friends over and they have all commented on how it looks like we've been living here for "years" – that must mean we have done a good job settling in. Of course, there were also the holidays, ski season (brief thought it was), miscellaneous illness including pneumonia on my part, etc. AND… after you've been away for a while – how to you get started again?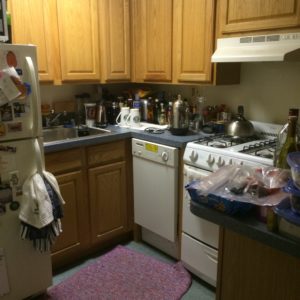 Now, back to our new Home – Just as a reminder, THIS was our old kitchen in our apartment, which was less than 700-sq. ft. Tiny is an understatement and there were really only two counter tops, one of which was generally covered with things that had no other place to live in the kitchen.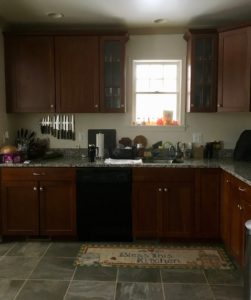 I am not sure I can do justice to the amazingness that is my new kitchen. It is huge, OK… in comparison at least. Oodles of counter space, lots of storage and drawers, windows, and a usable dishwasher (I stored plastic containers in the apt dishwasher, which was literally 1/2 the size of a traditional dishwasher).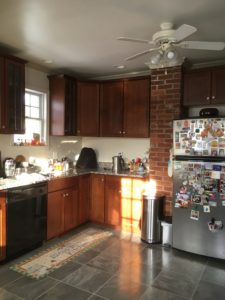 See the brick? That is actually original. We even have a coffee / tea station that is very convenient. We purchased an electric kettle, which means a kettle is not taking up space on the stove (remember my Heart is English, which means Lots of Tea during the cooler months), and there is a wooden holder for spoons (and also kitchen scissors and markers, so they are very convenient but not in the way), a sugar bowl, and a small mug tree. It is really the simple things in life that can bring joy.
Because of the shape and size of the kitchen, the fridge is special, rather tall and skinny, but still bigger than what we had in the apartment so no complaints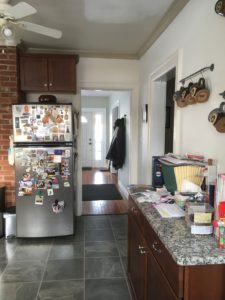 There is a side counter which has become a bit of a catch-all for mail, etc. but that keeps things off the rest of the counters and, with the cabinets below, will make a proper bar when we entertain as most of the adult beverages are stored there. There is even a drawer dedicated to wine openers, shakers, etc. (The wine is stored in the wine cellar – grin!) and a proper junk drawer with the necessary tape, glue, misc. tools, and whatever.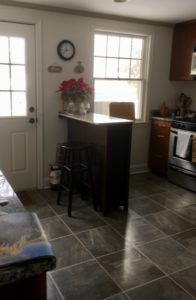 See… More Windows and a backdoor to the little deck (which will someday be a BIG deck, at least if my Heart can make his vision a reality) which also has a beautiful 4′ herb garden hanging off of it and easy access to the garage, making unloading in groceries very easy. I can't express how exciting it is to have herbs literally right out the back door.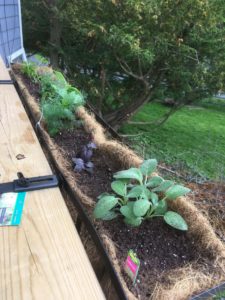 It is sort of a long kitchen so I was wishing for an island or something where people could sit when I am cooking – kitchens are often where people congregate. We started working on plans when my Heart found a good sized piece of marble in the basement (there were actually three – one large and two smaller… we have no idea why). He bought a small storage cabinet and mounted the marble on top and it is perfect. There is a single stool so someone can perch there, the storage unit gave me a great place for things like onions and potatoes and those weird things that you don't necessarily want cluttering up key shelves and drawers, like napkins and dishtowels, and also odd shaped things, like a big colander, etc. The best thing, though, is that this is actual marble, which is perfect for rolling out dough. My Heart is the baker, although I am thinking about trying my hand now that I have a decent kitchen, and he is loving this little counter.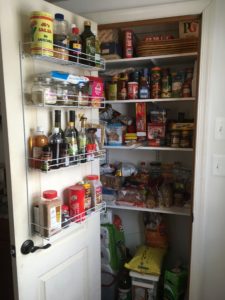 The other amazing thing my Heart did was put together this beautiful pantry including a motion-sensor light strip to illuminate everything perfectly. Few things make me happier than a well organized and stocked pantry and this one totally fits the bill.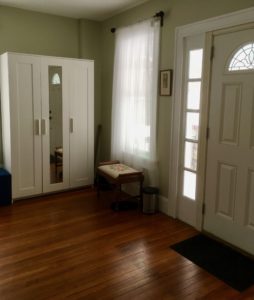 I do have to show off the rest of the house, at least the first floor. The entryway is huge, we joke that our living room would be dramatically bigger if not for this room. The wardrobe was supposed to go in my closet / dressing room upstairs (there are closets in three of the rooms but they are small and odd and my Heart actually takes up ALL of them so I have the smaller room without a closet for my room) but… it wouldn't go up the stairs. It turns out it is perfect in the entryway because there is no coat closet on the first floor so now we have somewhere for coats, shoes, gloves & scarves and such. And another wardrobe was bought and put together IN my dressing room, which is where it will stay since we can't get it downstairs without deconstructing it.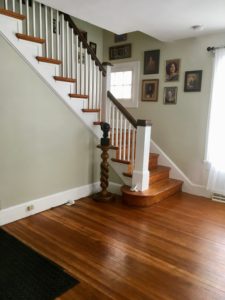 The other side of the entryway and the stairwell leading up to the 2nd floor. The floors are original and are in wonderful shape. That open wall was perfect for the Christmas tree.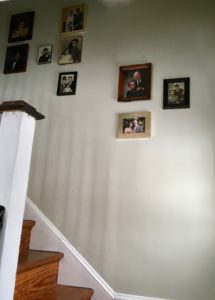 I love the pictures on the stairwell. Family pictures and we didn't re-frame them so they also represent the time (era) they were taken. We have room to add to the wall as our kids marry and start having kids of their own!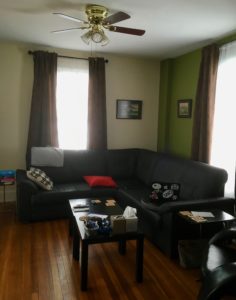 This is the living room. We were very lucky with the existing paint – lots of soothing shades of green. Across from the couch is a TV. It isn't a big room but is very cozy and works well. When we've had more people over than all fit on the couch, there is space to move in dining room chairs for sitting and there is a single chair in each of the open corners as well.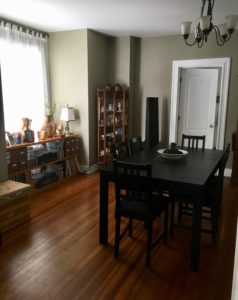 I have to admit that the dining room is one of my favorite rooms. I was concerned about melding my Heart's "modern" style with the antiques I had in storage from my family's home but everything went together quite well. His shelving unit fit absolutely perfectly in the nook area and has his stereo, record player, etc. and all of our records and CDs. My grandmother's corner hutch was also a perfect fit. The cabinets hold a bit of my things and a bit of his things, many of which he never had on display before. The room also has pictures from both of our collections. It is such a wonderful blending of things we both love, it makes me happy every time I look in the room. We purchased a dining room set that can easily seat eight and we do eat dinner at the table every night, something we never did in the apartment.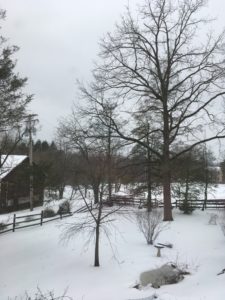 The other thing I love is the location. We are conveniently close to the highway, only @15 minutes away from my work, and are walking distance from a grocery store, our new favorite Italian restaurant, a liquor store, gas station, Chinese takeaway… well, you get the picture but… THIS is the view out our back door. It truly feels like we live in the country and I know I will never tire of this view, during any season.
There are still lots of things that need tweaking and fixing and my Heart starts random projects, which makes him tremendously happy, but we are loving having space and the ability to entertain. We both feel very At Home!