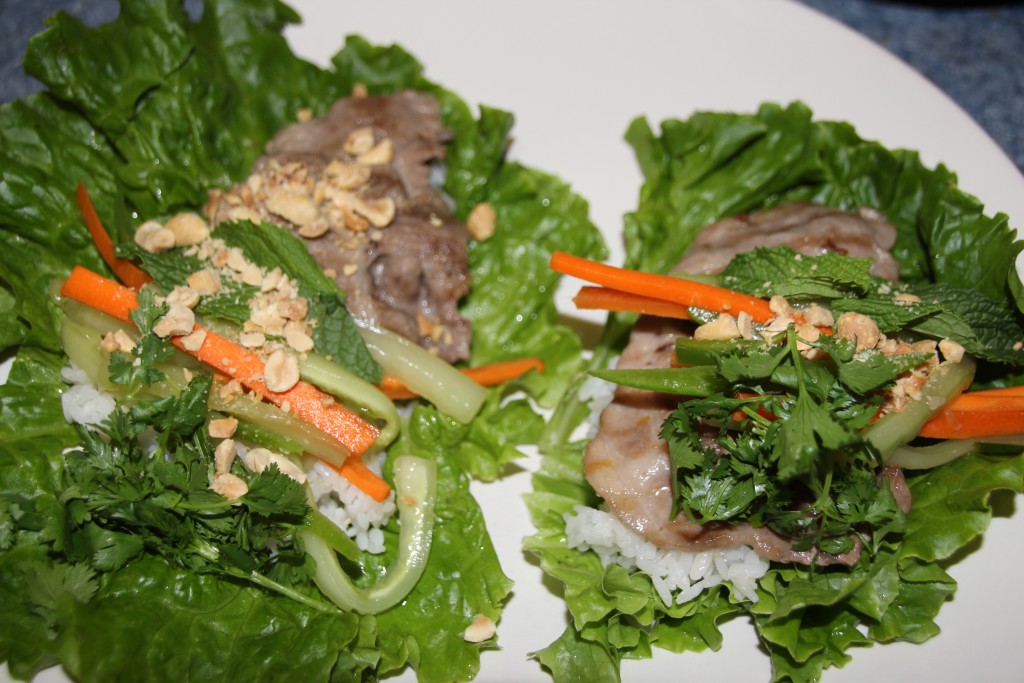 I am a fan of lettuce wraps and this recipes sounded delicious. But – Once I start eating I remember why I don't make them often. MESSY – so I think this will become a "rice bowl" dinner in the future – delicious but simply too messy for me to thoroughly enjoy.
The inspiration recipe: Thai Beef Lettuce Wrap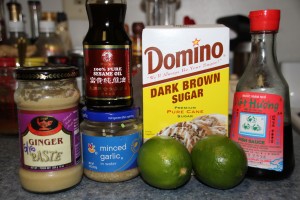 Sauce:
1/4c fish sauce
1/4c brown sugar (I used dark)
3 limes – juiced
4 tsp ginger paste (would totally use fresh ginger if I had it)
2 cloves garlic, minced
1-2 tsp sesame oil (to taste)
Combine all the sauce ingredients and let sit for at least 15-minutes. This will keep for 48-hours in the fridge.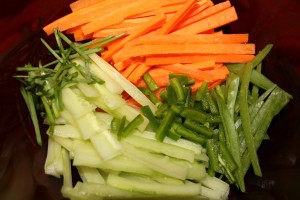 Slaw
1/2 large cucumber, seeded and julienned
2 carrots, peeled and julienned
1 jalapeño, seeded and julienned
5-6 snow peas, julienned
2 green onions, julienned
For a rice bowls, I think I will coarsely chop the toppings to make it a little easier to eat.
Combine the slaw ingredients and mix with 1/4c of the dressing.
Lettuce wrap prep:
Cooked Asian "sticky" rice (short-grain)
1 head of leafy lettuce (bib, butter, green leaf, red leaf – NOT iceberg (head) lettuce, which has no taste and no nutritional value and is primarily water), cleaned
1 bunch fresh mint, cleaned and stems removed
1 bunch fresh cilantro, cleaned and stems removed
1 bunch fresh Thai basil, cleaned and stems removed (which I am very sad I forgot so I'm leaving it in the recipe!)
1c dry roasted peanuts (unsalted are best – there is lots of sodium in this dish and also lots of flavor so you really don't need

salted

peanuts)
Sriracha, if you like a little spice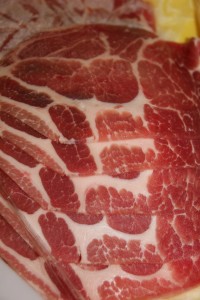 The Protein:
Our local Asian markets have pre-packaged, extra thin, sliced meats that are perfect for recipes like this. The pork was on sale but I know that beef would be equally delicious, and lamb too, now that I am thinking of it.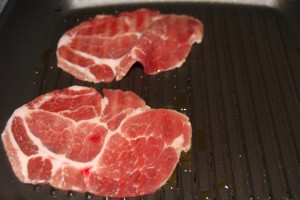 Pour 1/2c of the sauce into a bowl. Cooked the meat on a stove-top grill pan – the meat cooks up very quick. Once cooked, immediately dropped the meat into the bowl of sauce. I found this method really interesting because you would normally marinade the meat prior but this worked perfectly.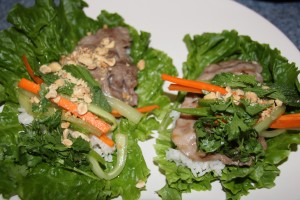 Assembly: 
Do.It.Yourself!  The best way to serve this, as a wrap, is to let people make their own because you don't know how much of anything anyone would want. I would recommend using ALL the herbs (mint, cilantro, basil), at least on the first one, because the combination is magical.
Lettuce wraps vs. Rice Bowls for this recipe. I like lettuce wraps, generally speaking, but this is particularly messy because of the sauce (some lettuce wraps have thicker, "stickier" sauces so they aren't as messy) BUT, that said, I really love the flavors in the sauce so I wouldn't change it.  If I did this as a rice bowl: small scoop of rice on the bottom of a bowl topped with all the selected ingredients and a drizzle of the sauce… same flavor outcome with less dibbling down my arm. Sounds like a win to me!