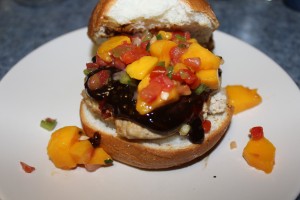 Ground turkey on sale, someone suggested I try Udi's Gluten Free hamburger buns,  and burgers sounded good – the inspiration recipe was definitely inspiration because I changed so many things: Grilled Hawaiian Teriyaki Burger.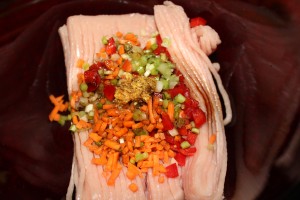 1 lb ground Turkey, 1/4c shredded carrot, 1/4c chopped red bell pepper, 1/4c green onions, and 2 tsp grated ginger, 1 Tbsp soy sauce. Mixed thoroughly.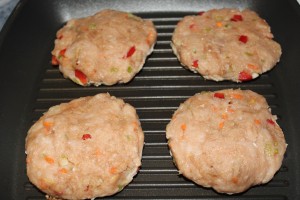 Four patties…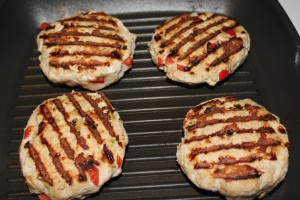 …grilled on med-high heat for approximately 7 minutes on each side. (Internal temperature: 165-degrees)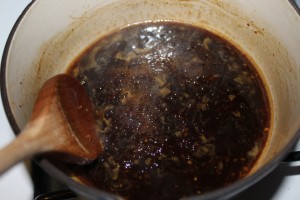 Teriyaki Sauce: 1/4c low sodium soy sauce, 1/2c Orange Mango juice (Nature's Promise), 3 Tbsp brown sugar, 1 tsp grated ginger, 2 tsp minced garlic.  Brought the ingredients to a boil and then dropped to a fast simmer and let reduce while the burgers cooked.  Combined 1/2 Tbsp cornstarch with 1/4c cold water.  Used the cornstarch mixture as a thickener for the sauce once the burgers were cooked – took the sauce off the heat, stirred in some of the cornstarch mixture until smooth, turned back up the heat, stirring until thickened.  If it is not quite thick enough, add more of the cornstarch mixture.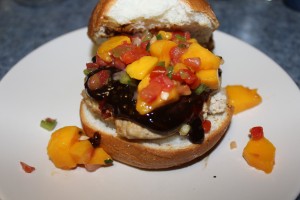 Toasted the hamburger buns on the griddle – topped the burger with the some of the teriyaki sauce and mango pico de gallo (store-bought mild pico de gallo mixed with chopped fresh mango) leftover from last night's crab tacos.
The turkey burgers were a little dry – definitely adding just a little shredded cheese helps (like in the Cheddar Jalapeño Chicken burgers), something I will do next time.  The teriyaki sauce was delicious and a perfect topping.  Grilled pineapple, like the inspiration recipe, or my Heart's suggestion of grilled peach would also make a great topping.  The gluten free hamburger buns were ok but I don't know that I would spend the money for them again ($4.50 for 4) – simply not worth it.