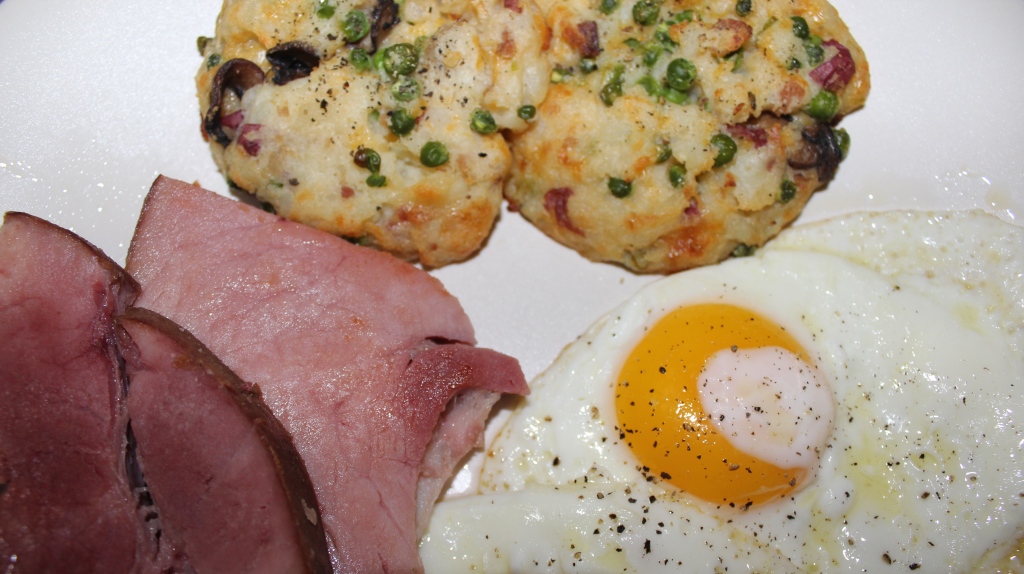 What do you do with leftover mashed potatoes? This has often been a quandary for me. Sometimes, what do you do with leftovers is a quandary, especially if they are random leftovers. It is easy to package up all the parts of dinner into a lunch but what if all you have are leftover side dishes? That was the case here. I have tried several different recipes for leftover mashed potatoes and haven't liked many – they are often too dry or way too complicated (these are leftovers, folks… 8 additional ingredients?  Seriously? No!). I LOVED this super simple and super delicious recipe that turned out perfectly.
Inspirational recipe: Mashed Potato Cakes – this is my version based on my leftovers.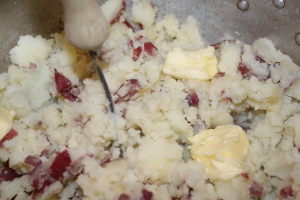 One of our traditional Thanksgiving side dishes is Smashed Taters – this is my take on double stuffed baked potatoes.  First, mash cooked red or new potatoes and add in a little milk and butter, just like regular mashed potatoes.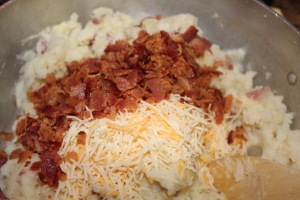 Then add in the healthy additions, chopped crisp bacon, chopped green onion, and shredded cheese.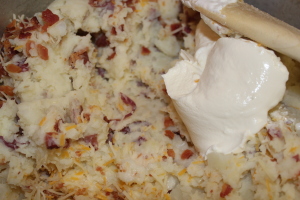 You are looking for that baked potato taste so some sour cream as well.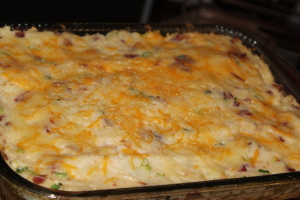 Scoop into an oiled baking dish, cover with cheese, and bake in a 350-degree F oven for approximately 20-minutes until slightly brown and bubbly.
Plan ahead: You can also wrap this up and put it in the fridge and bake it when you need it (increase baking time to 35-45 minutes and check the center to make sure it is heated through).
So, pretty simple and really a hit.  But what about the leftovers?  This is usually part of the after-Thanksgiving lunch packages but, inevitably, there is more left.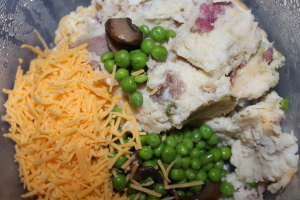 And this year, along with the 2c leftover Smashed Taters, there were leftover peas & mushrooms (approximately 1/2c). Can I turn this into something yummy?  Why yes – I can and the only other addition was 1/2c shredded cheddar cheese. Seriously!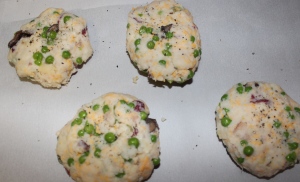 Pre-heat oven to 450-degrees F and  combine 2c mashed potatoes, 1/2c peas & mushrooms, and 1/2c shredded cheddar cheese.  Form them into patties and place on a baking tray lined with parchment paper.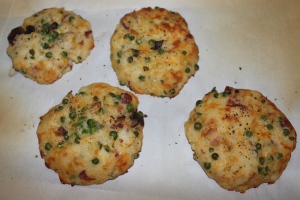 Bake potato cakes in pre-heated oven for 25-30 minutes, until golden brown. Let them rest for 10-minutes on the baking sheet before serving.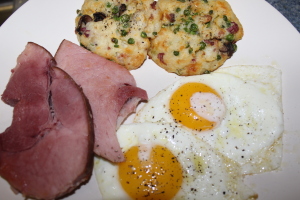 It could not be any easier if they made themselves. They were the perfect texture and the perfect side with ham and eggs but they would go with most anything.