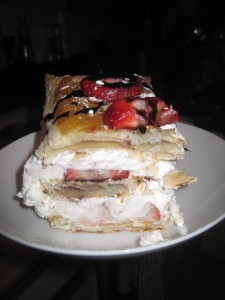 Sunday Roast May 10, 2013: Eye Round Roast with all the fixings including Yorkshire puddings but the star was my Heart's dessert: Strawberry Mille Feuille – WOW!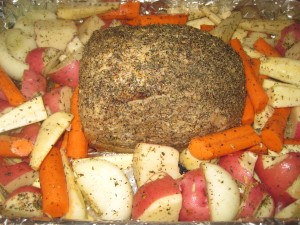 Eye Round roast was rubbed with Olive Oil then rubbed with chopped garlic and dried thyme and freshly ground pepper.  Initially the meat was cooked in a 450-degree (F) oven for 20 minutes then reduced the oven temp to 325-degrees.  The vegetables: carrots, parsnips, yellow onions, and red pepper were shaken with olive oil, Herbs de Province and more freshly ground pepper.  They were added to the pan with the meat and everything cooked for approximately 70 minutes until the meat reached an internal temperature of 120-degrees for rare.  Removed the meat to a cutting board to rest, covered with foil to stay warm but returned the vegetables to the oven and increased the oven temp to 400-degrees to cook the Yorkshires for approximately 25-minutes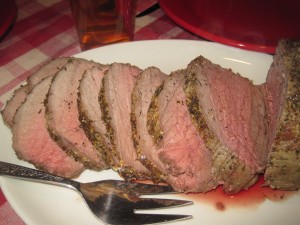 The meat turned out perfect with more medium slices toward either end.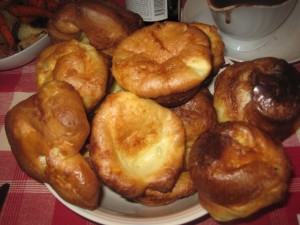 The Yorkshires were equally perfect –  lovely, light, fluffy "bowl" for gravy.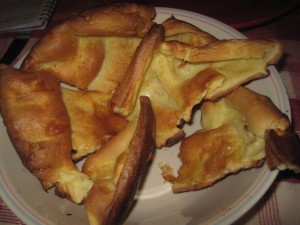 My Heart also made a flat pan of Yorkshires, which is actually my preference.  He has really gotten the recipe down.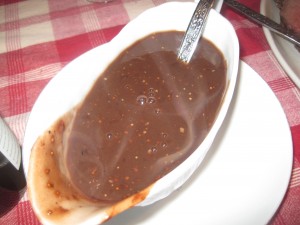 My Heart's delicious gravy: Bisto, Merlot, some of the beef juices, and grainy French mustard.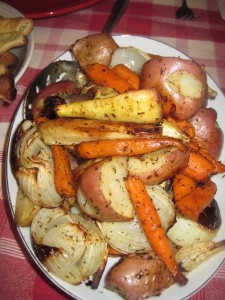 The vegetables also turned out wonderfully – my Heart is convinced that we have finally perfected the Sunday "Roast" and will promptly forget everything over the summer!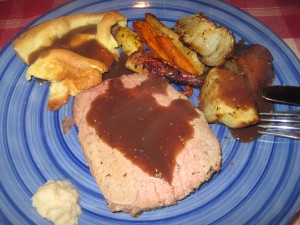 One of my favorite Sunday dinners!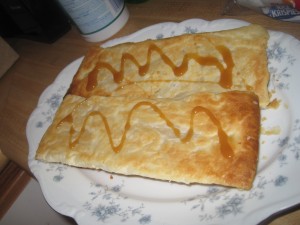 But really the star of the night was dessert: Strawberry Mille Feuille – The first layer: baked puff pastry with a drizzle of caramel…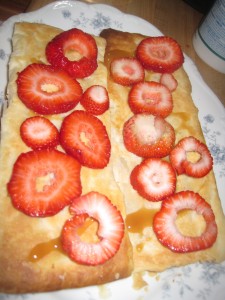 … topped with strawberry slices …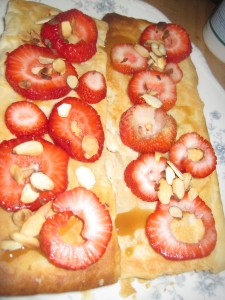 … toasted sliced almonds…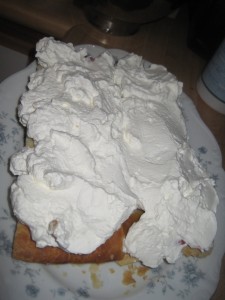 … then a "little" freshly made whipped cream.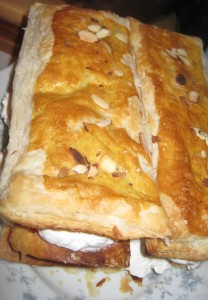 Next layer again starts with puff pastry…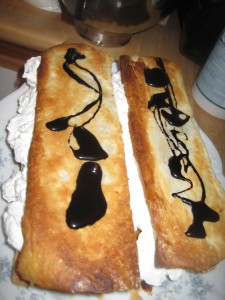 .. but this time a drizzle of chocolate sauce..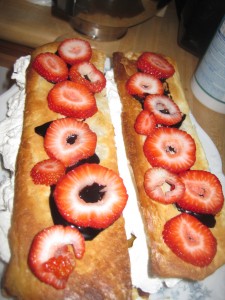 … more sliced strawberries …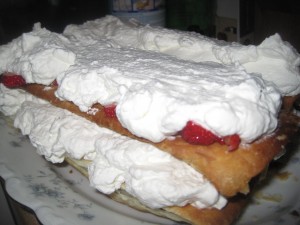 … a little more whipped cream.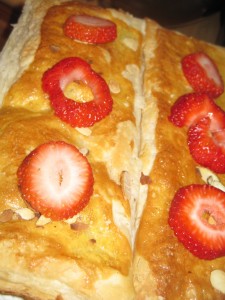 Topped with another puff pastry layer more strawberries and sliced almonds…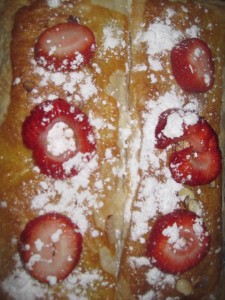 … a sprinkling of powdered sugar and another…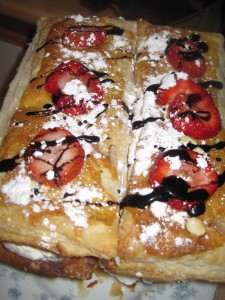 … drizzle of chocolate.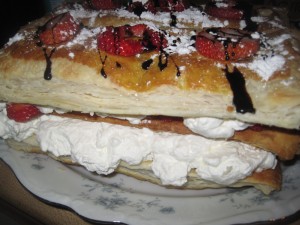 WOW !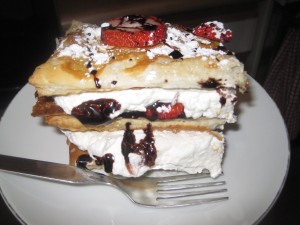 And this is ONE serving!  But the dessert was surprisingly light with wonderful crunch.  A huge hit !