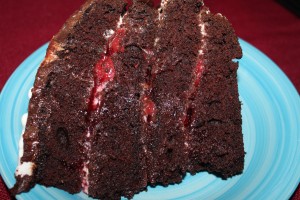 My daughter's Birthday Sunday Roast and her favorite dinner is my pork carnitas.  Of course, my Heart would make dessert and, instead of picking a favorite, she left him to his own devices!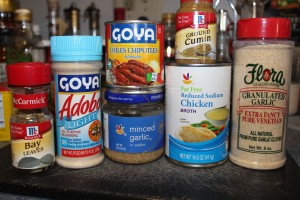 The pork carnitas are almost a staple because everyone just loves this meal (the first time: Sunday Roast: Pork Carnitas) – I pretty much stick with the original recipe. (no measurements – just SPRINKLE!)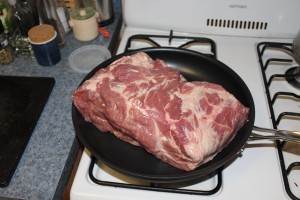 Buy the cheapest pork you can find – this is a bone-in pork shoulder. I did trim off the fat where I could but a little fat is good to keep the meat super moist. Brown in a hot skillet.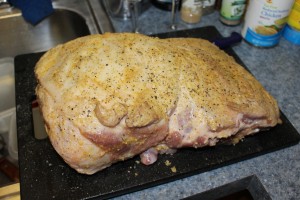 Rub all of the DRY ingredients into the browned pork.  Make small cuts in the meat and insert garlic also.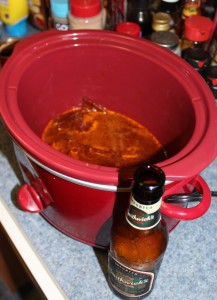 During the summer we went to the Red Iguana 2 in Salt Lake City.  Their pork carnitas were fantastic – inspired by their's, we added some beer to the cooking liquids: low-sodium chicken broth and the chipotle peppers in adobo sauce.  The beer in our fridge? Smithwicks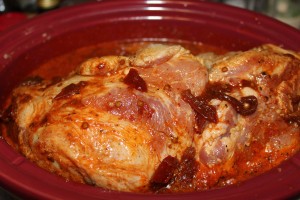 Filled to the BRIM – yes, we bungee-corded the lid on and put the slow cooker in a pan to catch any overflow, if it happened… it wasn't too bad!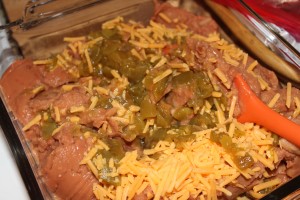 The kids love my refried beans: 2 cans fat-free refried beans mixed with lots of shredded cheddar cheese and topped with lots of shredded cheddar cheese – microwaved until bubbly.  This time I added a can of chopped green chilies.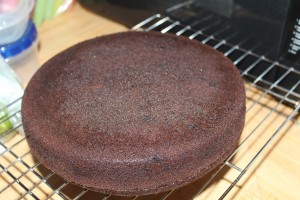 The masterpiece of the day was definitely the cake – starting with a gluten-free chocolate cake.  Betty Crocker has been rocking the gluten-free mixes and my Heart has definitely been taking advantage. The cakes, brownies, and cookies have all been excellent.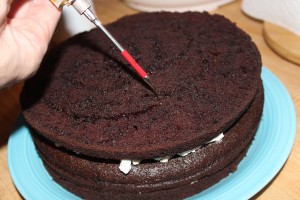 He made to round cakes and cut each in half and drizzled / inserted Jack Daniels Tennessee Whiskey, my daughter's drink-of-choice, into each layer.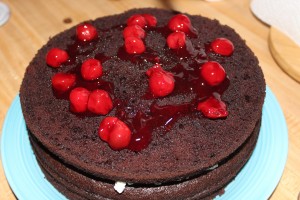 Each layer was then topped with some canned cherry pie.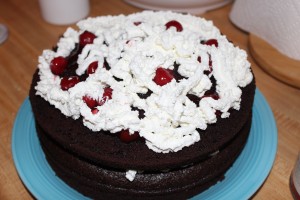 Then a squirt of whipped cream.  And if you don't have a whipped cream maker – seriously worth the cost if you like whipped cream. Cheaper, in the long run, than buying canned whipped cream in the grocery store – much quicker than making whipped cream in a mixer – super easy to add flavors / alcohol to whipped cream!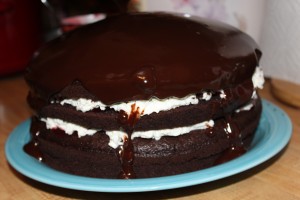 Topped with my Heart's perfect chocolate ganache poured over.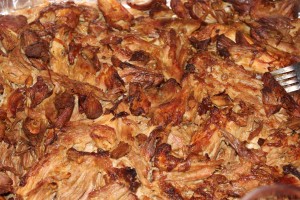 Took the pork out of the slow cooker – removed the bone and broke the meat up, removing any chunks of fat.  I don't shred the mean, like pork BBQ, because you want chunks of pork. Truly one of the most important steps is putting the meat under the broiler for 10-15 minutes (keep an eye on it) – the caramelization totally makes the taste & texture perfect.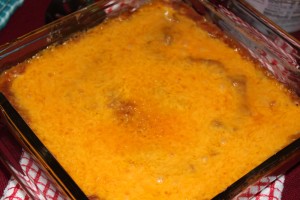 The refried beans with the green chilies were a big hit – so much so, one: everyone was mad I didn't make three cans of fat-free refried beans and two: the kids made them again to go with the fish tacos they had later in the week.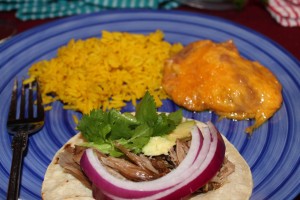 We serve with both corn (gluten-free) and flour tortillas and for toppings: red onion, store-made pico de gallo, store-made mango salsa, fresh cilantro, lime slices, and slices of avocado.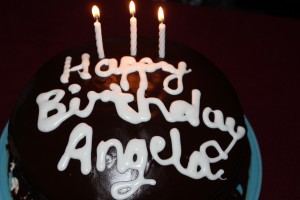 Happy Birthday Angela!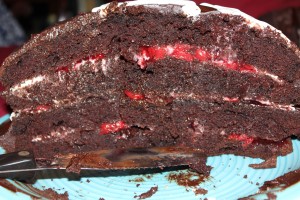 The cake was amazing. The liquor had soaked into the layers making it super moist but not soggy and the flavors melded beautifully.  Perfect birthday cake for my daughter.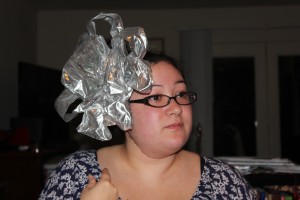 She will kill me for posting a photo (although my kids never read my blog so I can get away with a lot) – Happy Birthday Angela!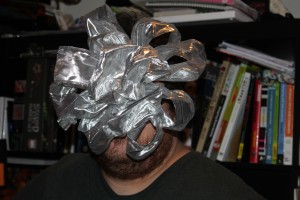 My son's girlfriend tried to get the bow on Stephen – this is what we got – I think it's one of my best pictures of him – Love It!