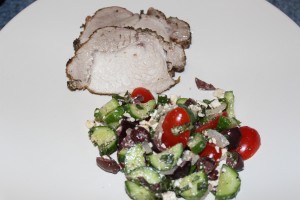 After a crazy busy week away and other complications we were on our own for Sunday Roast – Pork loin was on sale and smoked sounded perfect for a Sunday.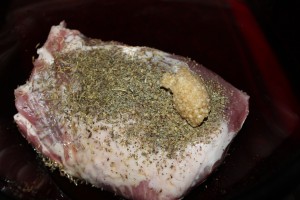 Used Hickory-Smoked Pork Tenderloin with Herbs for the rub: 1 Tbsp minced garlic, 2 tsp dried thyme leaves, 2 tsp rubbed sage, 2 tsp dried marjoram, 1 Tbsp Olive Oil – Rub in thoroughly.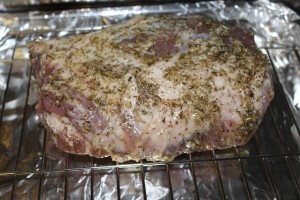 1 1/2 Tbsp Hickory chips on the bottom of the smoker – heated to medium heat and shut tight once smoked started to appear. Smoked for 30-minutes but meat was not close to temperature (165-degrees)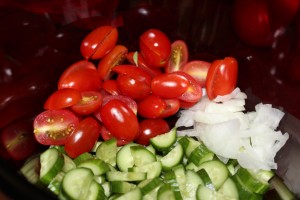 Inspiration recipe: Easy Greek Chopped Salad – Grape tomatoes, mini cucumbers, sweet Vidalia onion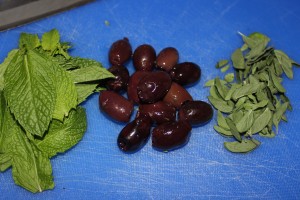 Fresh mint, pitted kalamata olives, fresh oregano – there are measurements in the inspiration recipe but I sorta just guessed!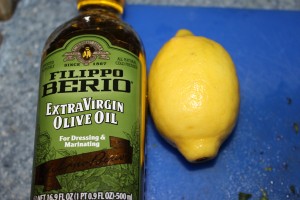 Juice of one whole lemon, 3 Tbsp olive oil, and freshly ground black pepper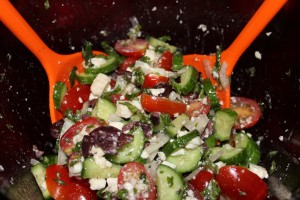 4 oz crumbled feta cheese – Mix thoroughly.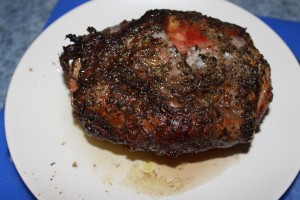 Cooked the pork loin another 30 minutes in a 375-degree oven. Obviously a pork tenderloin would have been easier and quicker.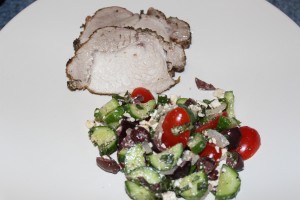 The pork had a great smoke flavor but was not as moist as I would like.  Next time I will try to smoke a proper pork tenderloin vs. pork loin.  The salad was the highlight of the dinner – it was packed with flavor and totally fresh tasting.  So super easy – definitely something we have often.