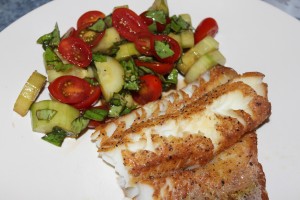 Stovetop Smoker experiment #3 – Cod with a Basil, Tomato, Cucumber salad on the side.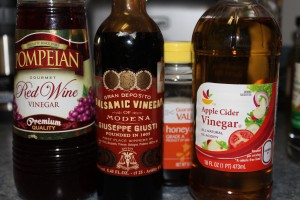 I actually followed this recipe: Basil Cucumber Salad with Tomatoes & Cheese – well, except I forgot to put in the cheese. *sigh* I did use more cucumber and grape tomatoes so I doubled the dressing: 2Tbsp of each: Red Wine, Balsamic, & Apple Cider Vinegars and 2Tbsp honey. Also a dash of kosher salt and freshly ground black pepper.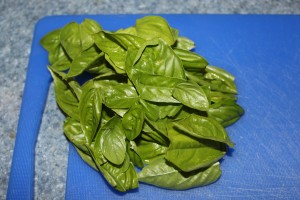 Fresh basil from our garden!  The recipe called for it to be chopped but I think I would have preferred a smaller cut – next time chiffonade.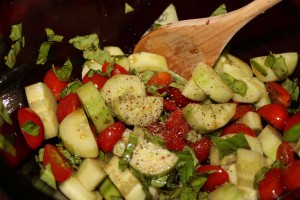 English cucumber, peeled and cut into chunks.  Grape tomatoes, cut in half. And I say again – I Love the Super Simple Way to cut grape tomatoes in half!  Combined with the dressing and let it set in the fridge for one hour.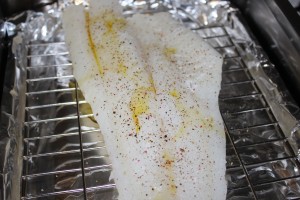 Cod with a drizzle of olive oil and freshly ground pepper.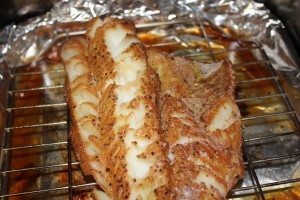 Used Hickory chips and smoked for 15 minutes on medium-high heat then turned off the heat, keeping the lid closed, for another 15 minutes.  Notes for Next Time: 10 minutes & 10 minutes – depending on the thickness of the fish.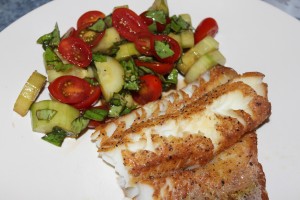 The fish was lovely and smokey and had great flavor – it wasn't dry but could probably be cooked for a shorter period.  The salad had a wonderful combination of tartness and sweetness and the next time I make it I will try very hard to add the cheese because I think that will be a great addition.