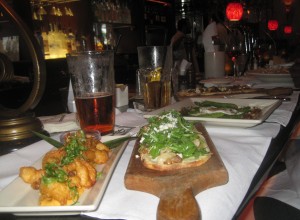 Yesterday was a very rainy day in Maryland but my Heart and I needed some steps to finish off our day so we decided to "walk" one of the local malls.  Towson Town Center Mall is a good sized and has nice upscale shops so that's where we headed.  We also stopped for dinner at one of the attached eateries.  Generally national chain restaurants are not our first choice but the weather was still yucky, we tried going to Stoney River but the bar was fairly packed and we were hoping to watch the Orioles game – surprisingly the bar in The Cheesecake Factory was relatively empty.  I hesitated writing a review for such a well known and popular chain … but what the heck.
First: No Ciders – Very disappointing.  I really wanted a cold pint so rather than buy an expensive glass of wine or some fluffy drink, I just had iced tea.  My Heart ordered a 16oz beer (there were only three on tap) and the waiter brought him a 22oz.  Ok – So my Heart is English… which means he speaks English and yet… so many people don't understand a thing he says.  Seriously!
Next:  The menu is ridiculously huge.  I know that they are catering to All different kinds of people and All different tastes but, as I've seen on multiple cooking shows…  Keep it simple – do a few dishes Magnificently – Focus on the quality.  But that's not how The Cheesecake Factory rolls.  The food is pretty good and the quantity is generally HUGE, which is what brings people in the door.  I find menus like this overwhelming, generally speaking.  That said – Here's what we ate, all small plates that we shared, and all of it was very nice.  (Note – the opening description is directly from the Cheesecake Factory menu)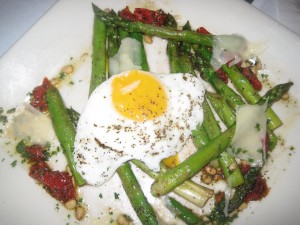 My pick #1: Warm Asparagus Salad: Oven-Roasted Tomatoes, Pine Nuts, Extra Virgin Olive Oil, Lemon and Parmesan Cheese, Topped with a Sunny Side Up Egg – This dish was definitely my favorite. The asparagus was cooked perfectly, as was the egg (although the yolk was already broken on the bottom  so we didn't get the delicious joy of breaking the yolk and watching it run).  This was definitely a "perfect fork" kind of dish for me – where you "build" your fork full of all the flavors.  I would have liked a little more parmesan and I could not taste any of the lemon.  We are talking about recreating this dish at home – maybe adding bacon to make it more of a main course salad.  Very nicely done.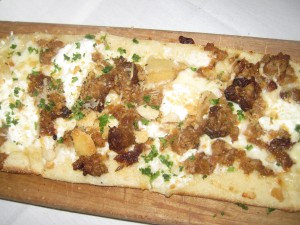 My Pick #2 & Flat Bread Pizza #1 – Sausage, Ricotta, Fontina, Parmesan and Romano Cheeses, Garlic Crumbs, and Herbs.  This pizza had a nice combination of flavors and the sausage had a nice crisp texture but, and this was true for both the pizzas,  the bottom was not nearly crisp enough. The toppings were fairly substantial so when you tried to pick up a piece it wouldn't hold together.  We ended up folding over a tiny slice of pizza to try to keep all the toppings on top.  Generally flat bread pizzas are nice and crispy – that is one of the best parts.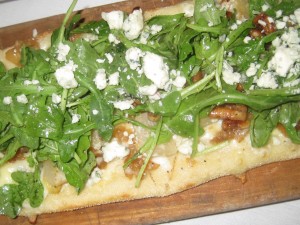 My Heart's Pick #1 & Flat Bread Pizza #2 – Roasted Pear and Blue Cheese, Pecans, Arugula and Caramelized Onions.  I was most disappointed that the bottom of this pizza wasn't crisp because it was really hard to keep all the ingredients on the tiny little pieces – the pizzas were cut at angled diagonals so that there were basically six "triangles".  I really wanted the ingredients of this pizza combined into that one perfect bite.  The roasted pears were delicious and I am always a fan of sweet (pears & caramelized onion) / salty (blue cheese) / bitter (arugula) on almost anything.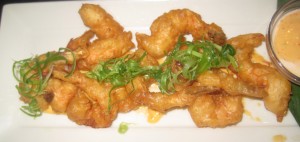 My Heart's Pick #2: Dynamite Shrimp – Crispy Tempura Shrimp Tossed with Spicy Dynamite Sauce.  It was a toss up between this shrimp and the Crispy Crab Bites – I'm glad my Heart picked these because there were only six little crab bites and this was a nice order of shrimp.  First – I really enjoy tempura-style shrimp and I am sure it was nice and crispy but when you take crispy fried tempura shrimp and then toss it in sauce… soggy happens fairly quickly.  I would have been happier with the crispy shrimp and the sauce on the side (and there was sauce on the side as well).  The sauce was almost the best part – it was creamy but had a lovely subtle but solid heat.
All said and done, it was a lovely evening:  Because of a rain delay, the game actually started not long after we sat down – we had a very friendly couple sitting next to us and they were also really into the game so that was entertaining – the bartender pointed out a young couple sitting behind us because the young man was kneeling down and proposing to his beautiful date – the food, while small plates, was satisfying and interesting.  We did head to our "local" (the pub we frequent close to the apartment) afterwards for pints (they have both cider and Smithwicks!) and to finish the game (Go O's – They Won!).  Yup – a lovely night!