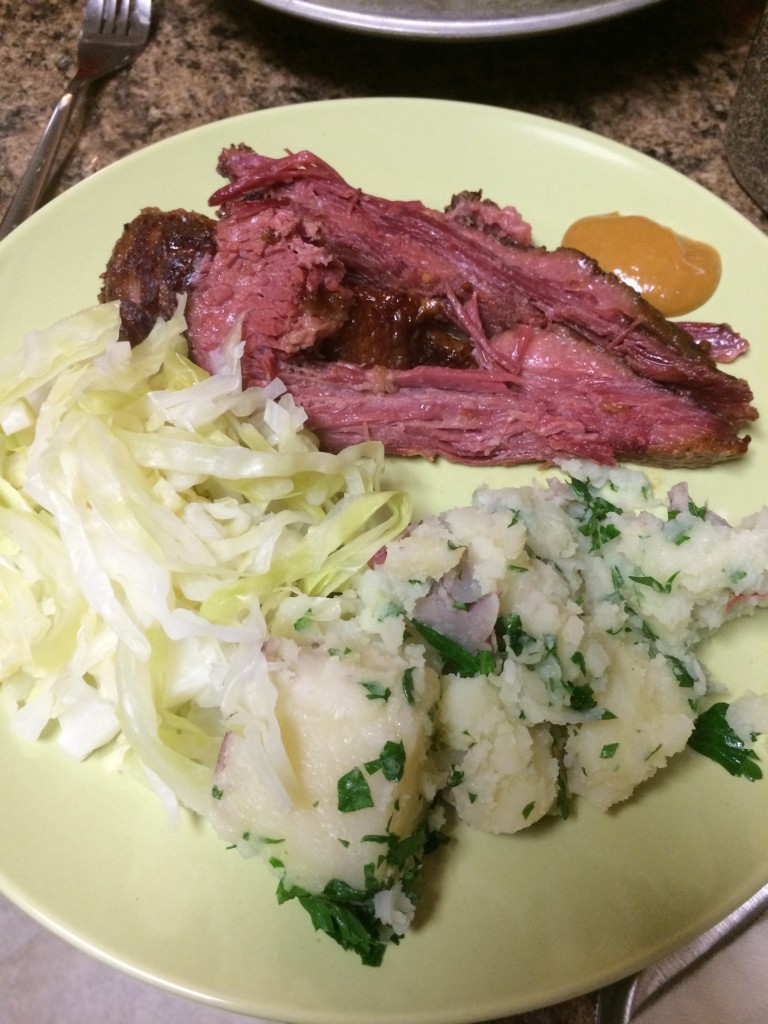 St. Patrick's / Sunday Roast tradition – corned beef, potatoes (sometimes mashed potatoes and this time, parsley potatoes), and steamed cabbage.  And there is also lots of beer and hard cider.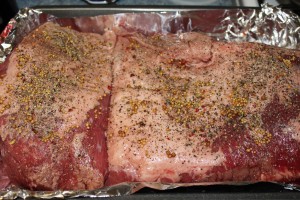 So, there are only five of us for Sunday Roast but I bought three corned beef briskets. Corned beef is always on sale around St. Patrick's Day and my kids love leftovers plus the "girls" (my daughter and my son's girlfriend) really like the lean pieces but the one piece I found that was super lean was also very small.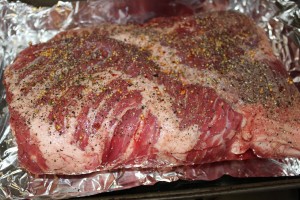 I also decided to cook the corned beef differently this year. I normally put them, with the little spice packet that is included, in a slow cooker with water.  I saw Ree Drummond (The Pioneer Woman) posted a Corned Beef & Cabbage recipe that looked super simple and delicious so I thought I would try it, especially since I wanted to make more this year.
Covered two roasting pans with foil (I didn't have a big enough pan for all three).
Pre-heated the oven to 300-degrees.  Rubbed in the spice packets that accompany each of the briskets and added freshly ground black pepper.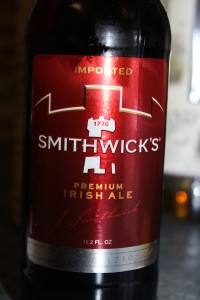 The plan was to use Guinness but, because of timing, we decided to start the cooking process at our apartment and the Guinness was at my son's apartment so we used Smithwick's instead, which may have been even more appropriate since it is supposed to be the "oldest Irish beer".  Anyway, I split the bottle of beer between the two pans.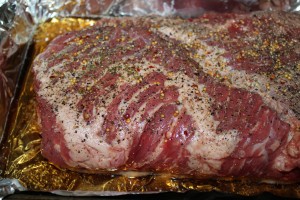 Covered both pans, tightly, with foil and cooked the briskets for 3-hours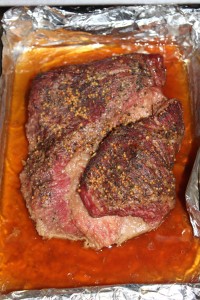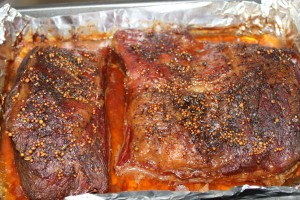 Then wrapped them up and moved them to the kids' apartment and returned them to a 225-degree oven, this time uncovered, for an additional 90-minutes.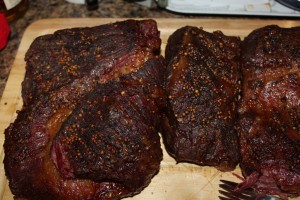 They probably could have cooked a little less but my son was still finishing moving things from their old apartment and that was about the time he returned.
Removed the corned beef from the pan and put them on a cutting board to rest, covered in foil, for 15-20 minutes.  You can see how crispy brown the outside of the meat is but it in no way deterred from the flavor, in fact everyone really enjoyed the combination of textures.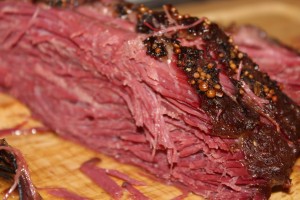 The meat was super tender but had a distinctly different texture from boiled corned beef and the crisp edges were packed with flavor.  Initially my son had some misgivings about my changing the cooking method, mostly because he really likes my corned beef, but he was totally sold after just a couple bites.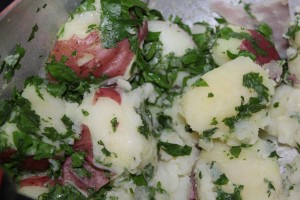 Of course, very traditional sides included parsley potatoes (boiled red potatoes with lots of butter, freshly chopped flat-leaf parsley, and freshly ground black pepper).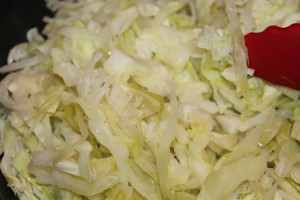 And steamed cabbage (chopped green cabbage piled into a large skillet with approximately 1-cup of water – cover and bring the water to a boil and let "steam" for approximately 10-minutes)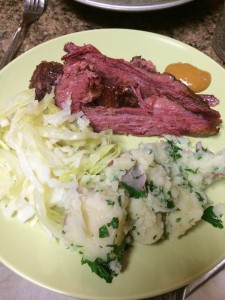 Everyone was thrilled with the meal – just what they were hoping for to celebrate St. Patrick's Day. And the benefit to cooking so much corned beef? Lots and lots of leftovers for lunches (and they were very delicious as well).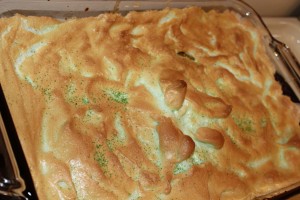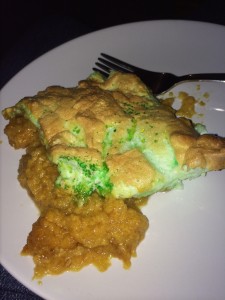 On to dessert – my Heart made a favorite: Carmel Queen pudding.  This recipe is from The Love of Cooking by Sonia Allison, a book printed in 1972.  I searched for the recipe online and… Nothing!  WOW!  The family loves this dish so hit the link for the full recipe.