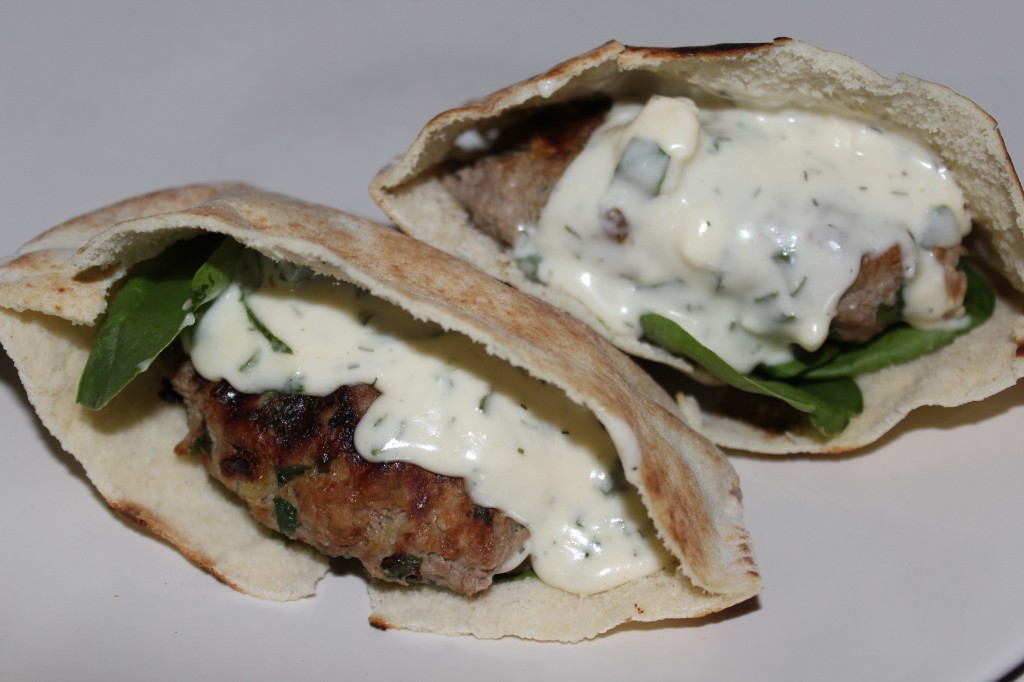 A few more burgers before the summer ends and these were really good, although the sauce MADE the meal.  Inspirational recipe: Spinach and Feta Chicken Burgers (aka Spanakopita Burger).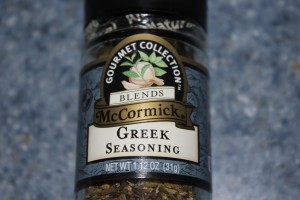 First the burgers: 1 lb ground chicken – 2 Tbsp Greek seasoning – freshly ground black pepper to taste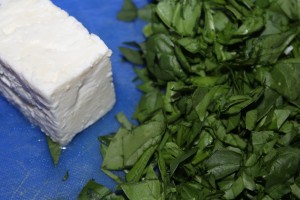 2c fresh spinach, coarsely chopped – 3/4c feta, crumbled – 2 gloves garlic, grated – 2 green onions, chopped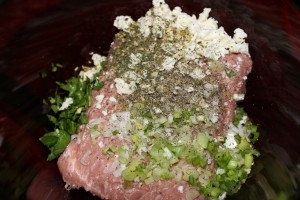 Combine burger ingredients and form patties – I made elongated patties so that they would fit more easily into the pita pockets I am using.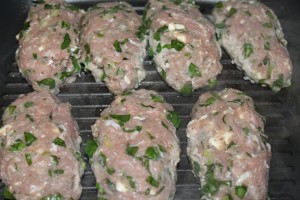 Heat stove-top grill pan over medium-high heat – Grill each patty for 5-6 minutes on each side, until they reach an internal temperature of 165-degrees-F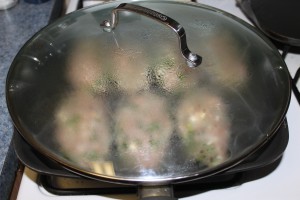 One method I have mentioned before, I grill using a stovetop grill pan but one issue is that, unlike an actual outdoor BBQ grill, you can't "close the lid" to help speed up the cooking process. The cure for that, I've found, is to pour in a little water around the edge (so the meat doesn't get soggy) and cover the pan. The steam in the pan raises the temperature around the hamburgers so that they cook more evenly, vs. just on the side against the heat source. I use the lid for my large skillet, which has a metal edge, so the heat from the grill pan doesn't damage it. If you have ever watched in a restaurant like a diner, the cook using a flat-top will put a small cover over food and will often spray just a little water around the edge to create steam under the lid. This is for the same reason. That way you don't end up with too much crust and still undercooked meat in the middle. Also, I do the same thing when melting cheese on the burgers.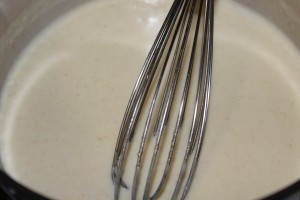 While all that is happening – the magical sauce: Melt 2Tbsp butter in a small sauce pan over medium heat until frothy, whisk in 2Tbsp flour (I used gluten-free all purpose flour) and cook until a light golden brown, mix in 1c milk (I didn't notice that we were low on milk so I did 3/4c 2% milk and 1/4c heavy cream) and simmer until it thickens.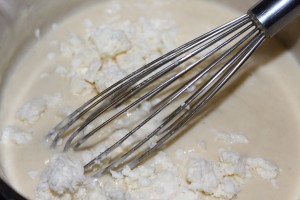 Whisk in 1/2c feta, crumbled, and cook until it melts.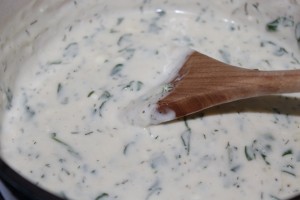 Stir in 2c coarsely chopped spinach, 1Tbsp dried dill, 2Tbsp lemon juice, and season with freshly ground black pepper.  Remove from heat when the spinach wilts.
The burgers should be a lovely brown and have the necessary "grill" marks but also have the required internal temperature.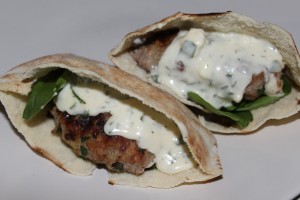 I toasted some pita pockets (pita and flat breads don't seem to bother me as much  as regular hamburger buns so, while they are not gluten-free, I can splurge) and filled the pockets with more baby spinach then topped them with the burgers and the delicious sauce.
Notes: The spinach could have been tossed with some lemon juice and olive oil for more of a salad. And the inspirational recipe had grilled halloumi and roasted red peppers, which I might consider in the future, but, honestly, the burgers were super moist and flavorful and the sauce was absolutely fantastic. When I asked my Heart for any suggestions, he just made "yummy" sounds and shook his head – I think that says it all. ENJOY!