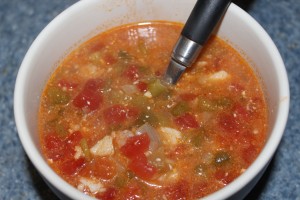 First – it is cold here and by cold, I mean COLD.  The low for today is 0-degrees F and, for Maryland, that is pretty damn cold. Second – I Love Soup.  I think I got that from my Dad, who also loved soup, no matter what time of year.  I especially love soup in the winter and, did I mention, it is Cold.  This means a couple of soups on the menu – I consider myself very lucky that my Heart is pretty much up for anything! My inspiration recipe: Spicy Fish Soup was basically just a starting point.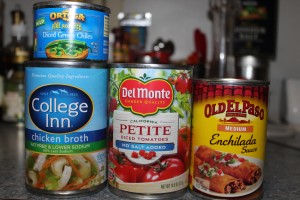 Liquid ingredients: Diced green chilis, low sodium chicken broth, diced petite tomatoes, and enchilada sauce (I wanted a Mexican flavor profile).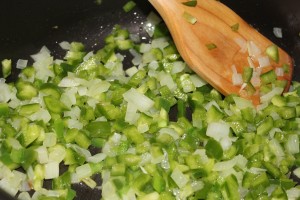 Medium onion and medium green pepper, diced and sautéed with 2 cloves of garlic, minced, in 1Tbsp olive oil.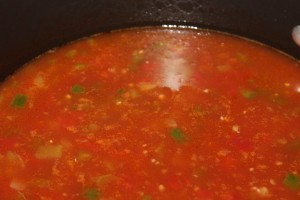 Add in the liquid ingredients, bring everything up to a boil then reduce the temperature and simmer for 20-minutes.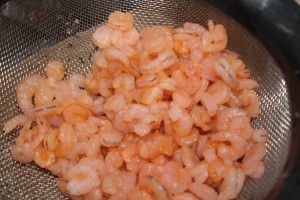 While the soup is simmering, defrost the shrimp with cold water.  I bought "salad" shrimp – you can see how tiny they are.  Last week I purchased the exact same brand and the shrimp were far more substantial.  Live and learn – next time I will buy larger shrimp because these pretty much disappeared into the soup and became "seasoning".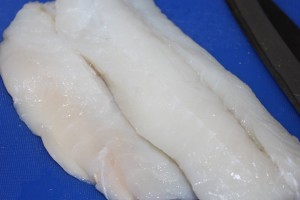 Cut 1/2 lb cod (or any other firm white fish) into chunks.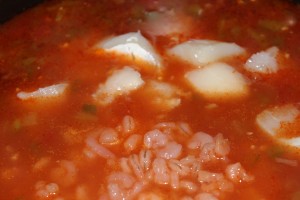 Add shrimp and fish to the simmered soup, bring back to a boil, drop the temperature again and simmer for an additional 10-15 minutes, until the fish is no longer translucent.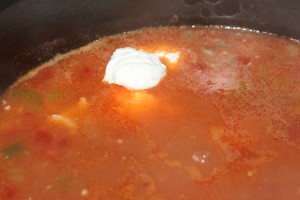 I didn't take a picture of the Greek Yogurt container because I wasn't positive I was going to add it but my Heart said "go ahead" – good call. Add 1/2c Greek yogurt / plain yogurt / sour cream to the simmering soup. I probably should have tempered the yogurt (added some of the hot soup to the yogurt and then added everything back in to the pot), I think that is why is separated but the flavor was still good.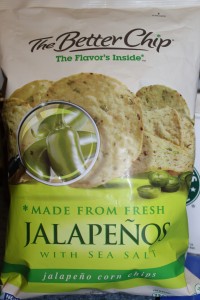 My Heart found these during Sunday grocery shopping and they turned out to be perfect with the soup – super crunchy with fantastic heat.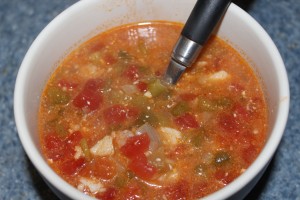 This soup is definitely a Do Again with some tweaking – the yogurt separating meant the soup wasn't very "pretty" but it tasted just fine.  The Jalapeño chips worked very well but, if you eat gluten, bread would also be good because the broth is very flavorful.  I might added jalapeños next time and bigger shrimp, of course.