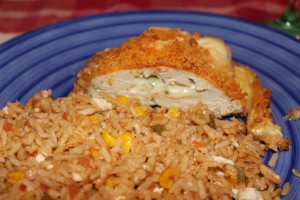 I love when a plan comes together – especially for a Sunday Roast.  The inspirational recipes were: Tex Mex Stuffed Pork Chops and Esquites (Mexican Street Corn Salad). The plan was to actually do this with pork chops but they didn't have any boneless chops at the grocery store we shop at, oddly enough. So I improvised.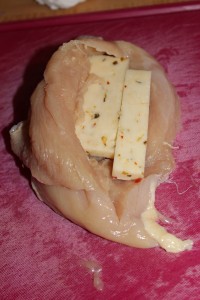 Block of Pepper Jack Cheese, sliced into 1/4″ sticks.
Boneless, skinless chicken breast – pounded with a tenderizer to make a more even thickness, approximately 1/4″.  Slice open crosswise to make a pocket and layer in three sticks of the sliced pepper jack cheese.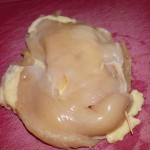 Use toothpicks to "seal" the opening
Pre-heat oven to 350-degrees F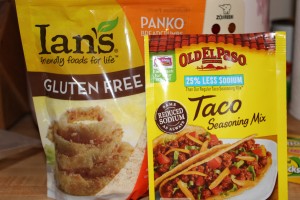 Combine package of gluten-free panko and package of low sodium taco seasoning mix in a gallon ziplock bag.
Prepare a baking sheet with aluminum foil and drizzle with approximately 2 Tbsp olive oil (I used a paper towel to "wipe" the olive oil all around the pan to make sure it is evenly coated.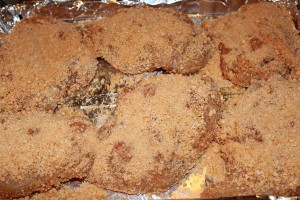 Toss the stuffed chicken breasts, two at a time, in the bag of coating and coat thoroughly.  Once all of the chicken has been tossed, sprinkle any remaining coating on top of the chicken.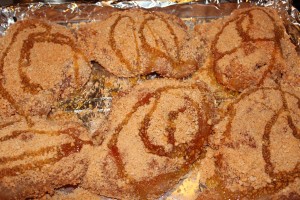 Drizzle the coated chicken with olive oil and place in the 350-degree oven – set timer for 45-minutes.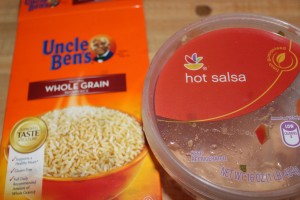 Meanwhile – Combined and cooked brown rice with a container of store-made hot pico de gallo. Reduce the amount of water that is instructed on the box because there is a lot of liquid in the pico – I basically pour the pico in a measuring cup and then fill with water to the recommended amount of liquid.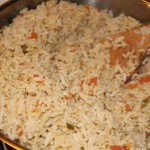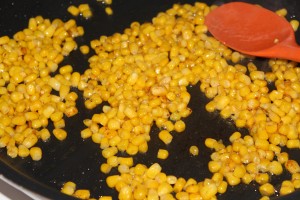 Drained canned sweet corn, sautéed in 2 tsp of olive oil until they started to brown / toast.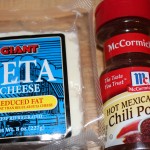 Crumbled reduced-fat feta cheese and a dash (approximately 3 Tbsp) of chili powder over the rice and combined.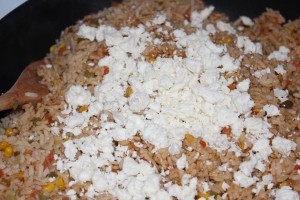 Added in the charred corn and combined thoroughly.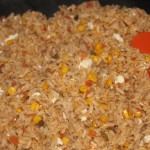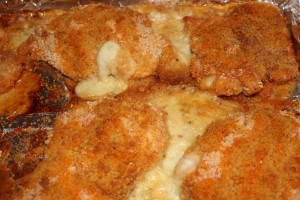 A lot of the cheese did melt "out" of the chicken. I think the remedy for that the next time I make this is to freeze the cheese sticks for 30-minutes or so before cooking – it might help.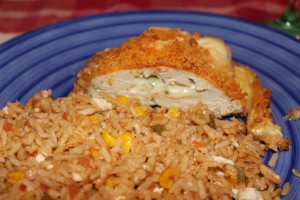 But you can see that there was still some cheese inside the chicken and the melted cheese under and around the chicken was very tasty.  The chicken was also very moist but crispy on the outside. The rice had great flavor and texture with the spicy pico, salty feta, and toasted sweet corn.  A definite hit with the family.