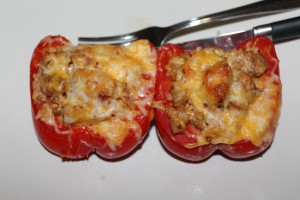 Stuffed Peppers sound old fashioned.  My grandmother made stuffed peppers – my stepmother made stuffed peppers – my godmother made stuffed peppers.  They were comforting, meaty, homey, and satisfying.  I haven't made them in years, for some unknown reason, but I found a couple recipes recently that inspired me: Paula Deen Stuffed Red Peppers and Mexican Stuffed Peppers for Two.
Prep: Wash and cut large red peppers in half, remove seeds and ribs inside.  Set aside.  Pre-heat oven to 350-degrees.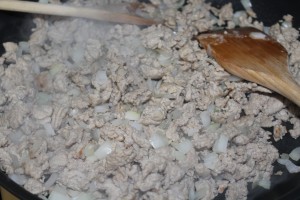 In 1Tbsp olive oil, sauté 1.3 lbs ground turkey with 1 medium onion, chopped and 2 cloves of garlic, minced, until the onions are translucent.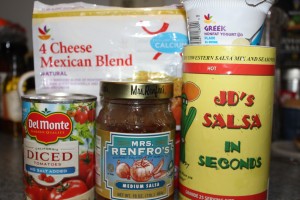 1 can diced low sodium tomatoes, 1/4c plain Greek yogurt, 1/2c shredded Mexican blend cheese, 1/2c medium salsa, 1 Tbsp JD's Salsa in Seconds seasoning (taco seasoning would work too but if you are staying gluten-free, check the ingredients).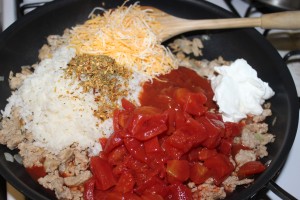 Combine with the cooked turkey mixture, 2c cooked long grain white rice (brown rice would work too), 1 tsp garlic powder, and the above ingredients.  This combination makes enough for 3 or 4 whole peppers, depending on the size of the peppers.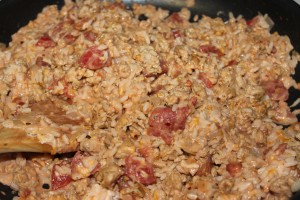 Mix thoroughly.
Combine 1c hot tap water with 1tsp beef bouillon granules and pour into a shallow casserole.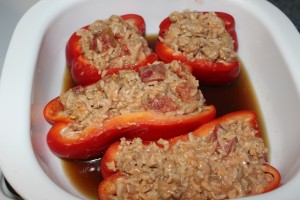 Fill the prepared peppers with the ground turkey mixture and place in the prepared casserole dish.  Cover with foil (or the casserole lid, if there is one) and place in pre-heated oven.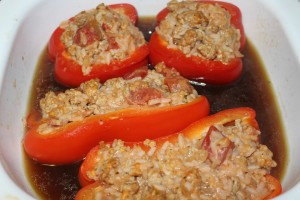 Bake for 35 minutes.  Uncover and sprinkle with additional shredded Mexican blend cheese.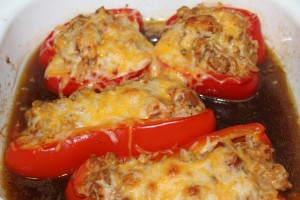 Return to oven and cook for an additional 15 minutes.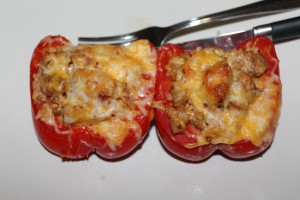 A very successful and satisfying dinner with great flavor. Notes: might add jalapeños next time, for more heat.  Also, were excellent re-heated for lunch.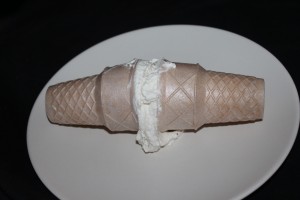 I have to share a picture of my Heart's dessert.  He whipped up heavy whipping cream and mixed in ricotta cheese, vanilla extract, cocoa, and some crumbled chocolate for a Cannoli-type filling and then filled gluten-free 9 calorie ice cream cones for each of us.  There was lots of filling so he made cones for us each night this week – not super sweet and wonderful crunch. Perfect!