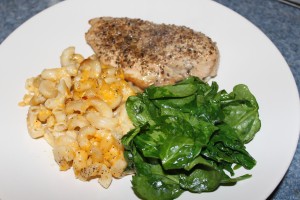 My Heart is the BEST and he knows me so well. My Easter present was a Stovetop Smoker.  I was looking to buy it myself but he talked me out of it, arguing that there was no place to put it in our tiny kitchen for how often we would use it etc. etc. etc. HA!  Then he surprised me for Easter!  The BEST!  So tonight was my First experiment: smoked boneless chicken breast with Mac & Cheese and sauteed spinach – can you tell my night meetings have ended!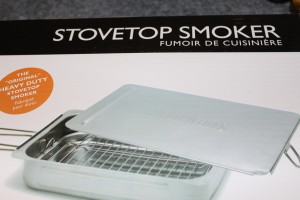 This is supposed to be one of the best brands – it was the larger smoker (they were sold out of the smaller one) – can actually do a whole chicken!  HELLO!!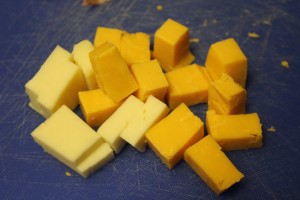 First the Mac & Cheese – a combination of sharp cheddar and Monterey Jack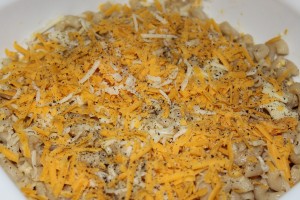 Mac & Cheese: gluten-free brown rice pasta (when cooking rice pasta: 1. Make sure NOT to overcook – ignore the time directions and start testing the pasta about 5-7 minutes before it is supposed to be done. It turns to Mush quickly!  2. RINSE thoroughly with cold water. If you are serving it right away then rinse again with warm / hot water to heat back up but you want to Stop the cooking and also get rid of any "film" left on the pasta, which makes it sticky. If you do this process "right" you can't tell rice pasta from regular pasta.  Made a cheese sauce with a combination of the Monterey Jack & cheddar cheese melted in about 1/2-3/4c of 2% milk.  Put the cooked macaroni in a lightly oiled casserole dish then poured in the cheese sauce and added approx. 1 c each of the cheeses, shredded. Topped with another 1/4c of each of the cheeses, shredded and some freshly ground pepper.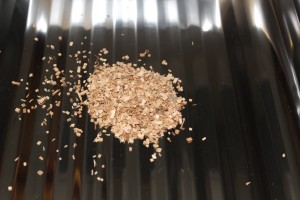 1Tbsp hickory chips – they are very tiny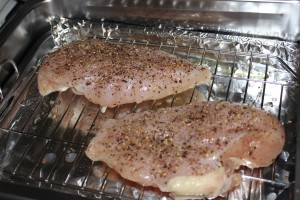 On top of the wood chips in the base pan goes a drip tray (which is lined with foil for easier clean up) then the rack.  Two boneless chicken breasts (approx. 1/2 lb. each) rubbed with olive oil and topped with freshly ground pepper – not too imaginative but this is the First Experiment.  Put on the lid, slightly cracked, and put the pan on One burner, turned to medium flame – when we started to see smoke, slid the lid completely closed.  We did not smell hardly any smoke during the cooking process.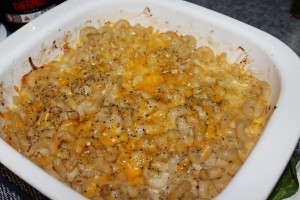 Mac & Cheese baked as the chicken smoked – 375-degrees for approximately 25 minutes.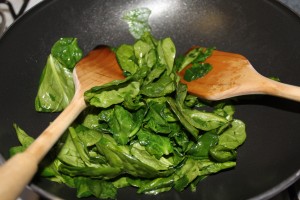 Quick sauté for the spinach – heated approximately 1/2 Tbsp basil olive oil in the wok, tossed in the spinach and flipped around in the hot oil until the leaves started to wilt, turned off the heat.  Wanted some leaves to be wilted but others to just be warmed.  Turned out perfect.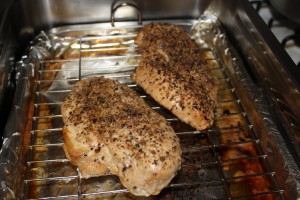 Not bad – cooked according to the directions for 10 minutes per 1/2 lb. but I think I turned the heat down too low, the chicken was not quite done (Goal: internal temperature 165-degrees).  Put the lid back on and increased the flame slightly – cooked for another 13 minutes.  Perfect!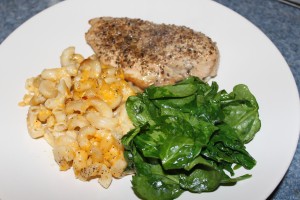 Plated:  The chicken was dryer than I would like.  Next time will possibly do bone-in chicken breast With the skin (the book recommended leaving the skin on) but also not a failure, the flavor was wonderful – we will definitely continue experimenting.  The Mac & Cheese and spinach were perfect sides.  I Love being home again in the evenings!