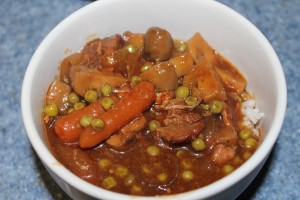 This was a perfect dinner for a cold winter's night. I almost followed the original recipe: Slow Cooker Beef Burgundy with just a few tweaks.. oh, and I didn't use Burgundy.
I used about 1 lb of stew meat (there are only two of us) and gluten-free flour – this part of the prep always smells so good to me.  I can't wait to get home and have dinner.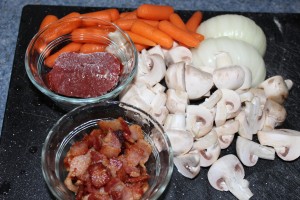 I used "baby" carrots, mostly out of laziness and  left the mushrooms in chunks vs. slices because I like the mushrooms to have more substance.  Note the bacon and tomato paste – I LOVE having Tablespoons of tomato paste and cooked chopped bacon in the freezer. Just so very convenient, especially when putting together a slow cooker dinner at 6:30 in the morning.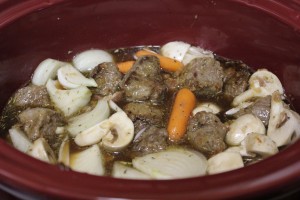 In the slow cooker and topped with the remaining ingredients: chopped garlic, dried thyme, black pepper, a bay leaf, Worcestershire sauce, 1Tbsp quick cooking tapioca and 1 can of beef consommé plus a 1/2 can low sodium beef broth because I like more liquid.  Cooked on Low for approximately 10 hours.  Added the frozen petit peas and the wine when I got home from work.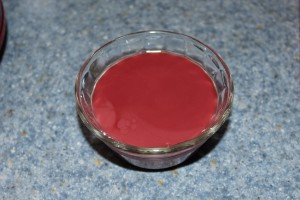 We had Boordy Vineyards Merlot on the counter so that is what I used and, instead of the flour & water combination from the original recipe, I used about 2 Tbsp of cornstarch to the wine for thickening.  Cornstarch is gluten-free so it is better for me and I think it cooks up just as well as the flour & water, which can taste pasty.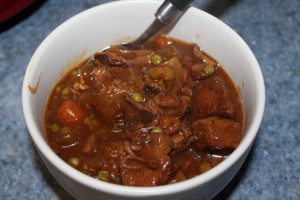 Plated (or should I say "bowled") – I forgot to pick up potatoes to serve with this but my Heart was perfectly happy to have it on rice, which worked out great.  I know a dish is successful when I ask if he has any suggestions for the next time and he doesn't… oh, And he has seconds !!  This was super easy and turned out great.