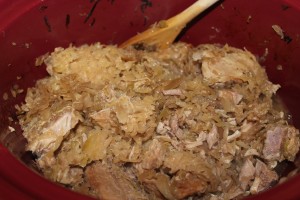 Pork and sauerkraut works great in a slow cooker. I am a fan but am basically the only one if my family who like it, although my son will have some, so I make it about once a winter.  My Heart was away – perfect timing.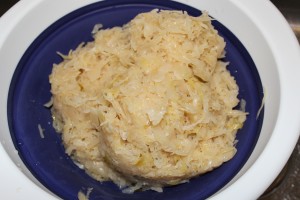 First – the sauerkraut: I buy canned sauerkraut (27oz).  I have bought jarred sauerkraut but it doesn't seem to matter.  The key to keep it from being too salty or sour is to rinse it thoroughly before putting it in the slow cooker.  You can also add slices of apples, which will add sweetness and take away some of the sourness.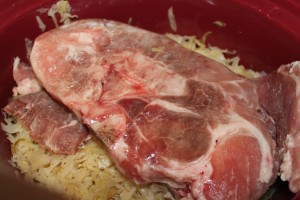 I had pork blade chops (they were on sale) in the freezer. Almost any type of pork works – I have used loin chops, pieces of tenderloin, and country ribs. I also put the pork into the slow cooker still frozen.  First a layer of the rinsed sauerkraut (approximately 2/3 of the can) and then the pork – I don't add any seasoning, although I have seen recipes that add brown sugar and I have added fennel in the past.  I found that I like it with just the pork and sauerkraut. Also, a little fat on the pork helps keep it moist.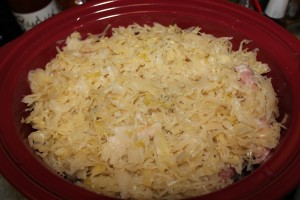 Top with the remaining sauerkraut.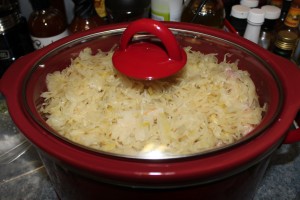 Cover and turn on low – cook for 8-10 hours (although I frequently end up cooking it for 12 hours, which doesn't hurt it.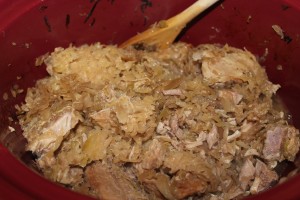 Pretty simple!  Stir gently and pull out the bones, the meat falls right off.  I try to keep the meat somewhat chunky.  It would go beautifully with mashed potatoes, although I like it by itself.  It is also wonderful leftover, although make sure your office doesn't have any rules about "smelly" food in the microwave – it IS sauerkraut.