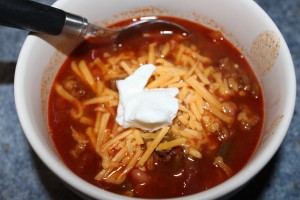 First off – my family loves chili.  I have made lots of different chills over the years and have entered the University's Chili Cook off several times.  My kids kept saying, "Mom, just make Your chili." but I kept doing fancified recipes and such.  One year I didn't have time to plan out what I was doing and I just ended up making "my" chili – Yup, I won that year.  This is basically my chili with the ground chicken being the only change and it was really only a change because ground chicken was on sale and I am trying to be a little healthier.  Also, my daughter makes this exact same chili – I guess it is a family tradition.  I am also going to show THREE meals from this one pot of chili.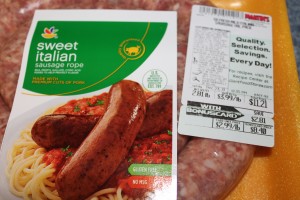 Brown ground chicken (or ground beef) and Italian sausage together.  Drain thoroughly.  I do 1-2 lbs of ground meat (chicken or beef or even turkey) and about 2 lbs of Italian sausage (sweet, mild, hot – your choice) and then I take half of the cooked mixture and freeze it for future use.  There is no other seasoning in this mix so it can be used for bolognese or tacos or burritos or chili or whatever.  Very handy!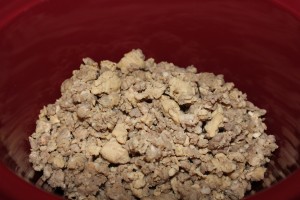 Place the cooked meat on the bottom of the slow cooker.  If the meat is coming from the freezer, don't even bother defrosting – it cooks up just fine.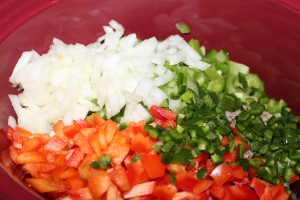 Top with 1/2 large green pepper, large red pepper, large sweet onion, and two fresh jalapeños, diced.  Stir in to the meat.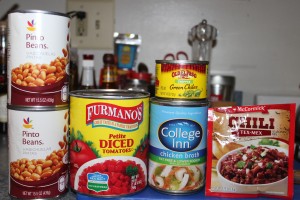 Non-fresh ingredients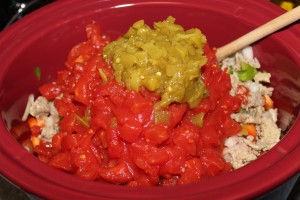 Top with 32oz can diced tomatoes, including the juice, and chopped green chills and stir.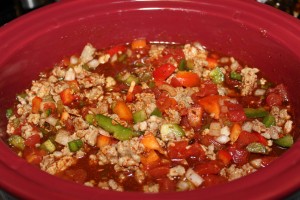 Combine chili seasoning packet with the low sodium chicken broth (if using ground beef, I do beef broth – I have also been known to use a can of beer instead, also very good) and stir in.  Yes, I use a ready-made packet.  I used to put in my own seasoning combinations and one time I decided to try the ready-made and it turned out perfect.  Perfect every time.  Also note – not ALL chili seasoning mixes are gluten-free so make sure you check the ingredients.  The McCormick's Tex Mex Chili is one that is gluten-free.  Turn the slow cooker on Low and let cook for a minimum of 6 hours (and it fine simmering up to 10 hours!).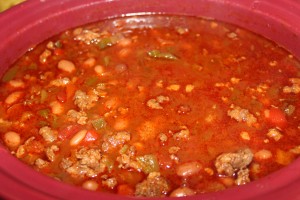 I don't put the beans in until a little while before serving (at least 30 minutes so they have time to heat up).  Beans tend to breakdown during the slow cooking process and I don't want mush.  I also like pinto beans but kidney beans, black beans, any kind of beans (even a combination)  are excellent – it is totally up to you.  I rinse the canned beans before putting them in to the chili to reduce the amount of sodium.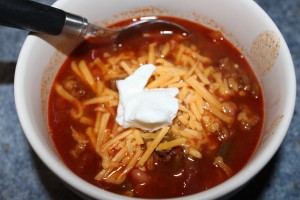 Meal 1: Fresh out of the slow cooker and in a  bowl served with optional toppings including shredded cheddar cheese, low fat sour cream, chopped onions, and hot sauce.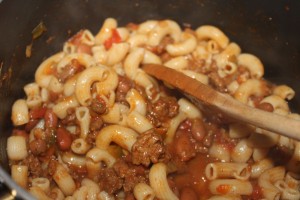 Meal 2: Chili mac – gluten-free macaroni mixed with scoops of chili, a dash of hot sauce, and 1c shredded cheddar.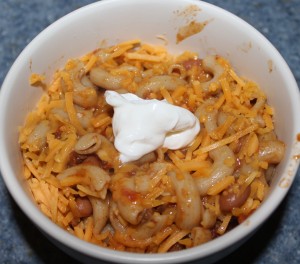 Served up with a small dollop of sour cream.  Very quick and easy but pretty satisfying (my Heart had seconds!).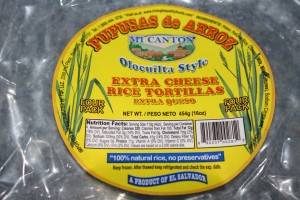 Meal 3: Chili topped pupusas.  Pupusas are a Salvadoran dish of stuffed corn (or in this case, rice) tortillas.  We love these and this brand, which we can pick up at one of our local Asian markets) is excellent.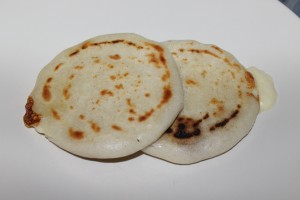 On a stove-top griddle brushed with olive oil (I am not "frying" the pupusa) cook the pupusas until golden brown on both sides and the cheese just starts to melt out.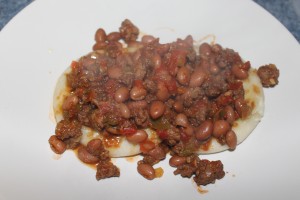 The pupusas have an interesting dough-y consistency and this variety is packed full of lovely melty cheese – perfect with the last of the chili.