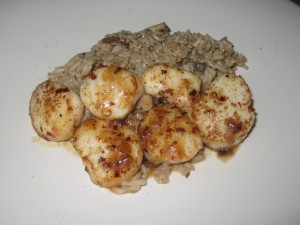 Perfect timing – A Craving for Scallops and Scallops are on sale! Woot !!   I like to keep scallops simple, including the side dish.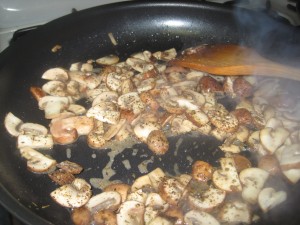 Mushroom RIce: Baby Bella mushrooms, sliced and sautéed in a little olive oil over medium heat.
1c long grain white rice added and sautéed, just until slightly browned, about five minutes.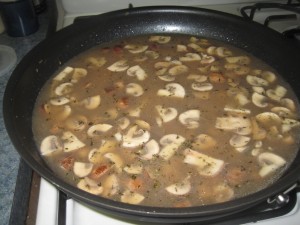 Next 2 1/4c water with 1Tbsp instant beef bouillon (I like Better Than Boullion), freshly ground black pepper, and 2-3 tsp dried thyme – bring up to a boil – cover and reduce  temperature to low and simmered for 20-25 minutes, until all the liquid has been absorbed.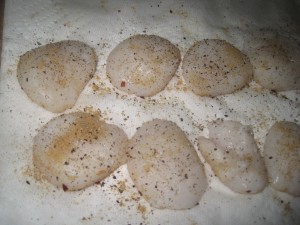 Rinsed the scallops and patted dry – one side: rubbed in red pepper flakes and ground dried cilantro, flipped and rubbed with a little more dried cilantro and freshly ground black pepper.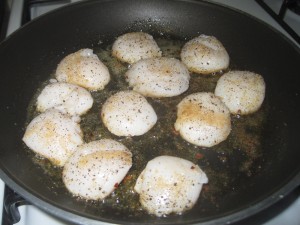 Seared at medium heat in 1Tbsp Extra Virgin Olive Oil and 1/2Tbsp butter. I use the combination because the oil helps keep the butter from burning at the higher temp but I like the richness butter brings.
Once the scallops are seared, poured in approximately 1/4c sake (a healthy splash), simmered for 3-5 minutes, reducing the sake slightly. Removed the scallops, turned up the heat under the liquid for further reduction.
Plated: scallops served on top of the rice topped with the thickened sauce.
There was definitely heat to the scallops but the mild mushroom rice was a perfect side.  There was a plan for a little salad on the side but I completely forgot – scallops do that to me!