Super easy – absolutely delicious – Very Healthy!   What else could you ask for?  I followed most of the inspirational recipe: Pan-Seared Salmon with Zucchini Pisto from Manzanilla in NYC from Tasting Table.  As explained in the inspirational recipe: A pisto, a Spanish version of ratatouille in which tomatoes, onions, peppers and zucchini are slowly cooked together before being spiked with fresh herbs.  I think I will be making this Pisto as a side with other main dishes.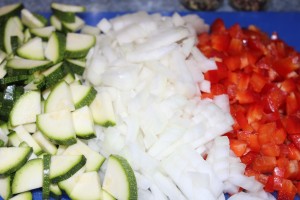 Chopped medium Vidalia onion, medium red bell pepper and medium zucchini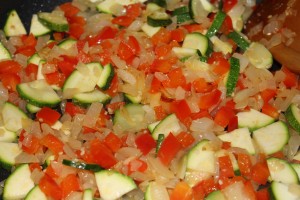 Heat 2 Tbsp olive oil in a large skillet – cook onion until transparent (approx. 3 mins) at med-high then reduce temp and add chopped red pepper – cook until just soft (approx. 8 mins) – add the zucchini and cook until soft (approx. 7 mins) – Added in 1 can of low-salt chopped tomatoes, including juice.  Bring the mixture up to a bubbling simmer – simmer for 25-30 minutes to thicken and reduce.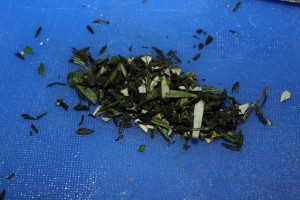 Chopped fresh thyme and rosemary
Add fresh herbs into simmered vegetable mixture and a hearty sprinkling of freshly ground pepper and simmer for approximately 5- mins, while you cook the salmon.

Salmon fillet, patted dry, sprinkled with freshly ground pepper.
1 Tbsp garlic olive oil in a hot skillet – sear one side of the salmon (approx. 4 mins – do NOT touch the salmon – let it sear !) – Turn and sear an additional 3 mins, depending on the thickness of your fillets.
Plated: Just a pile of the lovely, melty, rich vegetable topped with the seared salmon.  Truly wouldn't change a thing and definitely no need for any additional carbs on the side – a very substantial meal – YUM!