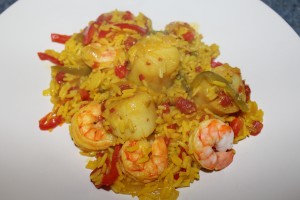 My Heart has been away for 9 days (he got home at 1:45am this morning) – this is the longest he's been away.  A welcome home dinner seemed like a good idea and he loves scallops and yellow rice.  Spanish Rice & Prawn One-Pot was my inspiration recipe but I definitely did it my way.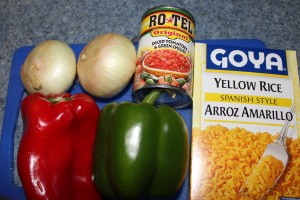 First, my Heart seriously loves yellow rice so that was my starting point on this recipe.  Shrimp and scallops were on sale… next point.  I wanted to add a small can of diced tomatoes, per the recipe, and saw the Rotel, which has a bit of a bite.  A plan was definitely forming.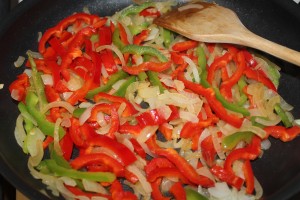 Sliced sweet onion (vidalia), green and red pepper sautéed in 1Tbsp olive oil.  Once the onions were translucent, turned off the heat until I heard from my Heart and knew that he was on his way home – approximately 45-minutes away.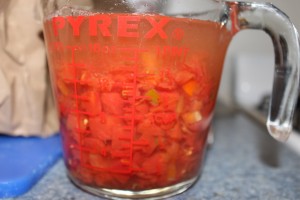 The rice mix required 2c water so I poured the Rotel tomatoes, with juice, into the measuring cup and made up the rest of the liquid with water. I did a little more water just to make sure there was enough liquid – there was quite a bit so I won't do that in the future.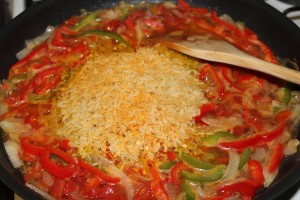 Pour the tomato / water mixture into the cooked peppers and onions, bringing everything to a boil then added in the yellow rice packet.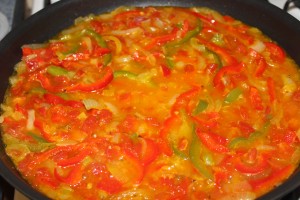 Stir in the rice and seasoning and bring back to a boil.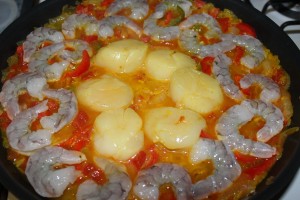 Lay the shrimp and scallops on top of the rice mixture (I turned over the scallops once to get some of the saffron seasoning).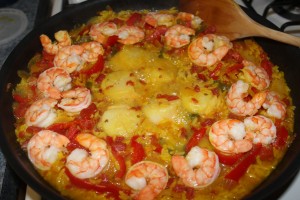 Cover, reduce the heat and simmer for 25-minutes or until the liquid is absorbed and rice is tender.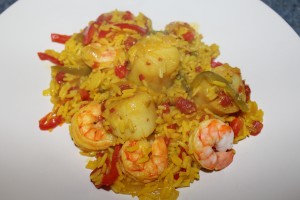 Super simple and flavorful. The Rotel added a nice bit of heat and the scallops were especially fresh and tender.  My Heart had not only seconds but also Thirds – I think that is a sign of a successful dinner.