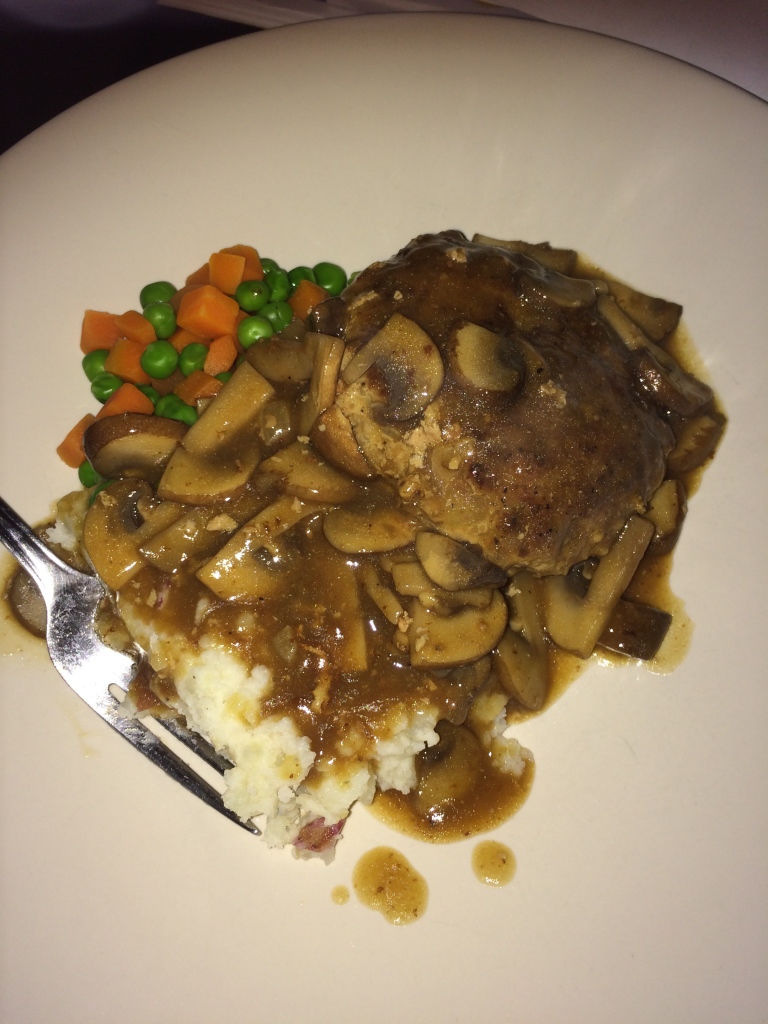 This was an unbelievably satisfying dinner. It is fall and the temps are dropping which means I start wanting nice warm, comfort food, dinners and this one definitely fit the bill. The inspirational recipe: Salisbury Steak, which I almost followed except where I made it a little healthier.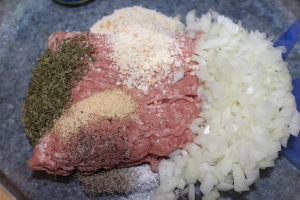 1lb. ground turkey, 1/2 medium yellow onion, chopped, 1/4c gluten-free panko bread crumbs, 1 Tbsp parsley (I used dried), 1 tsp granulated garlic, 1 egg, a hearty sprinkling of freshly ground black pepper.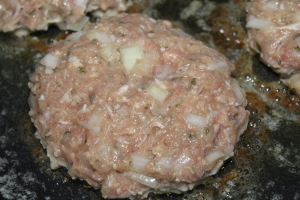 Combine thoroughly and make into four equal sized patties. I left the onions fairly chunky by preference but you can certainly chop it finer if you prefer.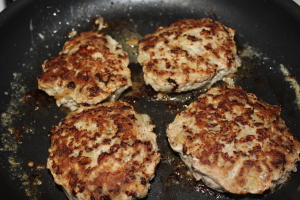 In a large skillet, melt 1/2 Tbsp butter in 1/2 Tbsp extra virgin olive oil. Over medium heat, brown the patties in the butter / olive oil mixture – 5-minutes on each side. They will finish cooking in the simmering process.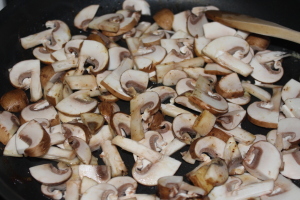 While browning the patties – rough chop 8oz baby Bella mushrooms (if  you have small 'shrooms, just slice – I had fairly large Bellas). Once the patties are browned, set aside. Add an additional 1/2 Tbsp butter / 1/2 Tbsp EVOO and tip in the mushrooms. Cook for approximately 5-minutes, until the mushrooms have released their liquid and start to brown.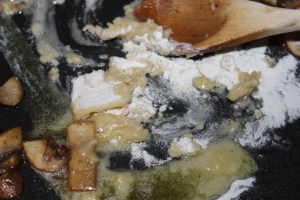 Move the mushrooms to one side of the pan and sprinkle in 3 Tbsp gluten-free flour (all purpose flour works too) and combine thoroughly with the butter / oil mixture. Stir in 2c beef broth, 1 Tbsp Worcestershire sauce, and additional parsley and black pepper.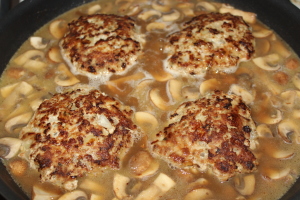 Once everything is thoroughly combined, return the patties to the pan and reduce the temperature to medium low and simmer and thicken for 10-minutes.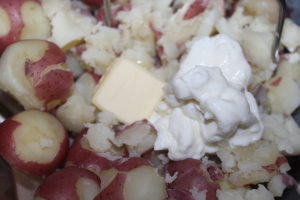 In the process of getting the Salisbury Steak cooking, I also cleaned up and boiled some red potatoes and then mashed the cooked potatoes, skin on, with 1/2 Tbsp butter and 1 Tbsp Greek yogurt plus a little salt and pepper to taste.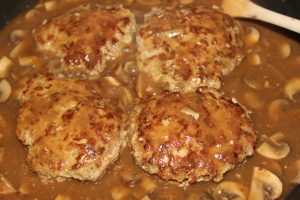 The gravy wasn't quite as thick as I wanted so, combine 1 Tbsp corn starch with 1 Tbsp cold water and slowly combine into the mixture and stir until gravy thickens. Perfect !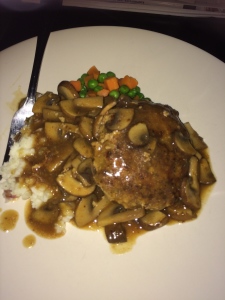 Plated with the mashed potatoes and a serving of frozen peas and carrots (because this meal just called for peas with the mashed taters). The flavors were perfect – rich and filling and the seasoning for the Salisbury Steak was flavorful, which means it didn't matter that it wasn't ground beef at all, and the mushrooms were melt in your mouth delicious. I swear I wanted to lick my plate.
My Heart had seconds and I also made a lunch out of this recipe. I am sure we will be having this meal several times during fall / winter months because it was super easy and fantastic!