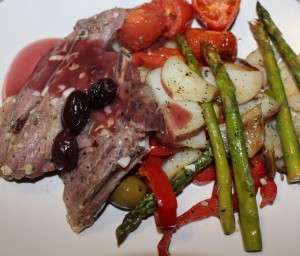 Roasted Lamb with Lemon & Rosemary and roasted potatoes and vegetables with a Mediterranean flair.  Followed the inspirational recipe very closely: Lemon & Rosemary Traybake Lamb.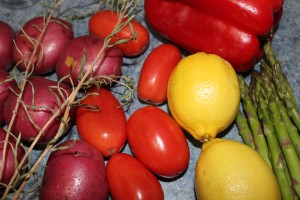 6-8 small red potatoes, 5 Roma tomatoes (cherry or grape tomatoes would work as well), 1 large red bell pepper, 2 lemons, 6-8 asparagus spears, 6 fresh rosemary sprigs. Love all the colors!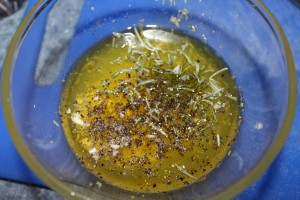 Marinade 4 lamb cutlets in 1 1/2 lemon: zested and juiced (reserve the other 1/2 lemon), 1 Tbsp olive oil, 2 large garlic cloves: chopped, 1/2 of the rosemary: chopped, and 1/4c wine for at least 30 minutes.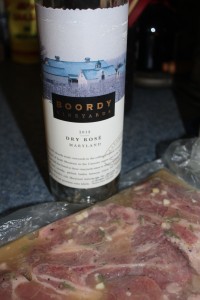 The addition of wine to the marinade was totally my Heart's idea and a Good One!  Preheat oven to 400-degrees.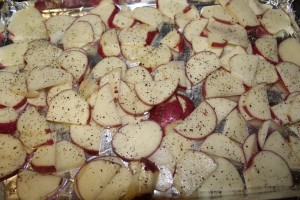 Slice the potatoes thinly, toss with 1/2 Tbsp olive oil and sprinkle with freshly ground black pepper. Roast for 20 minutes.  Shake / loosen the potatoes.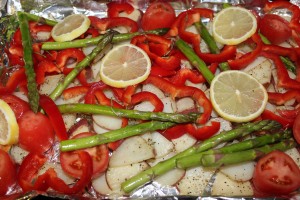 Deseed and thickly slice red pepper, halve  tomatoes, trim asparagus, and thinly slice the remaining 1/2 lemon.  Toss with 1/2 Tbsp olive oil and put on top of the potatoes.  Return to the hot oven for 15 minutes.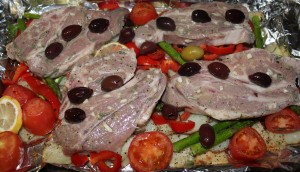 Place the lamb cutlets on top of the vegetables. Scatter with pitted Greek olives and return to the oven.  Cook for 15-20 minutes, flipping the lamb halfway, until it is still pink.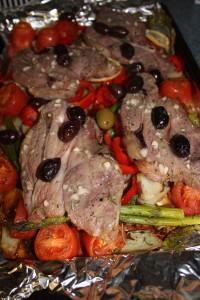 My Heart took the marinade and heated it in a small sauce pan, added in a little more red wine and a cornstarch / water mixture to thicken.  Remember that the raw lamb was in the marinade and must be cooked thoroughly before serving.  This meal was packed with flavor and I wouldn't change a thing.  Destined to be a favorite.