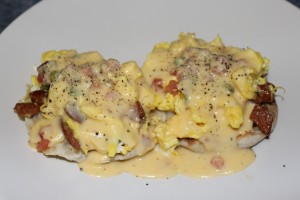 First – I LOVE Eggs Benedict – Ok – I know technically Eggs Benedict is poached eggs with Canadian Bacon or ham served on an English Muffin with Hollandaise Sauce so I guess I love Eggs Benedict-style eggs.  Anyway – I also Love coming up with new ways to do Benedict-style eggs and this one definitely Hit.The.Spot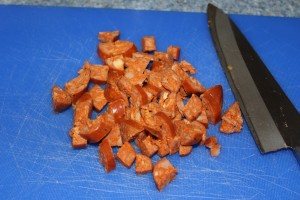 Started with Trader Joe's Andouille sausage, chopped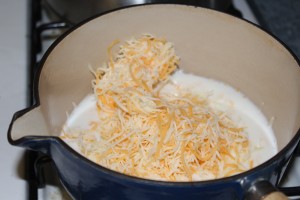 Melted shredded Mexican Blend and sharp cheddar cheese in about 1/4c 2% milk.  I added cheese until I got the texture I wanted – not too liquid but not too thick. Note: next time I think I will try Pepper Jack cheese or Monterey Jack. I liked the cheddar but it was a little "tart" for what I was looking for. I wanted a smoother taste.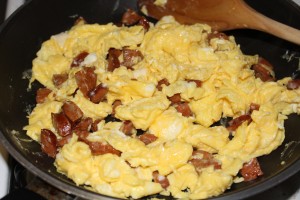 Browned the Andouille pieces in a touch of olive oil then moved them from the skilled and soft scrambled six eggs. Just as the eggs started to set, returned the sausage and combined.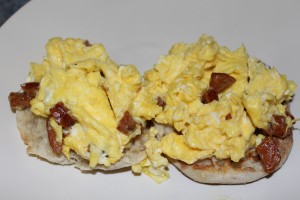 Layer one: On top of toasted English muffins (Not gluten-free but it was a good week so I treated myself. I will try gluten-free English muffins soon to see if they work) the scrambled eggs and sausage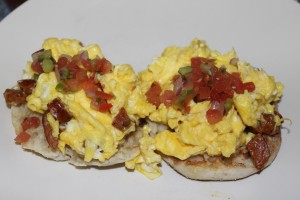 Layer two: fresh store-bought Spicy Pico de Gallo  Note: I am going to try mild pico next time. The Andouille has lots of heat and I think the spicy pico was a little Too spicy and overpowered the other flavors.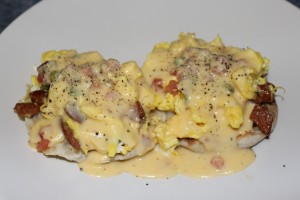 Plated: Topped with the melted cheese sauce and a sprinkling of freshly ground black pepper.  There was a ton of flavor and I love the combinations of texture with the crisp, crunchy muffins, the soft eggs and the smooth sauce.  I will definitely mess with the combination for next time but overall – very successful and satisfying!