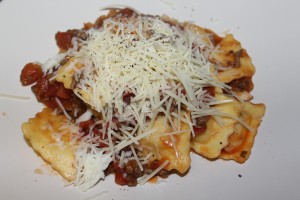 Super simple and satisfying quick pasta dish very reminiscent of lasagna, hence the name Quick Skillet Lasagna.  I followed the inspirational recipe, Skillet Lasagna, a little too closely, adding extra liquid to make up for the extra pasta – definitely NOT needed.  Mine turned out a little liquid-y but still very delicious and it made for great leftovers/lunches!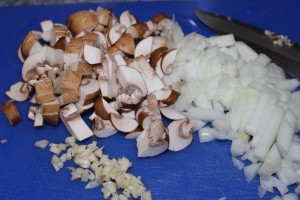 1/2 sweet onion, chopped – 8 baby bella mushrooms cut into chunks – two garlic gloves, chopped.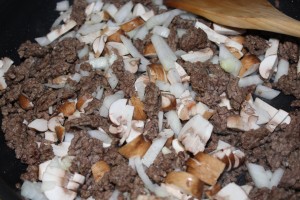 Browned 1lb of lean ground beef then added in the chopped onions and mushrooms and garlic.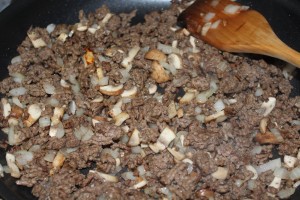 Cooked until the onions were translucent and mushrooms were slightly browned.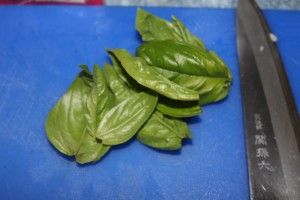 Stopped by the garden for some of the last of the fresh basil – it is so nice having fresh available but next time it needs to be AT the apartment… we are going to figure that out!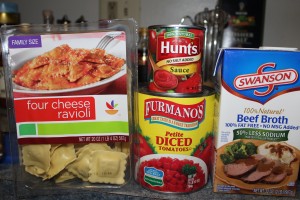 20oz Family pack of Four Cheese ravioli (I wanted leftovers for lunches) – 28oz diced tomatoes (Furmano's is my favorite because it is the lowest in sodium) – 8oz Low-sodium tomato sauce – 1 3/4c Low-sodium beef broth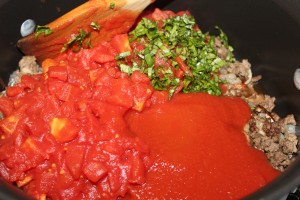 Started out in a skillet for browning the meat and veggies, etc. but quickly realized that everything else would NOT fit in the skillet so transferred everything to a dutch oven.  I did find it interesting that there were no seasonings in the original recipe.  The fresh basil was a good addition and, of course, some freshly ground black pepper also.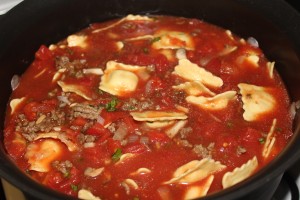 Mix everything together and bring to a boil – reduce to medium heat and simmer for 20-25 minutes.  I increased the beef broth to 1 3/4c to compensate for the extra pasta (compared to the inspiration recipe) but that was not needed.  Next time I will drop the beef broth to just 1 1/2c and see if that helps.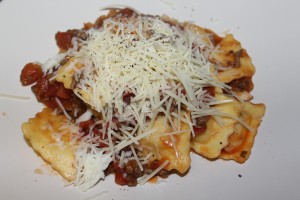 Served with a hearty sprinkle of shredded mozzarella and shredded Parmesan & another sprinkling of freshly grated black pepper – even with the extra liquid, this dish was a huge hit.  Very Very satisfying and homey and it made for two fantastic lunches – heated up just fine.  I might consider adding green / red peppers next time and maybe a dash of red pepper flakes to ramp up the flavor but really is also just fine the way it is.  I am sure it would be excellent with Italian sausage or a combination of ground turkey/chicken/beef.