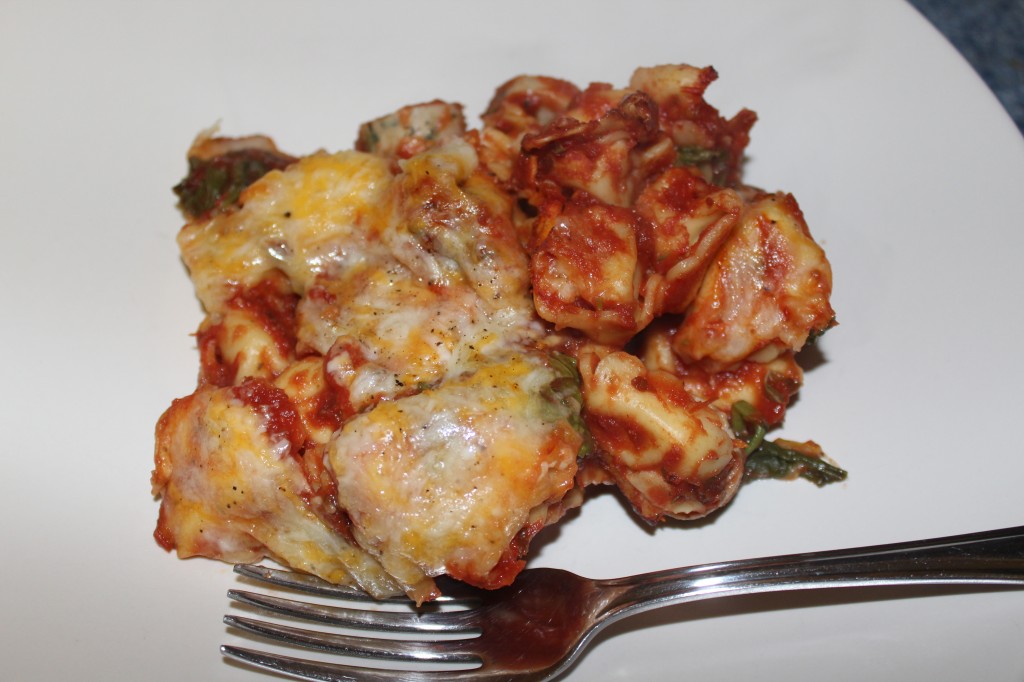 This is a super simple and quick dinner that you can also change to your taste or mood or available ingredients. I was thinking about posting this while surfing Pinterest this morning and stumbled across an almost identical recipe and thought, "Damn, maybe I shouldn't bother". Then I read the recipe and – the difference? Jarred spaghetti sauce. I try very hard to use as little processed food as possible, mostly because so many processed foods are high in sodium and I try to control our sodium levels as much as possible. My Heart really enjoyed this – see what you think.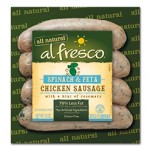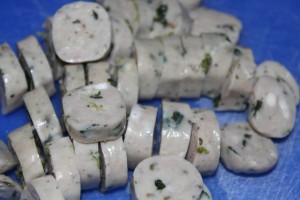 First, the sausage. My daughter used this spinach and feta sausage for a rice and beans dish and it was delicious. Also, it was on sale, so I decided to use it in this casserole but, honestly,  you can use any sausage (cooked or raw – Italian, smoked sausage, chorizo) or even ground meat (beef, turkey, chicken), chunks of chicken, frozen or pre-made meatballs or make it vegetarian. If you use a raw product, be sure to brown whatever you use before the next step because the final casserole doesn't bake long enough to guarantee a raw product has cooked to temperature. The sausage I used is pre-cooked so I just sliced them into discs.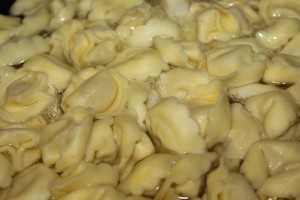 Next, Tortellini: The store brand tortellini was on sale so I bought the family size (20oz) Three Cheese Tortellini. This type of pasta is in the refrigerated section, so "fresh" vs. dried or frozen. You can use any brand of tortellini you prefer and any variety as well. I think this would work with the mini raviolis that are also available. Cook the tortellini according to the package and drain.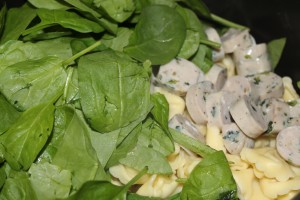 Return the cooked and drained tortellini to the pot that it was cooked in and top with the sliced sausage and 4c of raw baby spinach. You could also sauté some onions, mushrooms and/or red & green peppers and add those in or replace the spinach with onions, mushrooms and peppers, if you prefer. Kale would also work and so would sautéed zucchini.
Pre-heat your oven to 350-degree F.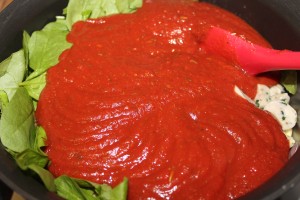 Now, the Sauce: while the tortellini is cooking, combine a 28oz can of crushed tomatoes and an 8oz can of tomato paste in a sauce pan over medium heat. I look for the lowest sodium brand – these both had 20g vs. jarred spaghetti sauce, which frequently has 200+ and you still end up "doctoring" the jarred sauce to ramp up the flavor so just create your own flavors and skip the processed food. Add in 1/2c dry red wine (I used a pinot noir), 1 Tbsp dry Italian seasoning (fresh basil, Italian parsley, and oregano would also be good in place of the dry seasoning), 2 tsp granulated garlic or to taste (garlic powder works but don't use garlic salt, which is mostly salt), and freshly ground black pepper. And TASTE – does it taste the way you want?  Is it too sharp? Add a little sugar (I didn't but do sometimes depending on the tomatoes and also how I feel that night). Do you like "heat"? Add a dash of crushed red pepper. What meat are you using? Think about the flavor profile you are going for. If you are using chorizo, do you want to add a little chili powder or chipotle seasoning? Remember that dry spices will intensify some in the cooking process.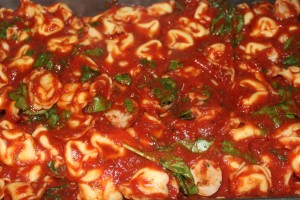 Pour the sauce over everything and stir gently, don't break up the cooked tortellini, and pour into a lightly oiled casserole dish.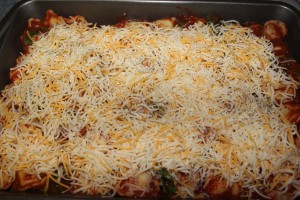 Sprinkle liberally with shredded cheese. I used a Mexican blend because I like it and it is what we always have in the fridge but this is also a place you can "play". Parmesan and mozzarella – sharp cheddar – mild cheddar – pepper jack? What flavors do you feel like? What if you did cheese tortellini and had chunks of pepperoni for the meat and peppers & onions for the veg, basil & oregano in the sauce and then sprinkled with mozzarella and a parmesan-reggiano mix? Like a "pizza" casserole. Or cheese tortellini, ground beef, chili & chipotle seasoning in the sauce and corn, black beans, green peppers, & onions for the veg topped with Mexican blend? Like a "taco" casserole.
Place the casserole in the pre-heated oven and cook, uncovered, for 25-30 minutes, until lightly brown and bubbly. Let sit for 5-10 minutes before serving to let everything "settle".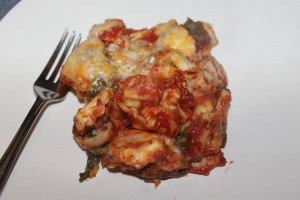 You could certainly serve this with a side salad. I've been working long days and also "sitting" my daughter's cat, so stopping by her apartment and spending a little time with the kitty every night. This means late starts for dinner but this came together very quickly and only cooks for 25 minutes and was very satisfying for a cool fall night. This dish also makes great lunches.