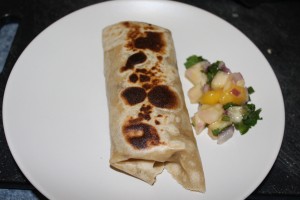 Here's how this frequently works – Hungry? What's in the fridge/kitchen? Leftover stuff that needs to get used. What to do with it?  Here's what we found: store-made Rotisserie chicken, potatoes, 1/2 red onion, shredded cheese, eggs, homemade pineapple mango salsa, gluten-free tortillas. Here's what we made!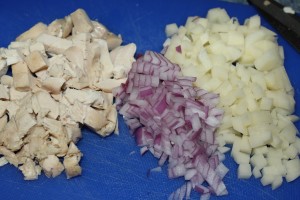 Peel and dice one whole small russet potato, 1/4 red onion, and coarsely chopp Rotisserie chicken breast.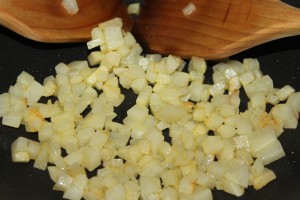 In a medium hot wok, sauté diced potatoes until just starting to brown.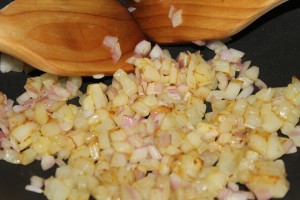 Add in diced red onions and sauté until translucent and potatoes are tender.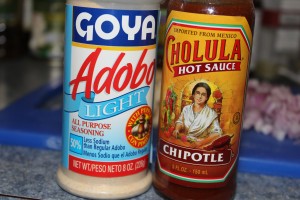 Mix in a dash of low-sodium Adobo seasoning (approximately 2tsp or to taste) and several shakes of Cholula chipotle hot sauce (approximately 1 Tbsp, again to taste)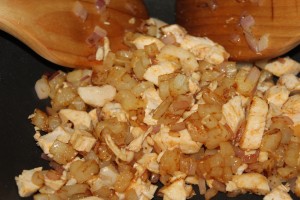 Toss in chicken and mix thoroughly.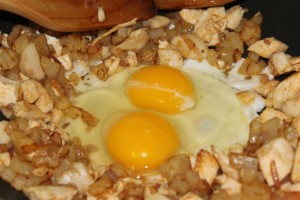 Make a well in the center, add in 2 tsp olive oil and break two eggs into the well. Scramble the eggs.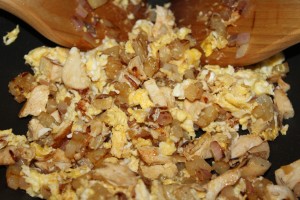 Once the eggs are mostly cooked, not too dry, toss with the chicken / potato mixture. Remove from heat.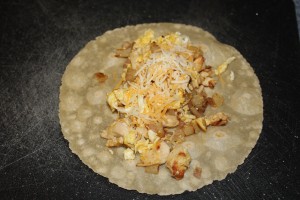 We have found the key to using gluten-free tortillas is to make sure to "toast" them first. We brown them slightly on a non-stick griddle (without any oil or anything), just until they start to brown for burritos because we want to be able to fold them. Toasting them helps warm them up and make them more pliable, otherwise they have a tendency to be dry and just break when you are folding them. I toast them a little more when making tacos. These are Rudi's gluten-free tortillas
Inside the burritos: the chicken & potato mixture topped with shredded Mexican-style cheese.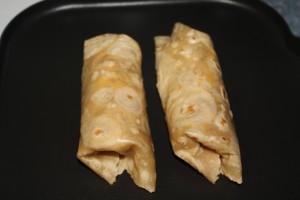 Fold in the ends and roll up like a burrito. Return to the griddle pan to finish cooking and to "seal".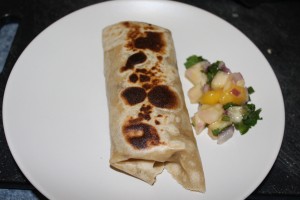 Plated with just a little of the pineapple mango salsa (chopped pineapple, mango, jalapeño, red onion, & cilantro with lime juice). This was very satisfying, gluten-free (so healthy for me), and used up somethings in the fridge.  Not bad!
Notes: Burritos really are good for using up leftovers. Use your imagination. Potatoes or rice work well as a filler – any type of meat or fish works for a protein and beans also can extend the filling and replace the meat, if you are looking for a vegetarian option – I love eggs in burritos also – and you can add any kind of vegetables too.  Here are some other burrito ideas: