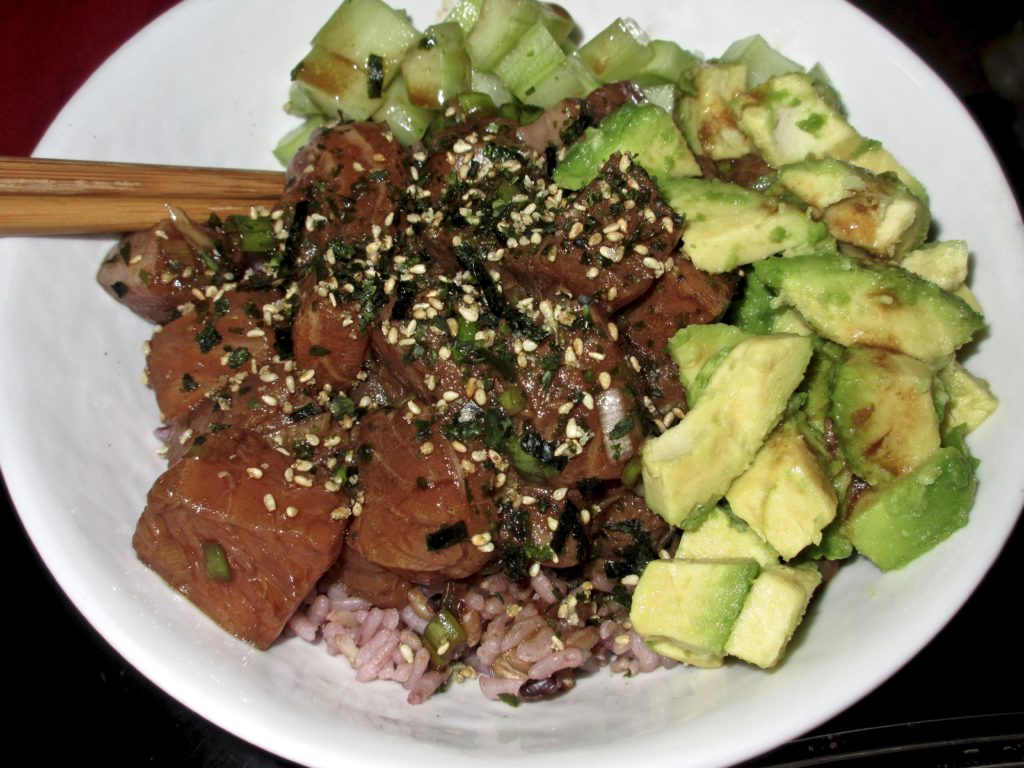 I've been wanting to make Poké for a long time but you have to be able to get sushi-grade fish and that isn't the easiest thing sometimes, as not all grocery stores carry it. Just a reminder – It MUST be Sushi-grade. This means that the fish is safe to eat raw. I only buy sushi-grade fish at our local Asian markets, although I would probably trust our local Wegmans as well. During my staycation last week, I had the perfect opportunity to have one of my favorite lunches, Haemul Sundubu Jjigae, at one of the local Asian markets and then pick up what I needed for the Poke Bowl. The inspirational recipe: Poké Bowl.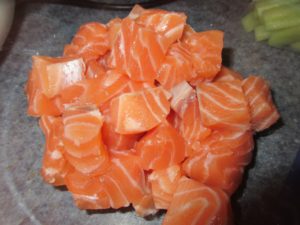 Sadly, they did not have tuna but the salmon looked perfect and I wasn't feeling inclined to search the other Asian markets as it would mean leaving the raw fish in a hot car, some how that sounded like a bad plan.
This recipe is incredibly easy. Cube the raw fish,  I made the cubes fairly substantial but still small enough that we could also scoop up some rice and topping(s) into a single perfect bite.
As I was preparing the Poké, I also started the rice cooker with a combination of Asian short grain rice (1c) and a 15-grain rice mixture (1c) that my kids like to make. I didn't really like this rice combo at first, it is more common in Korean cuisine, but it has really grown on me and my Heart loves the textures. It also makes the final rice a pretty purple color.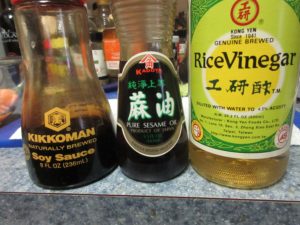 Poke is all about the fish but the fish is enhanced by the sauce. Finely chop three green onions including some of the green and sprinkle over the fish. The inspirational recipe only did two green onions but it also called for 1/4 Maui onion, my Heart isn't a huge fan of raw onions so I skipped the onion (also, we can't get Maui onions here but a Visalia onion would probably work). The inspirational recipe also included Fukui Nut (candlenut), which I couldn't find, and toasted white and black sesame seeds, which I left out because one of the topping I was using contains both.
Combine: 1/3 c reduced sodium soy sauce (or Tamari, to make the dish gluten-free), 2 Tbsp sesame oil, and 1 1/2 Tbsp rice vinegar and pour over the fish and mix thoroughly.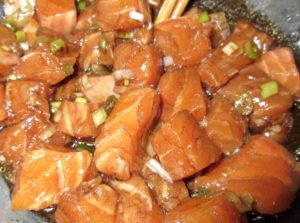 Let the fish marinate in the sauce while the rice finishes cooking and you prep your choice of toppings. One thing I find very attractive about Poké is that each bowl can be very personal based on the toppings which just makes this fun.
The inspirational recipe recommended the following topping ideas:
Avocado, Edamame, cucumber, Masago (fish eggs), seaweed salad, shredded nori seaweed, Furikake, Gari (pickled sushi ginger), and Wasabi.
I used cucumber (peeled, seeded, and chopped), to add a lovely crunch and brightness, avocado (chopped), adding a buttery texture, and Furikake. The furikake that I used is a combination of white and black sesame seeds and shredded nori.
Scoop some of the cooked rice into the serving bowls (I used a relatively wide, low bowl so I could spread out the rice and the Poké) and let cool slightly then pile on the Poké and the toppings, per each person's taste. I did add a little sriracha to my Poke because I love that bit of heat. I then tired everything together but my Heart composed each of his bites. This dish received a giant thumbs up – we're definitely having this again very soon!
Notes:
I will definitely try to get tuna 

and

salmon next time – the presentation with the two fishes plus the texture / taste difference make it very appetizing.
I will look more thoroughly for the candlenut but I don't remember ever seeing it in our Asian markets so I am thinking that toasted slivered almonds might work, at least for texture.
I meant to get some shelled Edamame, which I love and will add even more texture.
I might also pick up some picked sushi ginger, adding color and texture plus… we really love it !