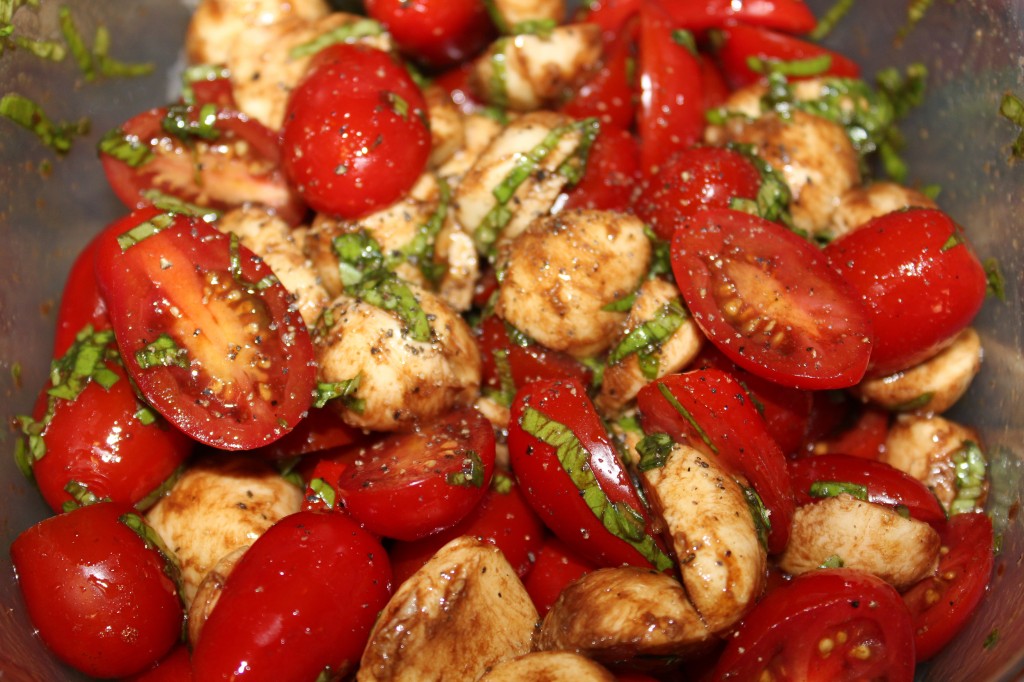 Caprese Salad is wonderful for summer, especially with fresh tomatoes from the garden… BUT it can be a pain to carry to a potluck or picnic. Friends brought one to an event the other day and, although they had been very careful, it still all slid to one end of the container. This is a quick easy way to make a Caprese to share and you can even serve it with toothpicks so people can build their own bite (two tomato to one mozzarella OR two mozzarella to two tomato – smile).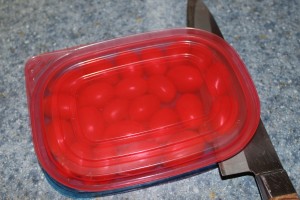 One package of grape / cherry tomatoes – Don't forget the super easy way to cut lots of grape or cherry tomatoes at one time.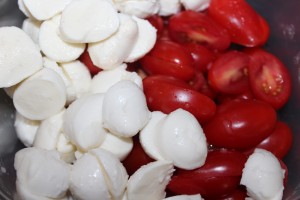 And the same method works with the small fresh mozzarella balls (often called Ciliegine), an 8oz container.
Combine the tomatoes and mozzarella in a bowl.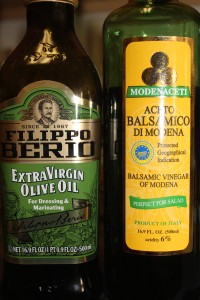 I am a traditionalist about Caprese so a drizzle of olive oil (1-2 Tbsp) and a drizzle of a good quality Balsamic Vinegar (1-2 Tbsp). Mix into the tomatoes and mozzarella.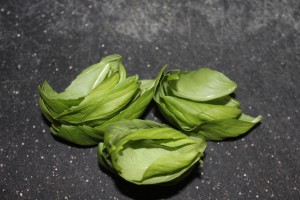 1-cup of fresh Basil (this is from the plant we keep on our window sill) – Chiffonade.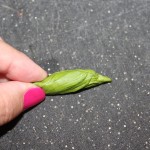 Roll up a pile of leaves very tightly and, with a very sharp knife, slice into ribbons.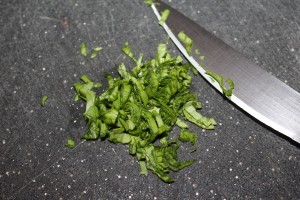 Sprinkle the ribbons over the tomatoes and mozzarella.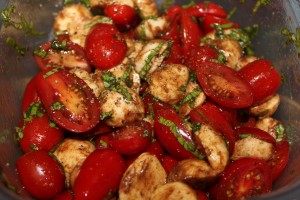 Finish with freshly ground black pepper and a sprinkling of salt. Let the salad marinade for at least an hour.
I've served this as a side dish but have also just served with toothpicks so people can create their own bites at a tailgate or picnic.
Friends of mine add chopped garlic to theirs or even Old Bay. Be creative.