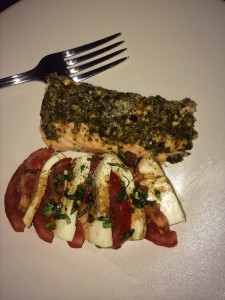 As I'm sure I've said before but… I love it when a plan comes together! This meal couldn't be simpler but is packed full of flavor and is actually pretty healthy too. Woo Hoo!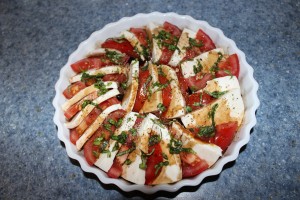 First – your basic Caprese salad. Make sure to make this at least one hour prior to serving and let it set at room temperature so the mozzarella is extra soft. Composition: slices of fresh tomatoes (wish we had tomatoes from our garden but the large tomatoes didn't do well this summer) layered with slices of fresh mozzarella (one of these days I am really going to try making my own). Some recipes say to layer in whole basil leaves but I really like doing a chiffonade because the scent of the basil fills the kitchen and, as you can see by the size of the salad, I didn't have enough leaves for every slice of mozzarella and I want a bit of basil on EVERY bite. Then drizzle with balsamic vinegar (we have an amazing bottle of very fancy balsamic vinegar our friend in NYC gave us – it is fantastic) and just a little drizzle of extra virgin olive oil. That is IT – let it sit !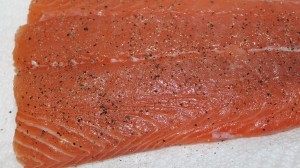 Salmon on sale? Yes, Please!  A lovely, skinned fillet with a sprinkling of freshly ground black pepper.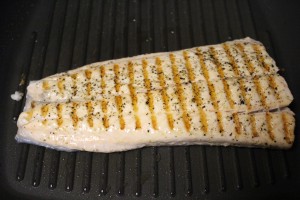 Heat a stovetop griddle over medium-high heat and lightly brush / wipe with olive oil. Sear the top side of fillet, 4-minutes, then flip.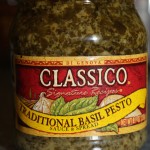 Scoop approximately 1/3 of a jar, depending on the size of your fillet, of Traditional Basil Pesto onto the grilled side of salmon. There are more expensive brands of jarred pesto out there but I really like the Classico.
As I've talked about in other recipes, like the BBQ Salmon Salad and the Super Cheesy Queso Burgers, "cover" the grill pan with a large lid to seal in the heat, as you would by closing the lid on an outdoor BBQ grill. Then pour just a little water along the edge of the pan to create steam under the lid to help increase the heat at bit more.  Cook the salmon for approximately 4-minutes more, depending on the size and thickness of the fillet.  Check the center to be sure it is cooked through, although if you can buy really fresh or sushi grade salmon, it can be still raw / rare in the center, if that is your preference.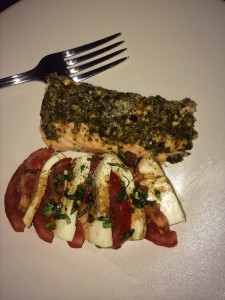 I Love this meal – perfect for a hot summer evening, relatively healthy, filled with flavor, quick and super easy.  You would serve the salmon with pasta or rice but you saw the size of our Caprese salad… we had more than enough food.