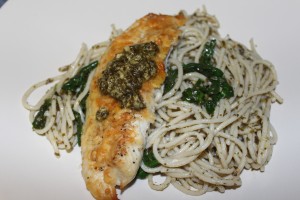 Tilapia on sale and this recipe looked super simple – the side dish came together just perfectly.  Parmesan Pesto Tilapia inspirational recipe left for lots of flexibility.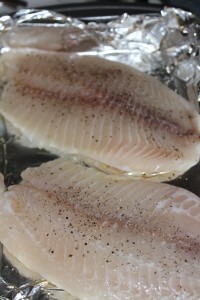 Pre-heat the broiler.  Cover a pan with foil and coat with kitchen spray or a light drizzle of olive oil to help with sticking.
Two tilapia filets, rinsed and patted dry, topped with 2 Tbsp lemon juice  and freshly ground black pepper.
Top tilapia filets with 1/2 c grated combination Parmesan / Romano cheese and a drizzle of olive oil.
In a large sauce pan, heated most of a jar of Classico Basil Pesto Sauce (reserve 1 Tbsp) then added in 3c baby spinach and …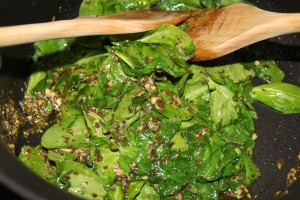 … tossed until the spinach just started to wilt.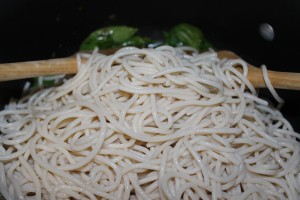 Added in cooked gluten-free spaghetti noodles (my favorite brand – Tinkyada Rice Pasta) and tossed with the wilted spinach and warmed pesto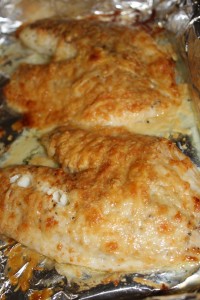 Set the fish under the broiler for approximately 15 minutes, until the cheese started to brown and the fish flaked easily.  Timing would depend on how close the fish is to the broiler so make sure to watch it.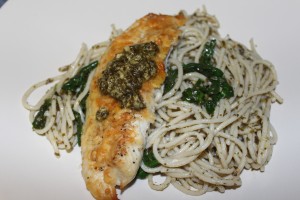 Plated: pasta topped with the cheese fish and a 1/2 Tbsp of pesto.  The fish was perfect, a nice cheesy crust that worked with the pasta and spinach.  It will be interesting to see how it is leftover.
Notes: Next time, more spinach.