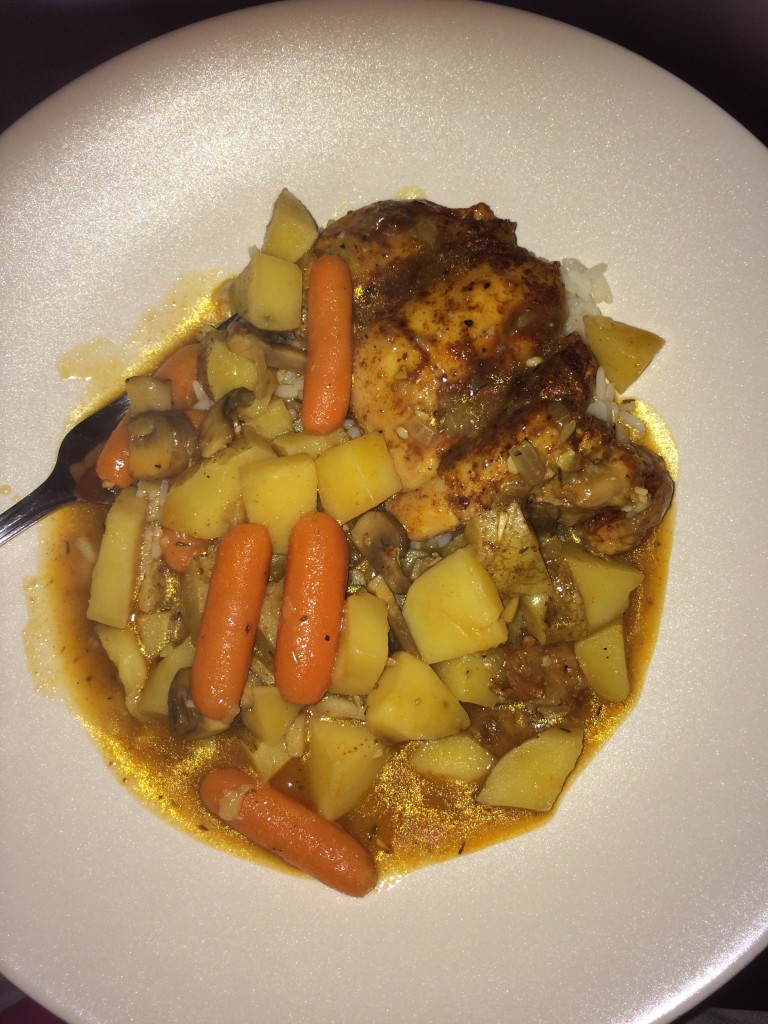 This dish is super simple and very satisfying. Definitely a do again for a chilly fall or spring night. I love that there are more and more recipes for chicken thighs, my favorite because they pack so much more flavor than white meat! The inspiration recipe: One-Pot Paprika Chicken Thighs – I almost followed the recipe.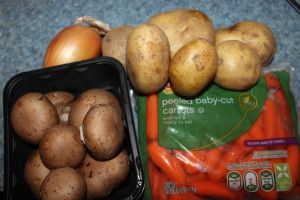 Veggies:
1 large onion, chopped. The original recipe calls for finely chopped but I like being able to see and taste the onions so I did more of a rough chop
2c mushrooms (I used baby bella), chopped
1 lb potatoes (I used white potatoes), scrubbed and cut into 1″ chunks with the skin on. The original recipe called for a mix of red and white potatoes and, since the skin is on, that would probably make the dish pretty.
2c baby carrots. I left the majority whole but if there were some big ones in the bag, I cut them in half. You want everything to be bite-sized.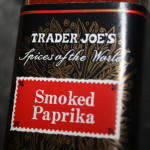 Smoked Paprika gives the distinct flavor and beautiful color to the dish. In a Ziplock bag combine 2 Tbsp smoked paprika, a sprinkle of salt (to taste – We are not big salt users so I use it sparingly but that is up to you) and a hearty grind of black pepper. Drop in the chicken thighs (I used five skinless, boneless thighs – The original recipe calls for 3lbs.), without crowding the bag, and shake lightly to coat each thigh – this can be done in batches if you have really large thighs.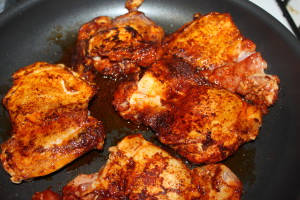 In a large, heavy skillet, heat 1 Tbsp of olive oil over medium-high heat. Add in the coated chicken and brown on all sides, approximately 2-minutes for each side, remember not to crowed the pan – do in batches, if necessary. Set aside.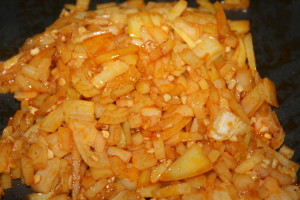 Add to the hot pan, chopped garlic (I used ready-to-use jarred garlic, so about 2 heaping teaspoons but we are garlic fans so it is up to you!) and the chopped onions, stirring for 2-minutes to just soften.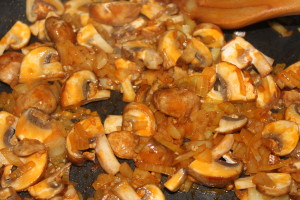 Add in the mushrooms and sauté for another 2-minutes.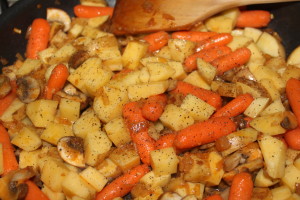 Add in the carrots and potatoes and sauté another five minutes, tossing everything together to coat with the seasoning. The color developing is fantastic. Sprinkle in 1Tbsp dried thyme (the original recipe calls for fresh thyme that is added toward the end of the cooking and I would do that next time if I have some available but the dried thyme worked just fine).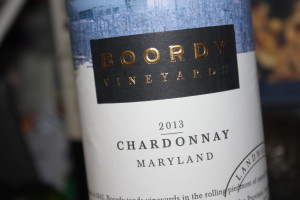 Whisk 2 Tbsp of flour (I used gluten-free) into 3/4c dry white wine (I used a Boordy Vineyards Chardonnay – a favorite which means we also drank it with dinner). Remember – don't buy "cooking wine" at the grocery store… it is just salt. Use wine you can / would DRINK. It doesn't haven't to be $20 a bottle but it also shouldn't be the very cheapest.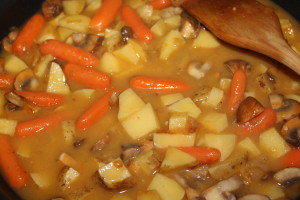 Gradually pour the flour / wine mixture into the vegetables and bring to a boil, stirring frequently. Add in 1 1/4c chicken broth (I use non-fat, low sodium boxed chicken broth) and a little more freshly ground black pepper and combine.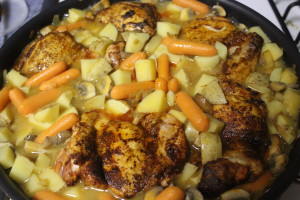 Return the chicken to the pan and bring to a boil. Cover and bring the pan down to medium-low and simmer until the chicken is cooked through and the vegetables are tender, approximately 30-minutes.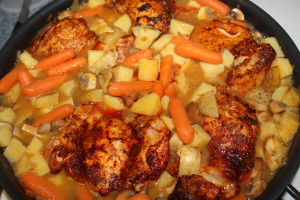 It is a beautiful dish and the smell of the garlic, paprika, wine, thyme, and chicken fills the kitchen with anticipation.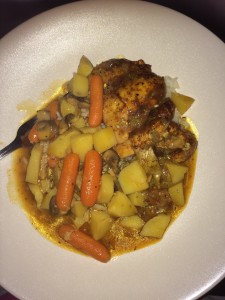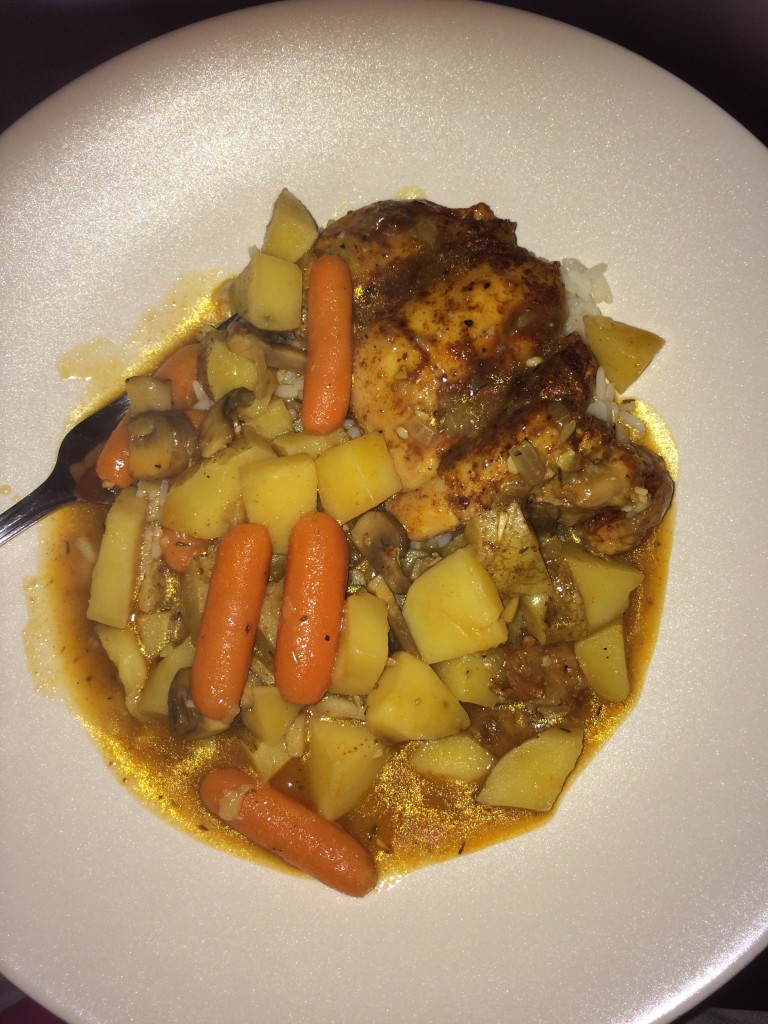 I served this over white rice but I'm not sure the rice was really needed – it was pretty hearty and filling on its own. My Heart suggested a grainier rice for more texture, maybe a combination rice with barley and wild rice. It would also be an easy dish to double for a bigger family dinner or company.