Menu 7 – Week of Feb. 13, 2011 – Recap & Notes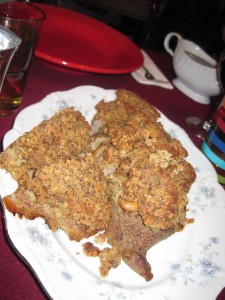 Wednesday: I have my usual 8pm meeting so my Heart made this great dinner: mushroom risotto with a salmon cake & egg – delicious and perfect after a very very long day!
Friday: Fortunately I only had a little bit of a plan for Friday and since, again, I didn't get home until after 7pm – Right as I drove into our parking space, my Heart texted that he was heading home from teaching skiing so I knew I wouldn't have time to cook a proper dinner… takeout Chinese won out.  Not the healthiest thing but very satisfying.
A rough week can be hell on a menu but you have to be flexible and know that you'll get to those menu items during later weeks.
Menu 8 – Week of Feb. 20, 2011
Fish Monday – swordfish is on sale so I'm thinking blush pasta with swordfish and how I'm going to cook it all will evolve as I get closer.
Wednesday is the Chef's Fare in the Marketplace at the University – this is a great event.  Chefs from other institutions come and cook and the diners get to sample all the different dishes and then vote on the winner.  The food is always amazing – the theme this year is School Spirit.  It sounds like fun!
Thursday I'm hoping to actually finally make the chicken casserole that was on the menu for last week.
Friday we are taking the girls (my daughter and my son's girlfriend) up skiing for the first time so we'll have dinner at Liberty, probably, after skiing.