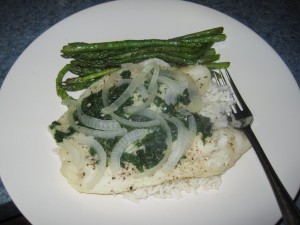 Last Week – Menu 5 – Week of Jan. 30, 2011 – Here is a recap and notes:
Sunday Roast: Celebrating my son's birthday with something from my son's childhood – 
Swedish Meatballs
. Dessert was another childhood tradition and one of the only desserts I make, Dump Cake. There were lots of leftovers for lunches, also a great reward of this recipe.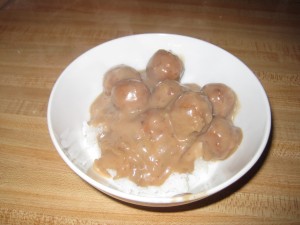 Monday: 
Swai
 was on sale so I tried 
Baked Swai with Thyme & Parsley
 – it was good but I think we're giving up on swai. It really has no flavor.  I am going to try this recipe again but with a more flavorful fish!  Made two servings – no leftovers.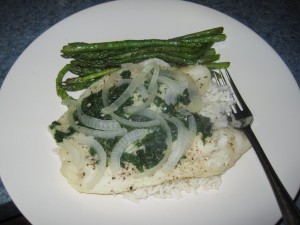 Tuesday: This was a very Americana meal – wonderful comfort food and very satisfying. 
BBQ Pork Chops with Mac & Cheese
 – absolutely delicious. Made two servings and two leftover packets.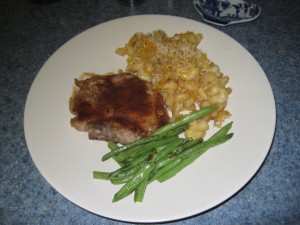 Wednesday: Late meetings (8pm every Wednesday this semester) means my Heart makes dinner – he is just so sweet and I am so Lucky!!! This is one of my favorite meals: eggs & chips – this time with leftover steak. Also, my Heart makes "chips" out of flour tortillas, which is much healthier than regular french fries.
Thursday: Not quite as late a night but still pretty late to start dinner so we're going out to dinner at The Upper Crust Pizza and Grill. I bought a $20 for $10 coupon which makes it a good deal.  They have great "designer" pizzas and are now offering gluten-free pizza crusts.  We did a regular pizza crust and a gluten-free… the gluten-free wasn't bad but it wasn't great… I think I would rather just eat less and have the regular crust, which is delicious.
Friday: (skiing) I really like planning a filling, "comfort food" meal on ski days.  I know my Heart has been skiing all afternoon – he'll be home hungry and fairly tired.  This week: chicken-fried steak with mashed potatoes & country cream gravy.
Menu 6 – Week of Feb. 6, 2011
Sunday Roast: Love SuperBowl Sunday and this year we did it right with wonderful SuperBowl foods but upscale. Josephine's a Dip (there is a long story behind this name but it's a great dip), ready-made frozen honey BBQ wings, cheese, salami & crackers, and my Heart's amazing pizzas: BBQ chicken with pineapple, beef with Stilton, Alfredo mushroom with Parmesan, and bacon, apple, & brie.  Dessert: barfing frogs – I Love the name!
Monday: I have a meeting that will go to 7pm so I needed something that would be quick to make. Tilapia is on sale so Mexican Tilapia on rice. We'll see how it goes.
Tuesday: Another meeting until 7pm.  I found some rolled steaks at Target – I picked them up on Friday, in case the cube steak wasn't defrosted for the chicken-fried steak.  They were so I held these over for a no-thought dinner with just pasta and some broccoli on the side.
Wednesday: (8pm meeting) My Heart's night to cook – omelets.  Can't wait to see what he comes up with!
Thursday: We are down in DC for a HealthStat meeting so we'll be eating out
Friday: (Skiing) Another comfort meal – Beef Stew sounds good!