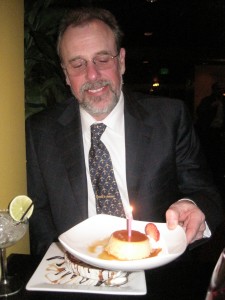 Last Week – Menu 4 – Week of Jan. 23, 2011 – Here is a recap and notes: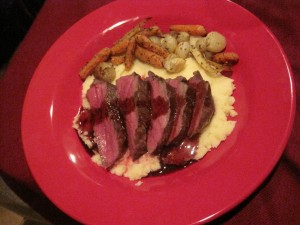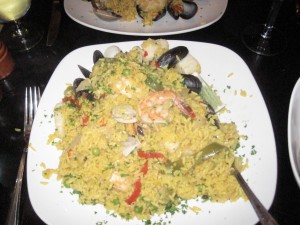 Monday: We were going out for a nice dinner – one last Birthday dinner, just the two of us. The restaurant we were going to try for Restaurant Week was closed on Monday so we went to 
Mari Luna – Latin Grill instead. The paella was delicious and more than enough for lunch the next day.
Tuesday: My Heart was in Florida for a good portion of the week.  I do tend to eat and sleep very badly when he is going.  My plan for Tuesday was some store-made roasted chicken but I ended up grabbing some fried chicken and sitting down & chatting with my son. Not healthy but not a bad plan.
Wednesday: SNOW DAY – spent 4 hours shoveling out cars.  Lunch: a nice bowl of ramen was very satisfying – Dinner: another bowl of ramen, this time with slightly different with pickled bean sprouts and watercress.  Both were delicious.
Thursday: My Heart had no problem getting home with all the weather, just a little bit late.  Stopped at 
Don Pablos
 on our way home.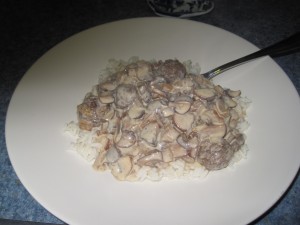 Friday: (skiing) The plan was for Beef Stroganoff but I forgot to defrost the meat and got home from work after 7pm so 
Meatball Stroganoff
 worked out and turned out quite nice.  I've never made stroganoff from scratch before but this is definitely a dish I will make again.
Menu 5 – Week of Jan. 30, 2011
Sunday Roast: This time my son's birthday dinner. He decided on a Chinese buffet for lunch, which was a very large and filling meal. For dinner, something from my son's childhood – 
Swedish Meatballs
. Dessert was another childhood tradition and one of the only desserts I make, Dump Cake. Some video games and Despicable Me made for a great evening.  Happy 29th Birthday, Stephen!
Monday: 
Swai
 was on sale again so I'm trying a different recipe. Fresh thyme and parsley sounds delicious and baking in foil packets seems quick and easy.  The recipe recommends serving on rice, which works out, and asparagus.
Tuesday: I have had a craving for pork chops lately and they happen to be sale.  So, a real comfort food meal: BBQ pork chops, macaroni (rice) and cheese, and either green beans or broccoli, whichever grabs me when I start cooking.
Wednesday: I have an 8pm meeting so my Heart is doing dinner.  We have some leftover steak from my Heart's birthday Sunday Roast (I threw a nice hunk into the freezer for later use), so he's going to make eggs and "chips" with steak.  I Love "breakfast" for dinner!
Thursday: I have a Board meeting that will last until 6:30pm and I know that I won't be ready to cook so we're going out to dinner at The Upper Crust Pizza and Grill. I bought a $20 for $10 coupon which makes it a good deal.
Friday: (skiing) Chicken-fried Steak, mashed potatoes with country gravy and probably green beans. I bought the cube steak on sale a couple weeks ago but didn't end up making the chicken-fried steak – after an afternoon / evening of skiing, this is a nice warm, filling meal for my Heart.
Saturday: (skiing) Out