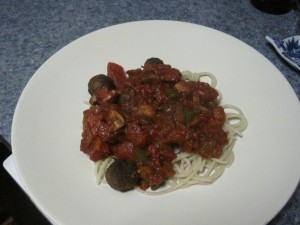 Last Week – Menu 3 – Week of Jan. 16, 2011 – Here is a recap and notes:
Sunday: A working Sunday so we went to see The Green Hornet and went to Don Pablos for dinner.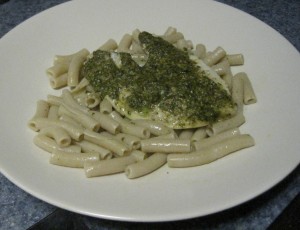 Monday: Another working "holiday" – Martin Luther King Jr. Day but we had service projects at the University so, while my Heart went skiing, I was a work for part of the afternoon and grocery shopping in the morning (since we didn't do it on Sunday)… also picking up the baking goods for one of the service projects (brownies & cookies & desserts for a local soup kitchen).  Dinner: 
Pesto Tilapia 
turned out lovely – definitely a do again!
Tuesday: This is one of those weeks.  The menu plan: chicken fried steak with mashed potatoes, etc. ended up being a lovely dinner out with friends to 
Harryman House.
  We had gone to dinner and December and received a coupon for January so we celebrated Al and my Heart's birthdays with a nice dinner!  It is 
Restaurant Week in Baltimore County
 so they had a 
special menu
 – my Heart had the Champagne Shrimp Bruschetta, the Green Curry Mahi Mahi and the Smores pie and I had the Crab Bisque, the flat iron steak and the Creme Brulee
Wednesday: We did go out to the 
Artful Gourmet Bistro
, to celebrate the start of the semester with friends!!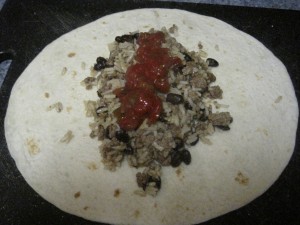 Thursday: The plan for Thursday was spaghetti and meatballs but I decided it was a better meal for Friday, when I would have more time to let it simmer, etc. before my Heart got home from skiing.  I had a craving for a burrito so the plan was to stop by the grocery store that has the best selection of authentic tortillas and Mexican spices, cheeses, etc. and pick up tortillas, a roasted chicken, and see what else I could find.  Lo and behold – the store is closing (great big sigh) and I was running out of time to run around to other stores so we ended up with Burrito Experiment #7 – Basic Beef.  Now I have to figure out where to get my favorite tortillas in the area – boo!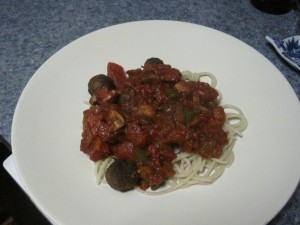 Friday: (skiing) I wanted to give the Spaghetti and Meatballs time to really simmer, Friday night seemed like the best timing.  I also wanted to try to cook the meatballs a different way so that they wouldn't be as spongy / squishy as they are in this dish sometimes.  I think they turned out fine.  Also, I commented when I came up with this menu that I wasn't sure if I was going to use jarred sauce or scratch.  The jarred sauces simply have TOO much sodium – I can't do it.  Making my own is so much more worth the time and effort.
Saturday: (skiing) Out
This week was a good example of being flexible with the menu planning – you just never quite know how the week is going to turn out but if you have ingredients in the house – they certainly can carry over to the next week.  Next week is an even more complicated week so here we go:
Menu 4 – Week of Jan. 23, 2011
Sunday: We celebrated my Heart's birthday with Cote de Boeuf with mashed potatoes, roasted vegetables and a delicious pecan pie ala mode for dessert.  I feel bad that my Heart cooked so much of his own dinner but he seemed happy with everything and it was delicious!
Monday: We are going out for a nice dinner – one last Birthday dinner, just the two of us.  It is still Restaurant Week in Baltimore County so we are trying Mia Carolina, which we've never been to but sounds lovely. They have a special Restaurant Week menu that sounds pretty good.
Tuesday: My Heart jets off to Florida, where he is a keynote speaker at the 3rd Annual Health 3.0 Conference in Orlando.  I hate it when he is away – I sleep horribly and frequently eat worse.  I am going to make an effort to be "better" this trip so I am planning to have some leftover roasted chicken and stuffing for dinner Tuesday night.
Wednesday: I have an 8pm meeting with the Senior Class Council now on Wednesdays so, my thought is to come home and have ramen for dinner after the meeting. (I am so spoiled because, when he is home, my Heart has dinner ready for me when I get home from these late meetings – he is such a Gem!)
Thursday: I have a meeting that goes until 6:30pm and I pick up my Heart at 7:45pm so I expect we'll be having dinner out, on our way home from the airport.
Friday: (skiing) I actually am going to Cook – my plan is either beef or meatball stroganoff on rice, depending on how I am feeling.  Friday's are good for meals that need time to simmer because my Heart frequently doesn't get home from skiing until 8 or 9pm – I'm excited about the possibilities for this meal and I know that I'll be happy to be back cooking for my Heart.  Also, I planned this meal knowing that I have most of the ingredients already in the house – all I picked up at the grocery store were fresh mushrooms and sour cream.