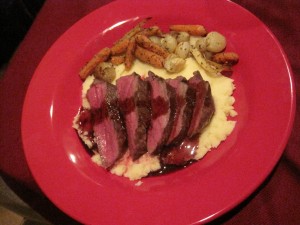 Last Week – Menu 2 – Week of Jan 9, 2011 – Here is a recap and notes:
Sunday Roast: Roast beef w/ roasted veggies & taters, gravy, Yorkshire Pudding –
Cookies & Cream dessert.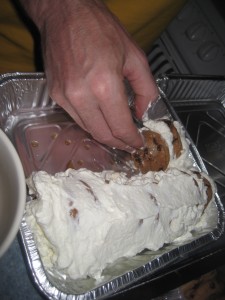 – This was a very traditional Sunday Roast. We were celebrating Christmas one last time with my son's girlfriend so we wanted traditional and she had never had my Heart's Yorkshires, which are my daughter's favorite. She had also never had the cookies and cream dessert, also a favorite.
Monday: Fish enchiladas – This was totally my Heart's idea, I used swai for this dish.  It was a bit too soupy / liquidy so I'm going to work on that in the future, but the taste was wonderful and my Heart enjoyed it.  The swai definitely has little to no taste so I'm going to try a different fish next time. This dish made three servings, my Heart had seconds, and two lunches.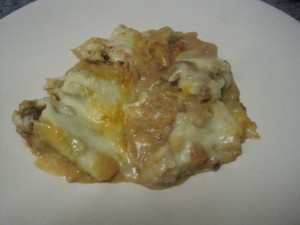 Tuesday: Beef stew – Without question – The best stew I have ever made.  It turned out very rich and satisfying.  The cheese balls were a perfect accompaniment. There were two servings and one lunch and we froze 8 of the cheese bread balls for future use.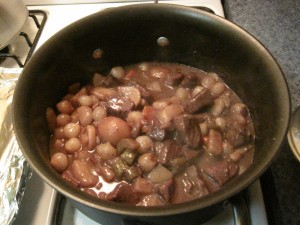 Wednesday: Stir-fried pork & broccoli on rice – This was an experiment and turned out very nice… definitely a make again.  I'm going to try other experiments with this type of pork, it is very handy. This made two hearty servings and one lunch.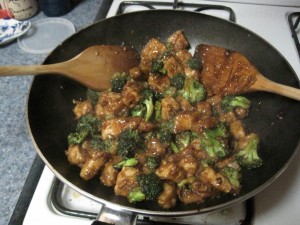 Thursday: Out – Celebrating our 3rd Anniversary – I can't believe I forgot to take pictures of dinner, we went out to a local sushi restaurant, Edo Sushi… it is very nice and has excellent sushi.
Friday:  (skiing) Shrimp & Scallops on rice – Today was our actual anniversary so I wanted to make a nice dinner and this is one of my Heart's favorites. The grocery store didn't have enough scallops so I added shrimp which turned out lovely.  This isn't a complicated meal but it always seems special.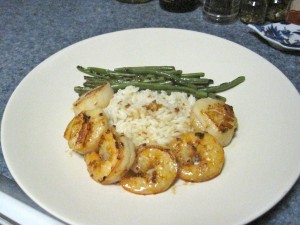 Saturday: (skiing) out
Menu 3 – Week of 16, 2011
Sunday: I had to work – it was Move-In day for the new SU residents.  It was also a very busy weekend with skiing, etc. – we didn't have a chance to go see the Green Hornet which opened on Friday.  This seemed like a good opportunity so my Heart and the kids and I went to a movie and then out to dinner at Don Pablos for some margaritas and Mexican food, one of our favorites.  The movie was great – really fun.
Monday: It is Martin Luther King Jr. Day, a day off but I am working in the afternoon… I'm sad I didn't get to go skiing with my Heart, who was also off today, but the service projects this afternoon sounds like fun.  Tilapia is on sale so that's what we're having for Fish Monday.  I'm going to try a baked tilapia topped with fresh herbs & pesto with pasta & a green salad.
Tuesday: This meal is definitely TBD depending on what they have in stock and how it looks.  Currently all of these are on sale so we'll see: cube steak for chicken fried steak, whole chicken legs or boneless, skinless thighs probably oven fried. Whichever I pick up will go with mashed potatoes and green beans.
Wednesday: We are going to our favorite local pub, the 
Artful Gourmet Bistro
, to celebrate the start of the semester with friends.
Thursday: I have a package of frozen meatballs which make spaghetti & meatballs very simple.  I haven't decided if I am going to add to some jarred spaghetti sauce or make sauce from scratch, we'll see how this evolves.
Friday: (skiing) I am leaning toward making lamb chops, depending on how they look and what they have, with roasted potatoes & carrots.  A lot depends on what they have on hand since I'm shopping on Monday instead of my usual Sunday shopping.