I am a little behind… you'll see why!
St. Patrick's Day Sunday Roast
 – We celebrated St. Patrick's Day a little early because my Heart was traveling the majority of the week (and next) so we wanted to make sure that we could celebrate together.   This was a very traditional dinner of corned beef, parsley potatoes & steamed cabbage and a Scotch tasting.
Fish Monday: Another Irish dish – Cod was on sale so we tried Irish Cod & Peas with Potato Topping. We enjoyed this dish and will make some adjustments for next time but will definitely do again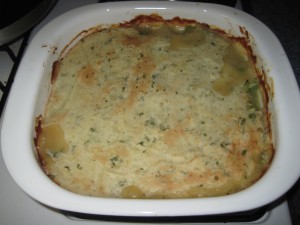 Tuesday: I think I finally have Fish Tacos nailed down – these were perfectly delicious… especially with the mango salsa and avocado
Wednesday: My Heart was off to Florida to speak at the World Health Congress.  I lucked out the first night he was away – my daughter invited me over for dinner.  She made a lovely Chicken Cordon Bleu – really delicious and impressive for a first time.
Thursday: I completely forgot that it was St. Patrick's Day.  I had leftover parsley potatoes with a couple of fried eggs on top – not a bad dinner considering how I frequently eat when he is away.
Friday: My Heart came home very late – I grabbed a bite at the local Diner with my kids.
Saturday: My Heart headed out to San Diego at about 5 a.m. (yes… that meant getting him to the airport at about 3 a.m.) I hung out most of the day and then picked up my daughter when she got off of work around 7 p.m.  Our intention was to go to a movie but the next showing of King's Speech was at 9:15 p.m. and I knew I wouldn't make it that late so we went to Outback for a nice dinner and just spent some quality time together – it was very nice.
Menu 12 – Week of March 20, 2011
Sunday Roast – We had been wanting to travel down to Peter Pan Chinese Buffet in Fairfax, Virginia.  This is one of the best Chinese buffets we know of, mostly because of their extensive dim sum selection and other authentic dishes. It is also very reasonably prices and basically across the street from a nice sized Asian market.  It is about one-hour away but totally worth it.
Monday – I have absolutely no idea what I did for dinner last Monday… that's a little scary. *smile*
Tuesday – We did an office Road Trip and went to 
Ripkin Stadium
 in Aberdeen, MD to watch the University's men's baseball team against Franklin & Marshall. It was a winning game and we were back in time to have dinner with my daughter and a college friend of her's at 
Don Pablos
.
Wednesday – my Heart came home early in the morning – it was a tremendously busy day which included a mammogram and Traffic Court… also a late meeting so my Heart even made dinner his first night back!  It was sort of a tostada with the leftovers in the fridge including shredded cabbage & red bell pepper – roasted chicken breast coated in crushed walnuts & orange peach mango fruit juice, just to moisten the chicken so the nuts would "stick" – melted Rose's lime marmalade, mango salsa, and more fruit juice as a sauce over the finished chicken – toasted corn tortillas.  His thought was like a tortilla "club" (he is so creative thinking of "sandwich" like things for me since I am gluten-free!  Such a sweetie!!)
Thursday – We headed down to the 
Health Informatics Pulse
 in Bethesda MD.  It was a great event – my Heart was the Panel moderator to boot.  We ate dinner down there at 
Uncle Julio's 
Rio Grande Restaurant – Fish Tacos for my Heart and a sampler plater with a taco, two enchiladas, and a tamale.  My dinner was very good and pretty big – enough for lunch.
Friday – Was a very long day – we headed off to 
Artful Gourmet
, where we hadn't been in a very long time.  It was good, as usual.
Saturday – The first Saturday that we've been free and together since skiing (which started in December) – while I love skiing.. it was really nice to have a proper lie-in and a relaxing Saturday.  We went to 
Don Pablos
 for dinner then back home… not too exciting but definitely what we needed!
… so I am behind because my Heart was away which meant… working to much, eating badly, not sleeping much. BOO!