Menu 9 – Week of Feb. 27, 2011 – Notes & Recap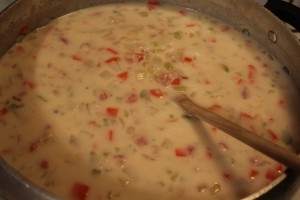 Wednesday – The usual late night meeting.  Came home to delicious nachos from my Heart and the what a great surprise: eggs on top! YUM!!
Thursday – The plan was for Asian pork & broccoli but we ended up traveling down to American University for a Social Media workshop.  We had nachos & quesadillas in the student union – not bad!
Friday – Phi Beta Lambda hosts the Rock the Cradle concert for the March of Dimes event every year.  I hung out for the first band and to watch the SU step squad… swung through takeaway Chinese for dinner.
Menu 10 – Week of March 6, 2011
This week I am at the Datatel User Group conference in Washington DC from Sunday through Wednesday.  Definitely an abridged menu.
Sunday – the kids volunteered to cook us brunch – Delicious!
Pancakes and scrambled eggs
Eggs in a frame and sausage gravy & biscuits – everything was yummy!
Wednesday night my Heart made us sort of an omelet nachos dinner (sorry – no pictures… just so yummy we gobbled it down!)
Thursday night we were at Ignite Baltimore – it was a great night of inspirational and informational lightening talks.  Dinner that night was wings at Buffalo Wild Wings
Friday night I finally did the pork & broccoli stir fry.  I like this dish and it was surprisingly satisfying.
Saturday was our last day on the slopes – I am so sad to see ski season coming to an end.  We grabbed wings again on our way home.
So this was one of Those weeks but we did manage to cook a couple times.