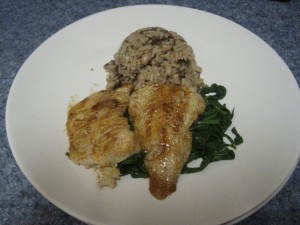 So this is my plan for 2011 – documenting my menus during the year.  I've been writing weekly menus for most of my adult life.  Generally I go grocery shopping once a week, on Sundays.  This has been my tradition for years and is part of our Family Day.. in fact my kids have grown rather attached to it, even though they are 23 and 28.  I look at the sale flyer for the grocery store we shop at and plan my menu accordingly.  Of course, there is flexibility – if it is a particularly busy Sunday we may choose a store closer to home, if the week turns out busy we may end up eating out or doing carry out and meals get rolled into future weeks – but making a plan saves both time & money.
My plan is to blog my weekly menu on Sunday and then show dishes, etc. during the week – even if we end up eating out or it is something I've made before.  The following Sunday I will do a follow up on the previous week's menu and then show the next week's menu.  I am hoping that showing this process throughout the year will help other's try out menu planning.  Honestly – it has helped so much over the years.  No "what are we having for dinner?" moments at 6pm – no quick trips to the grocery store (because we All know that you end up buying more than you came in for).  It also has given me, over the years, the opportunity to try out new recipes because I've planned IN the ingredients, etc.  So here goes Menu 1 – week of Jan. 2 2011  (Also note, there are notes for each day if there is something on our calendars that needs to be considered in the timing of dinner, i.e. chiropractor appt, skiing, meetings)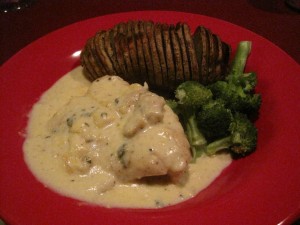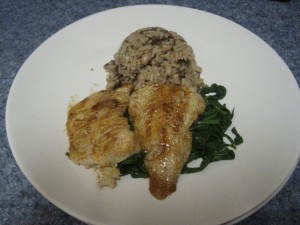 Monday: (chiropractor) Cajun Maple cod on spinach – Cod is on sale… I found this recipe which actually calls for mahi mahi (which is also on sale so we'll see which I actually buy). My Heart gave me real maple syrup for Christmas so this seemed appropriate.  I like serving fish on a bed of spinach – it is pretty and makes for a nice substantial meal. Groceries: Cod fillets (sale), 2 bags of baby spinach (spinach wilts down to nothing so 1 bag per person) – In the Pantry: maple syrup, cajun seasoning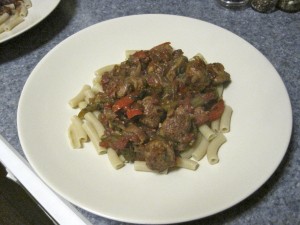 Tuesday: Italian Sausage Cacciatori w/ pasta – I really love cooking with sausage which is not, I recognize, the healthiest thing in the world.  This is a new sausage I haven't tried before – Italian Chicken Sausage.  It is on sale so, what the heck, we'll see how it tastes.  This is also one of my favorite meals, I love the combination of flavors and textures and since I have a lot of fresh herbs on hand from the Asian meals over the weekend – this seems to work.  Groceries: chicken sausage, 1 red pepper (sale), 1 sweet onion (sale), fresh mushrooms (sale), 1 can diced tomatoes – In the Pantry: fresh cilantro & basil, tomato paste, rice pasta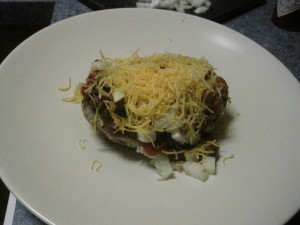 Wednesday: (chiropractor) jacket potatoes w/ chili – I've always enjoyed baked potatoes but my Heart is a Brit and has definitely expanded my horizons for what can be served on "jacket" potatoes.  I almost did baked beans, which is one of his favorites, but I am having a hankering for chili potato.  Groceries: 2 baking potatoes, 1 can chili, 1 can diced tomatoes – In the Pantry: chopped onion, ready-grated cheddar or Mexican cheese, sour cream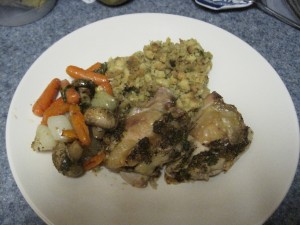 Thursday: baked chicken, stuffing, gravy, carrots – This is a comfort food meal for me and I bought stuffing for Christmas dinner but we didn't end up eating it so… there you go.  I have not entirely decided how I am doing this meal so I am getting just the basic ingredients and will fiddle with it when I am in the kitchen.  Groceries: chicken leg quarters, baby carrots (sale), gravy mix packet – In the Pantry: Stove Top stuffing mix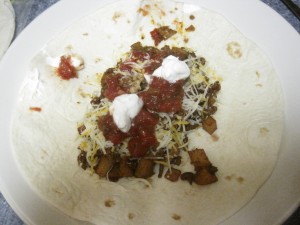 Friday:  (skiing) burritos – ground turkey, potatoes, cheese, salsa – Last year I did some burrito experiments and I'm getting back to that.  This is also a very good meal for skiing nights because I am never sure what time my Heart will be home – sometime between 6:30-8:30pm.  The ingredients can be cooked up and then the final touches and cooking right before he gets home or is in the door.  I am going to try to do more with ground turkey & chicken this year also.  Groceries: ground turkey (sale) – In the Pantry: potatoes, peppers, onions, shredded Mexican cheese, salsa, burrito-size tortillas, taco seasoning
Saturday: (skiing) Out – I am hoping to be well enough to spend the day up skiing while my Heart is teaching on Saturday.  I know that after a long day (he is there from 8am-8pm) neither of us will feel like cooking so we'll stop somewhere and have dinner or eat in the resort's pub.
If you have any suggestions for these menu blogs … more information, less… whatever – please let me know!   ENJOY!