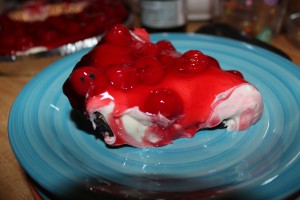 Memorial Day is a Monday but was basically our "Sunday Roast" this week – Delicious Holiday fare!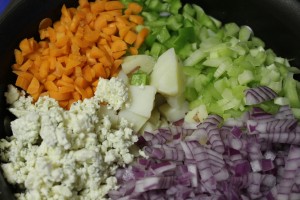 For the potato salad: red potatoes, chopped celery, green pepper, carrots, red onion, and gorgonzola cheese
The dressing: a non-fat Balsamic vinaigrette mixed with about 2 Tbsp. of low fat mayonnaise and lots of freshly ground pepper
Macaroni salad: cooked macaroni combined with 1/2 container of store-bought mango salsa and chopped cucumber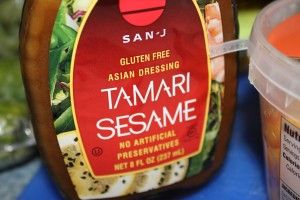 Dressed with gluten-free Tamari Sesame dressing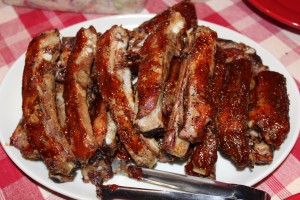 Pork spareribs my Dad's Way: cooked with just Montreal Seasoning (ok – he would have just used salt & pepper) at 250-degrees for approximately 3-hours, until fork-tender. Increased the oven temp to 325-degrees to caramelize the BBQ sauce: a combination of ketchup, grainy mustard, Sriracha sauce, lemon juice, black pepper, and brown sugar – cooked for 15-20 minutes.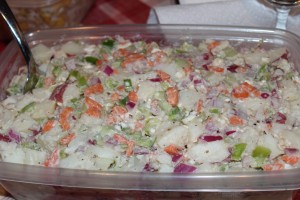 Potato salad – all ready for serving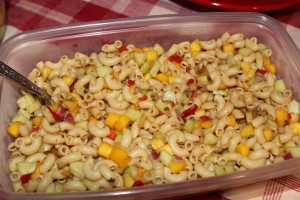 Macaroni salad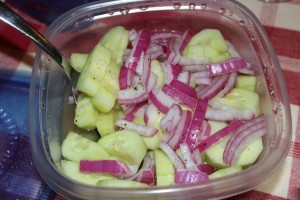 Also made a simple picked cucumber & red onion salad dressed with a combination of rice wine vinegar, Mirin rice wine (which is sweet) and freshly ground pepper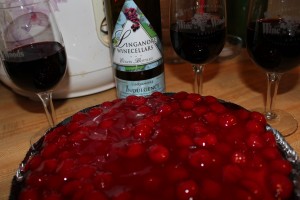 The best part – Dessert: A bottle of Linganore Winecellars' Indulgence (a red chocolate-infused wine) and my Heart's delicious cherry ice box cheesecake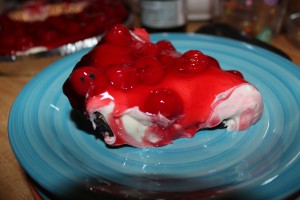 The cheesecake is a combination of Dream Whip, milk, cream cheese in a chocolate pie crust topped with cherry pie filling. Perfect with the chocolate wine!