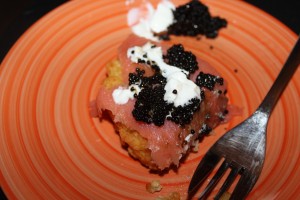 There were just four of us for Christmas and my Heart has had an incredibly busy work schedule so we didn't arrive at the kids' apartment until after noon.  Rather than planning the usual brunch, I decided on a simple lunch before we put Christmas dinner in to the oven and an idea evolved.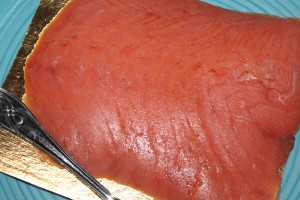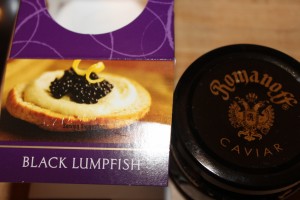 Smoked salmon and caviar with latkes sounded like an appropriate Christmas treat.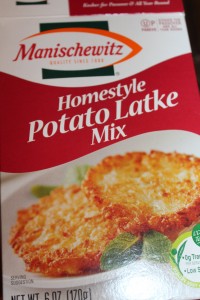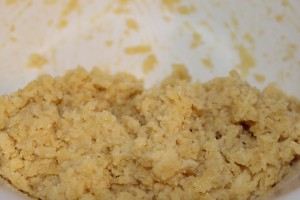 Part of the reason this came to mind is because I had bought this potato latke mix a few weeks ago based on a craving.  I remember my dad used to make these.  When the packet is mixed, according to the package, it is very thin but the instructions say to let it set for a few minutes and it thickens up – that is definitely true.  Because I was also making homemade applesauce (I use a variety of apples, both crisp and sweet, like granny smith, red delicious, MacIntosh, and Fuji, peeled and cut into chunks combined with lemon juice, bourbon, brown sugar, cinnamon, nutmeg, and allspice and simmered until the apples soften – although some still stay chunky and some "melt" to thicken the applesauce) the latke mix sat for about 30 minutes.  I don't think that hurt at all.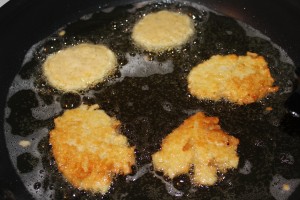 I heated, over med-high heat, canola oil (enough for approx. 1/8″ depth) in a skillet.  The instructions said to drop by 1-2 Tbsp of the mix into the hot oil but they were too thick.  Instead we made ovals with our hands and then, after dropping them into the hot oil, I "pressed" them slightly with the spatula to flatten them.  This worked just fine and made perfect sized latkes.  They were cooked in batches so the pan wouldn't be crowded.  Drain on paper towels.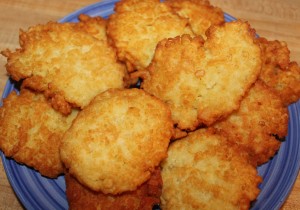 They turned out perfect – exactly the way I remember my Dad's, when he made them.   They were super crispy but not greasy at all.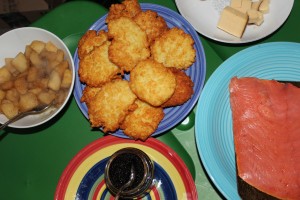 Toppings included homemade applesauce, smoked salmon, caviar, and sour cream.  Each person's personal choice.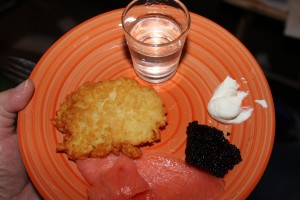 But it seems we were missing something – my Heart said that caviar should always come with icy vodka shots!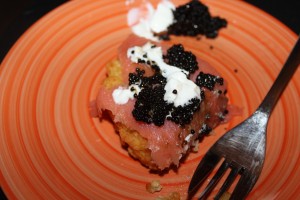 My last final bite – definitely turned out the way I had planned and was absolutely a success with the family and I don't think that's just the vodka talking!