Unbelievably easy, quick, and super delicious. The inspirational recipe: 5-Ingredient Pesto Chicken Soup was my start but I adjusted based on the ingredients I had.
4c low sodium chicken broth (I like Rachael Ray's), two 14oz cans of Cannellini beans (or Northern beans) rinsed thoroughly, 1/4-1/3c basil pesto, to taste(I like the Classico, it is the cheapest and has good flavor).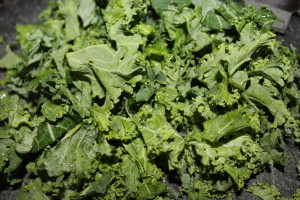 3-4 handfuls (cups) cleaned kale, chopped coarsely – remember it shrinks. The inspirational recipe calls for spinach, which I am quite sure works well too but I had bought a big package of kale for another dinner so I figured it would work for the soup too.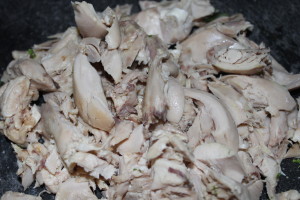 2 cups cooked chicken (this is store-made rotisserie chicken), rough chopped. Note: my daughter made this same soup but she browned some smoked sausage instead. I also made this a second time but I had some cooked Italian sausage. ALL worked perfectly!!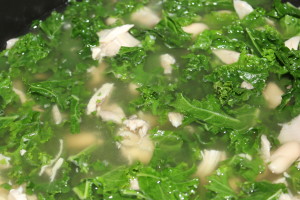 Bring the broth up to a bubble, add in the chopped kale and let it simmer about 15-20 minutes, until the kale is tender. Add the chicken and beans in at about 10-minutes and simmer with the cooking kale.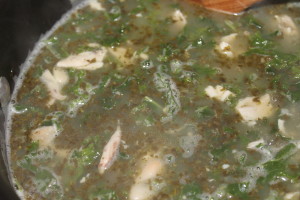 Drop the temperature and stir in the pesto – stir in by Tablespoons until you get the flavor you are looking for. I like lots of pesto… my daughter likes less. Simmer until thoroughly combined and hot.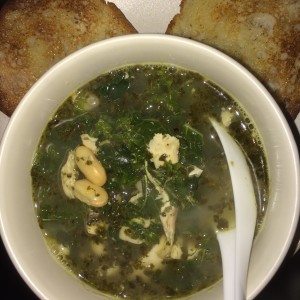 You can serve with a sprinkle of parmesan. Definitely serve with crusty bread because you will want to dip into the flavorful broth. My daughter halved the recipe and it worked perfectly. It is also delicious for lunch the next day.